Woman Successfully Uses Random Influencer Names for Discount Codes in Viral TikTok
A TikTok user tried putting in common female names followed by a number for discount codes and it actually ended up working.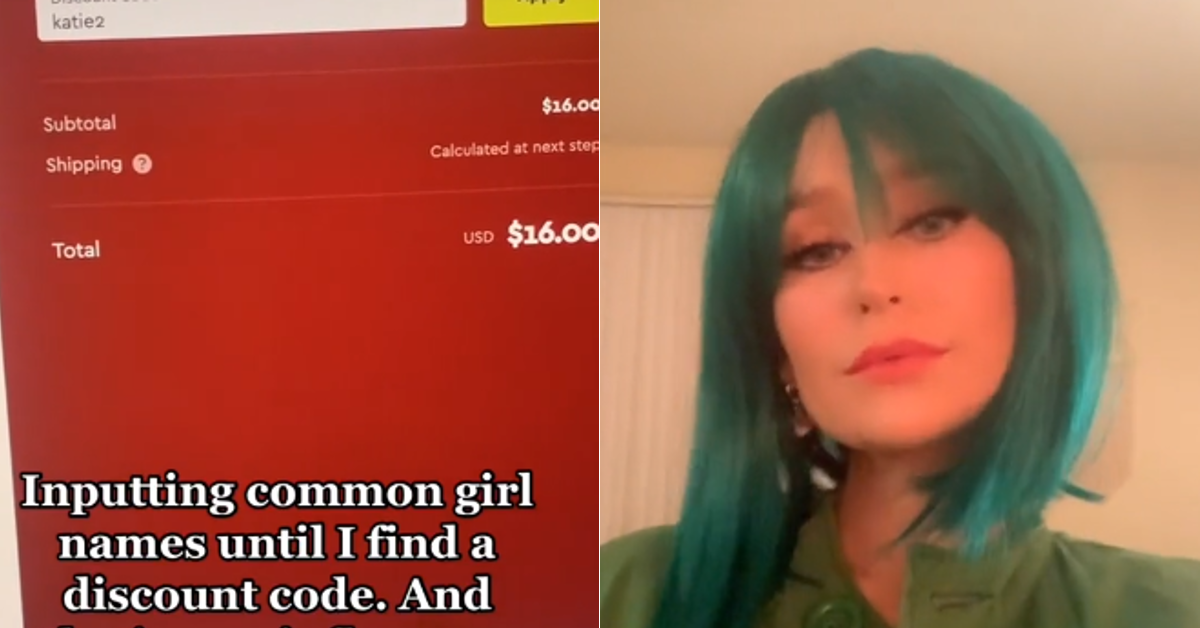 If you've ever watched Influencer videos talking about an excellent new product that completely changed their lives (presumably for the better) then you've probably been assailed with a bunch of mentions of "click the link in the bio" or use the code "StavingOffExistentialDread10 for 10 percent off your next order!" somewhere in the clip.
Article continues below advertisement
It seems like everyone and their mother who has over 10,000 followers on any given social media platform has a bunch of paid promotions they're just begging people use so advertisers/companies will continue to either send them free products or give them a little bit of cashola to help fund their content creator lifestyles. I.e. getting paid to post-workout and travel selfies.
Sometimes this can work out in your favor, especially if you were planning on buying that product in the first place. It's not so useful, however, if you aren't interested in whatever garbage they're shilling.
But what are the chances that there's a discount code available for something you actually want to purchase? Well, thanks to "influencer culture," pretty good.
Article continues below advertisement
Sure, you could scour the internet and timidly click on ad-flooding pop-up hell websites that are lined with discount codes that don't even work all of the time, or you could do what TikToker @sparklegirl316 did: randomly input a bunch of common girl names followed by a number and see if that works instead.
Article continues below advertisement
The TikTok user posted a video showing her on the checkout page of a website, purchasing an item for $16.00. She tries writing "rachel20" but it doesn't work. Then she tries "kate20" and presto, a whopping 20% off is deducted right from the cart total.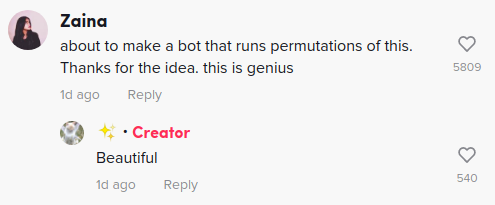 Article continues below advertisement
Tons of TikTokers applauded her for sharing the retail hack, which in this instance was good for nearly a gallon of gas these days, but tons of other commenters began offering up their own common discount code hacks that seem to work.

Article continues below advertisement
Using phrases like "sorry" followed by 10, 15, or 20 usually works according to some commenters. Others mentioned that there are some websites that don't check for Military identification to offer discounts for soldiers, so simply writing the word "military" in the promo code section often works.

Article continues below advertisement
Another common promo code is the word "welcome" again followed by a variety of different numbers. The higher the number, the higher the discount, but it seems like 20% is the max that folks can get when trying out random names and phrases.

Article continues below advertisement
There were other suggestions, however. Like going on YouTube to search for "hauls" and reviews from specific retailers and either looking in the video description or comments section to see if there are any new promo codes that'll work with where you're buying from.

Of course you could always check the company's social media accounts as there are usually some discount codes/promotions in recent posts or the page/channel subscription. Of course, there are also browser extensions like Karma and Honey that run through available discount codes on the internet and apply them automatically to your order.
What's your favorite way of tracking down discount codes? Or is this all news to you?