These Are the Most Impressive Pies You Will Ever Lay Your Eyes On
Sure, National Pi Day is technically about the number, not the dessert. But we never need an excuse to eat (or look at) beautiful pies.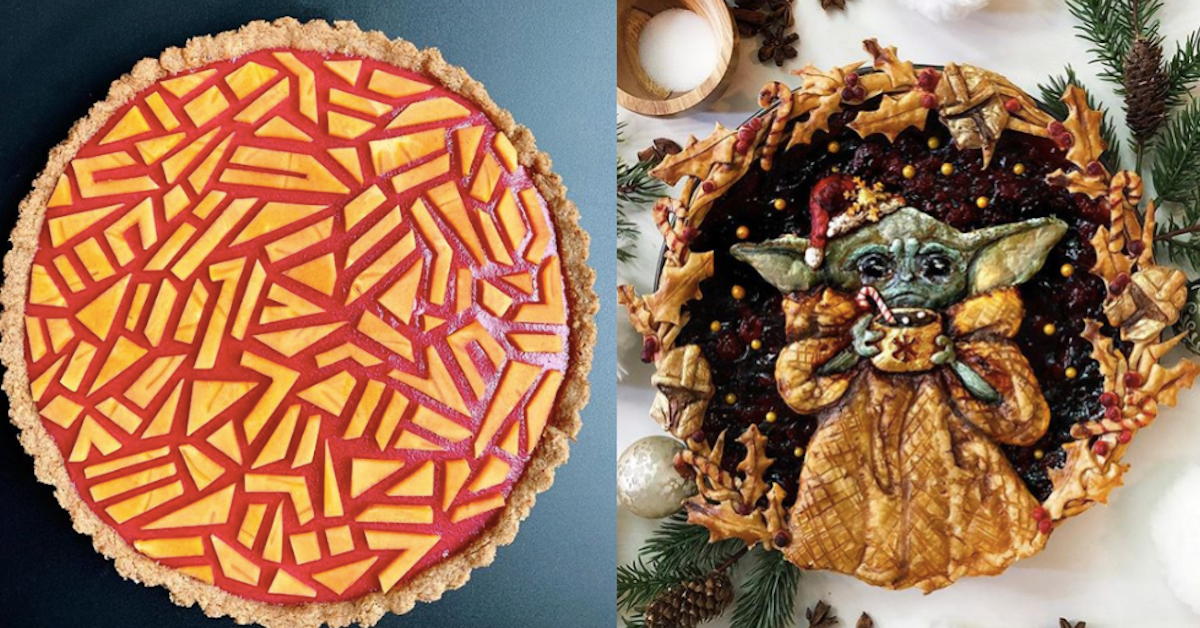 March 14, or 3/14, is National Pi Day! Sure, it might technically be about the number and not the dessert. But we think this math-y holiday is a perfect excuse to get your fill of pastry crust and filling.
There are incredible pie artists all over Instagram who make such gorgeous pastries, you almost don't want to eat them. Almost. Because they also look delicious. Since there is not yet a National Pie Museum to visit, we thought we'd curate our own digital one with some of Instagram's most artistic pies. I suggest not being hungry when you scroll through this list.
Article continues below advertisement
Leafy wonder
Don't mind me. I'm just getting lost in the perfectly layered leaves on this strawberry-rhubarb pie by Jo Harrington. I just want to like, nestle in the middle of it, you know? You get it. You understand. Pie people are on the same wavelength.
Geo fruit
I could stare at Lauren Ko's Instagram page all day long. The brights colors and the clean lines and the funky designs are just so soothing. With more than 300,000 followers, @lokokitchen is one of the premier destinations for artistic pie content on the Internet.
Article continues below advertisement
Fall floral
I grew up in the woods, surrounded by deer and squirrels and other woodland creatures, and this pie reminds me so much of my childhood. I feel like I can smell the fresh autumn air when I look at this mossy green pie.
Article continues below advertisement
Square design
This brilliant pie maker thought inside the box...well, the square. You may have noticed that most pies are round. Well, this square pie is — dare I say it? — better than most of the round pies I see! Like, I would tile my kitchen with these.
Article continues below advertisement
Stripy spiral
This pie is straight-up trippy. I'm trying to figure out how she did it, and I cannot figure it out. All I know is that it is mesmerizing. And that I want to eat it. Those are whole cranberries in the middle, and I love a cranberry-adorned holiday pie.
Article continues below advertisement
Prince pie
This Prince pie is next-level. Jessica, known on Instagram as @thepieous, creates incredible portraits and patterns in her pies. From Prince to David Bowie to Betty White to Miss Piggy, she nails these extremely detailed illustrations...all out of pie crust. It's beyond bonkers.
Article continues below advertisement
Mini foxes
These sleepy, adorable fox mini pies look deceptively simple. You know what I mean? I look at these, and I think, "I love these! I feel like I could do this." But if I tried to make them, they would come out looking like horrifying garbage raccoons. I'm sure of it.
Article continues below advertisement
Floral lattice
I cannot stop staring at this pie. Those perfectly stamped flowers are really something else. Truly, I wouldn't be surprised if it was photoshopped. How are all those petals so perfect? I would never in a million years have the patience to do this.
Article continues below advertisement
Cozy heart
This little romantic pie might seem a tad simple compared to some of the others on the list, but I love it so much because the crust actually looks like it's made of yarn. The texture she achieved is just so impressive and cozy and cute, and I have a feeling that it was harder than it looks.
Article continues below advertisement
Octopie
This octopus is so realistic that I wouldn't be surprised if it started moving right there on the top of the pie. And as much as I am bowled over by this sea creature, I also love everything else about this pie. Baker Arlene Lott writes in her caption that this "Kracken tart has a Salted Vanilla Cookie Sea Monster emerging from a sea of Black Cocoa and Callebaut Chocolate Ganache scented with Kracken Black Spiced Rum." Yum.
Article continues below advertisement
Petals and swirls
This pie is making me dizzy...in a good way. Those spirals are straight-up mesmerizing. I feel like if I eat this pie, I will be transported to a magical world à la Alice in Wonderland. Mad Hatter, here I come!
Article continues below advertisement
Fresh fruit flow
This might be my favorite pie on the whole list. It's amazing the effect that Lauren creates simply by arranging thinly cut peaches and plums. It's so flow-y and colorful and gorgeous.
Article continues below advertisement
Luscious wreath
I can just picture this pie baked and dipping those crispy, leaf-y edges into that gooey fruit filling. If this wasn't a pie, I would have no problem hanging this on my door during the Christmas season.
Article continues below advertisement
Mardi gras madness
Well this is a party pie if I ever saw one. The colors are insane, and even though I would feel weird eating gold letters and silver beads, I bet it actually tastes delicious. I just hope the inside is as exciting as the outside.
Article continues below advertisement
Baby Yoda pie
I bet you didn't know you needed a pie that depicted Baby Yoda drinking a cup of hot peppermint cocoa while wearing a Santa hat. But now that you have it, you can't imagine your life without it, can you?
Article continues below advertisement
Precise petals
Is it wrong that I want to wallpaper my house with this pattern? Even better if it's literally the picture of that golden-brown, perfect crust tiled over and over and over again. That might actually look incredible.
Article continues below advertisement
'Game of Thrones' crest
This fits, you know? I feel like the characters must have eaten a lot of like, meat pies in the show, you know? And the Lannisters, Starks, and Targaryens probably had pie molds that resemble their family crests. So basically, I'm saying that this pie is canon.
Article continues below advertisement
Hedgehog scene
I've never wanted to cut into a pie less, but that's only because this hedgehog is way too cute and doesn't deserve the knife. That being said, it does look like there's a delectable combination of apples, cinnamon, sugar and butter under there, So I'm sure I wouldn't have much self-control if it was actually in front of me.
Article continues below advertisement
Purple ombre
This is one classy pie. Maybe the pattern and cut-outs aren't as complex as some of the others, but it took real skill to achieve that ombre effect using nothing other than pie dough and some freeze-dried blueberry powder.
Article continues below advertisement
Pumpkin giraffe
I've never seen a better rendering of a giraffe. It's so accurate and expressive. And it's made of pie crust. Maryse Tadros, the baker behind this glorious achievement, is a true artist.