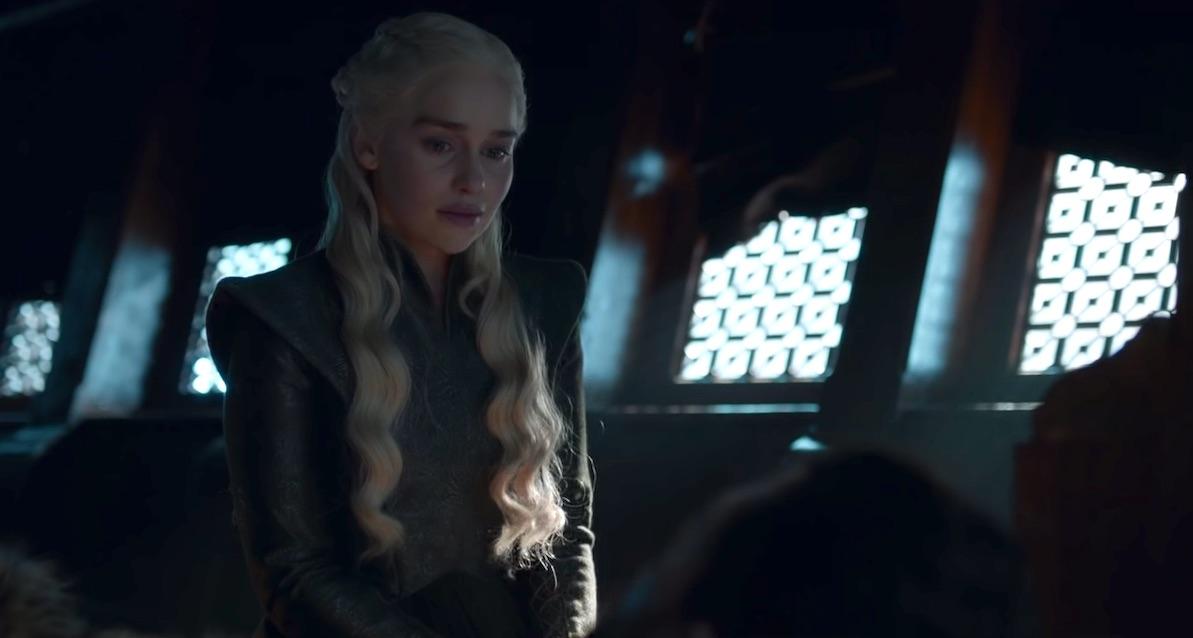 Daenerys Targaryen Thinks She Can't Get Pregnant — And She Might Be Wrong
Is 'Game of Thrones' character Daenerys Targaryen barren? Or is she pregnant with Jon Snow's baby in Season 8?
All the way back in Season 1 of Game of Thrones, Daenerys Targaryen was pregnant with Khal Drogo's child — but she lost the baby thanks to the pact she made with a witch who promised to heal the dying Dothraki leader.
Article continues below advertisement
Shortly after his death, Daenerys (Emilia Clarke) emerged from the flames newly anointed the "Mother of Dragons" with Drogon, Rhaegal, and Viserion hatched from their eggs and perched on her shoulders. Fast forward seven seasons, and the question of Daenerys' fertility was raised again when she confessed to her nephew turned lover Jon Snow (Kit Harington) that she is unable to have children.
"The dragons are my children," she told Jon in the Season 7 episode "Beyond the Wall." "They're the only children I'll ever have — do you understand?"
So, is Daenerys really barren? 
Let's go back to the first season and Daenerys conversation with Mirri Maz Duur, the "witch" that was supposedly going to cure Khal Drogo, who was dying from an infected wound. At the time, the maegi explained to Daenerys that "only death can pay for life" — and Daenerys agreed to the pact because she thought the sacrifice of Drogo's horse would be enough.
Spoiler alert: it wasn't.
Article continues below advertisement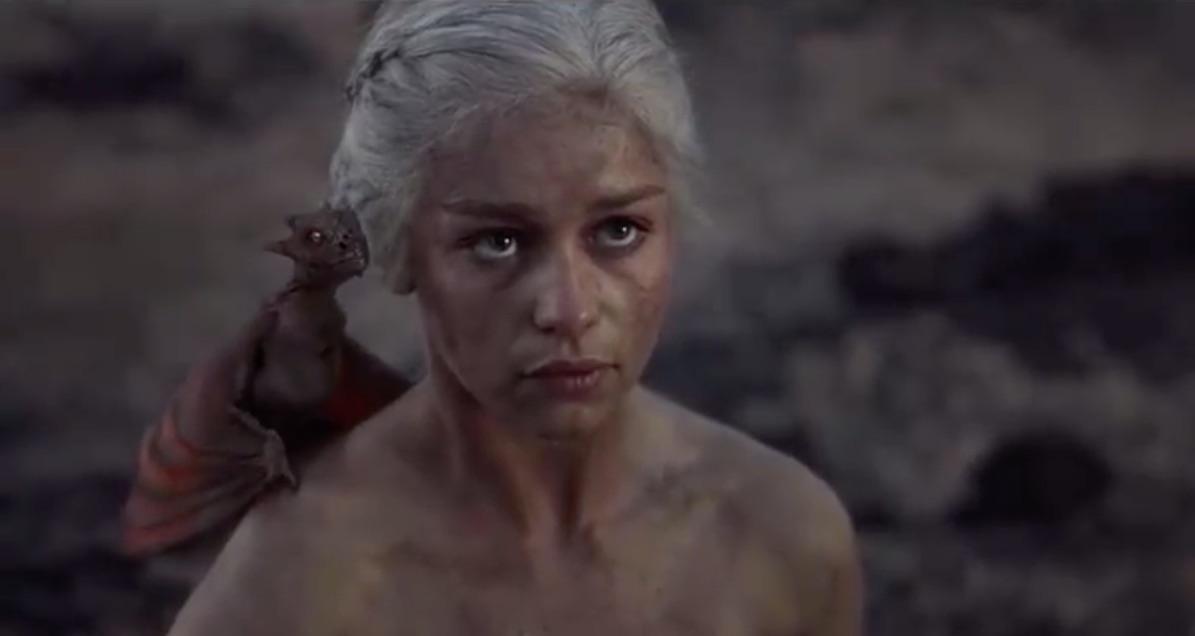 The payment was ultimately her unborn child Rhaegal — Jorah carried Daenerys back into the tent where Mirri Maz Duur was practicing her blood magic, resulting in Daenerys having a stillbirth.
When a heartbroken Daenerys asks Mirri Maz Duur if Khal Drogo, who is now in a vegetative state, will get better, she responds with a prophecy that Daenerys believes means she will never have another child. The complete prophecy reads:
Article continues below advertisement
When the sun rises in the west and sets in the east
When the seas go dry and mountains blow in the wind like leaves
When your womb quickens again and you bear a living child
Then he will return, and not before.
The prophecy comes up again in Season 6 when Daenerys tells Khal Moro, "I will not lie with you, and I will bear no children for you, or anyone else. Not until the sun rises in the west, and sets in the east."
While Daenerys has seemingly accepted the fact that she will not have a non-dragon heir, her hand Tyrion Lannister (Peter Dinklage) reminds the Breaker of Chains that there is no point in conquering Westeros if there is no line of succession. Or as Tyrion put it, "After you break the wheel, how do we ensure it stays broken?"
Article continues below advertisement
This is where the King of the North comes into the picture.
Is Daenerys pregnant with Jon Snow's child? 
Season 7 ended with Daenerys and Jon spending the night together, not knowing that they are related — Daenerys is Jon's aunt, just in case you were wondering — and fans are convinced Daenerys is now expecting a child with Ned Stark's "bastard," despite the prophecy. Sorry, Cersei. You might not be the only pregnant blonde in Season 8.
Article continues below advertisement
"The dialogue surrounding her infertility between her and Tyrion and later Jon, seemed so pointed. They're the only children I'll ever have, it's not the end of your family, then her responding with I can't have children, followed by Jon and his maybe the witch is an unreliable source of info," one viewer commented on reddit. "If it doesn't happen, then some of that dialogue is random and wasteful. The argument could be made that if [series creators David Benioff and D. B. Weiss] had emphasized only her lack of heirs all season, then Jon being heir would be the payoff in the event of her possible death. But her womb came up too much for me not to believe there might be a pregnancy."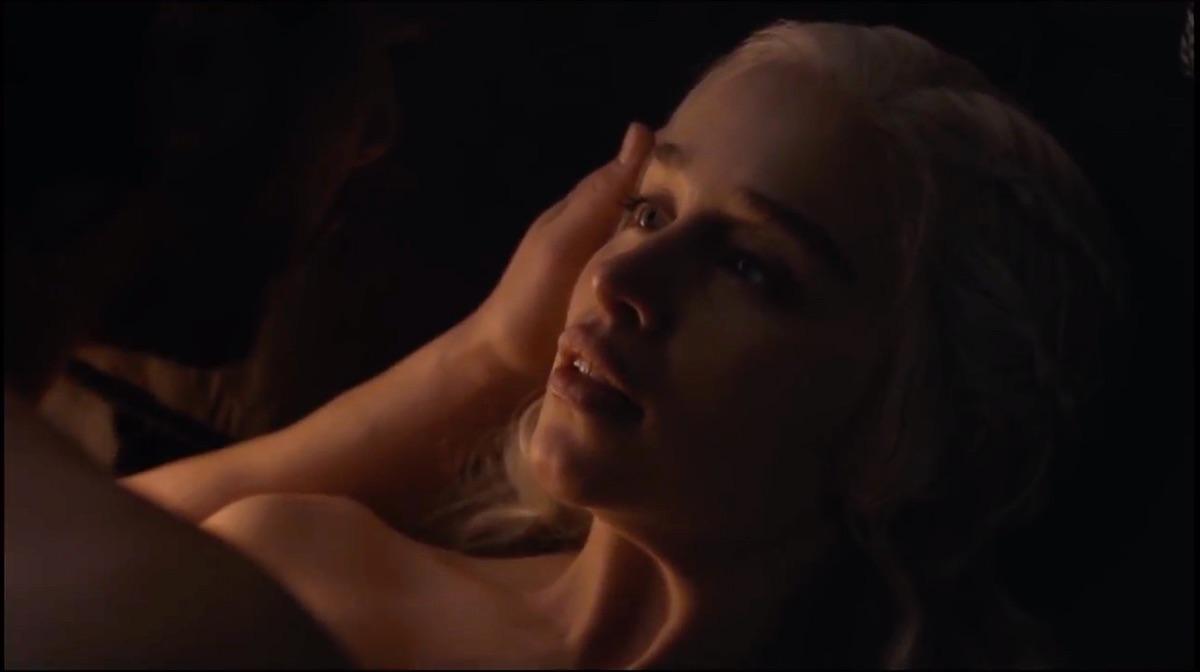 Article continues below advertisement
Another agreed, adding, "There was too much emphasis on Dynasties, succession and children for it not to happen. Legacy was a big part of last season."
And seeing as the Targaryen family is known for incestuous marriages, it would make sense that this would be the "legacy" everyone is talking about. So, do you think Daenerys is pregnant?
Watch Game of Thrones when it premieres Sunday, April 14, at 9 p.m. on HBO.