Is Disneyland Opening? Shanghai Disneyland Is Planning Their Reopening
While the fate of California's Disneyland remains uncertain, Shanghai Disneyland is planning a reopening sooner than you think.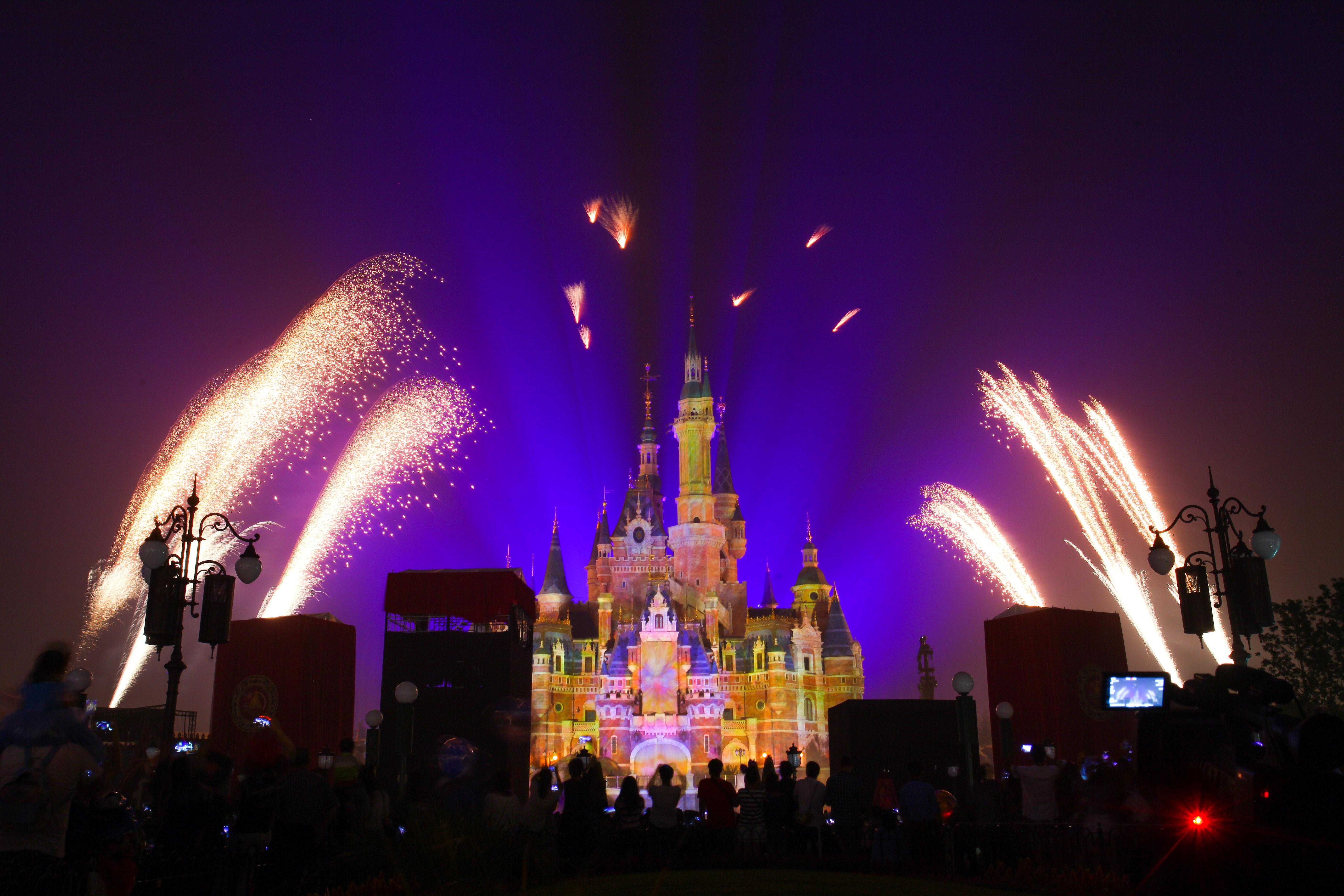 While the U.S. and much of the world continues to social distance, a lot of people's plans currently remain in limbo. Will you be able to go to that concert you want to go to in July? Will you be able to see that Broadway show you had tickets for in August? Will your kids go back to school in September? And when will we get to take a vacation again?
Article continues below advertisement
For Disney lovers who were hoping to go see the mouse himself this year, there's a lot up in the air. But fans might have been given a little bit of hope today. Is Disneyland open? Not quite yet, but there's plans in place for one of the Disneylands to reopen.
Shanghai Disneyland isn't open yet, but it's planning to be soon.
According to a post on the Disney Parks Blog written by President and General Manager, Shanghai Disney Resort Joe Schott, the phased reopening of Shanghai Disneyland will begin on May 11.
Article continues below advertisement
"In Shanghai, we took the first measured steps towards reopening in early March, with the opening of some retail, dining, and entertainment experiences at Disneytown, Wishing Star Park and the Shanghai Disneyland Hotel," he wrote. "Today, as residents in Shanghai and its neighboring provinces have returned to more normal life – including at workplaces, schools, shops, restaurants, and entertainment destinations – I'm excited to share that Shanghai Disneyland will also be reopening to the public on May 11."
Article continues below advertisement
"As we welcome guests back to the park, we will draw on the learnings from the reopening of Disneytown and Wishing Star Park, and we will implement new and enhanced health and safety measures reflecting the guidance of our local health and government authorities. While some things will look a little different, know that that a magical experience awaits you at Shanghai Disneyland," he continued.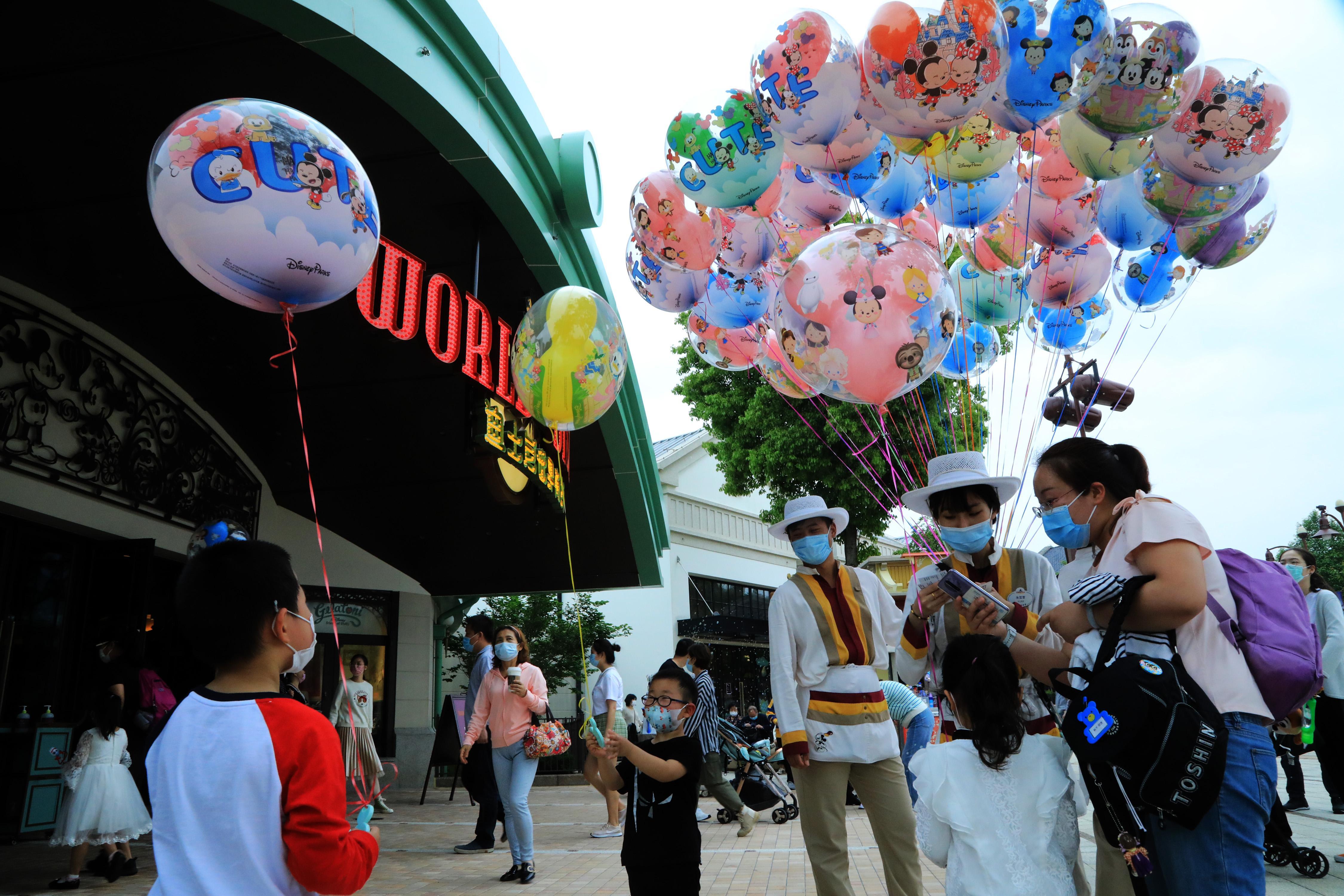 Article continues below advertisement
What exactly do these health and safety measures look like? According to the Orlando Sentinel's Gabrielle Russon, a memo was sent out during the Disney earnings call that better detailed what will be implemented.
In order to control attendance, guests will have to buy an admission ticket for a specific day and Annual Pass holders will have to make a reservation in advance of attending. The park itself will have a new capacity, as well as all individual rides and other facilities. All queues will have to reflect social distancing measures.
Article continues below advertisement
Everything that is touched often, like handlebars, will undergo more sanitization and hand sanitizers will be at more locations, encouraging guest use. The cast members themselves will undergo procedural training and will receive protective equipment.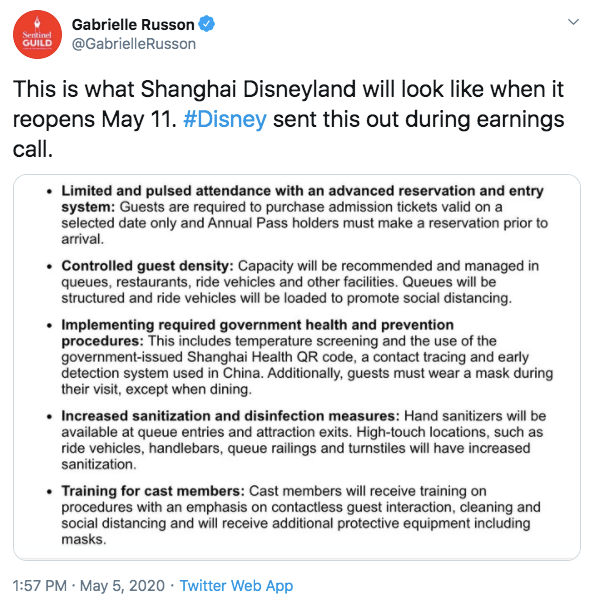 Article continues below advertisement
So, what about California's Disneyland?
According to the Disney Parks Blog original post, other Disney parks are also planning their reopening. And it seems likely that those other parks, like California's Disneyland, would follow similar procedures to Shanghai Disneyland. But it's also important to note that Shanghai began to reopen piece by piece in early March.
As Joe Schott noted, Shanghai Disneyland had already been opening up sections of its property since March as well. Disneyland in California didn't close until early March. Shanghai Disneyland closed in January.
It's possible that, because Shanghai has been able to quell the rate of infection, while many parts of the U.S. are continuing to experience new cases, we may not see Disneyland open for a few more months.