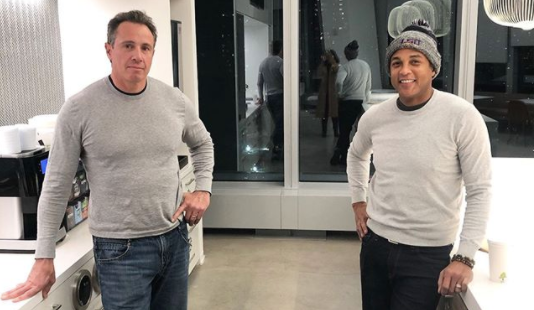 Don Lemon and Chris Cuomo Have a Pretty Awesome Bromance
On March 31, Chris Cuomo announced that he had tested positive for the novel coronavirus. Though many others in the world of news broadcasting shared well wishes for the CNN anchor, one response was noticeably more powerful. The following day, on CNN Tonight, Don Lemon fought back tears talking about his colleague.
Article continues below advertisement
"I said I wasn't going to do this," the host said, while dabbing his eyes with a tissue. "He's probably sitting at home laughing at me...Chris and I are really good friends; we live near each other. And so, when I walk into work every day, I have to walk by where Chris is so I usually go to his office." It was clear that Don was greatly missing his friend and seeing him every day.
Though the two are not related, they have made it clear over the years that they are not only friends; they're brothers.
Article continues below advertisement
Though not actually related, Chris Cuomo and Don Lemon say that they're brothers.
Chris Cuomo actually has a big brother: New York Governor Andrew Cuomo. But that doesn't mean that he doesn't consider Don to be another big brother. In September 2019, Don discussed their relationship on Jimmy Kimmel Live, noting that his mom actually calls Chris her favorite CNN anchor.
Article continues below advertisement
When Don told Jimmy that he and Chris were good friends, the host actually wondered if that were true. This is likely because Chris and Don don't always agree politically and it's rather common to see them debating on their CNN shows. But Don assured him that they were very good friends, saying that they spend a great deal of time off work together.
One weekend, when his mom texted him asking what he was up to, he told her that he was getting lunch with Chris, which prompted his mom to tell him that Chris was "like the brother you never had."
And it's pretty common for the men to call each other brother and say that they love each other on screen as well.
Article continues below advertisement
COVID-19 has been affecting Don in a very personal way.
Although Don has been struggling with not seeing his friend at work every day, COVID-19 also took away one of his very good friends. On April 14, he took to his show to call the president out for not taking responsibility during the pandemic. This came after President Trump held press briefing in which, instead of discussing plans to handle the pandemic moving forward, he showed a campaign video.
Article continues below advertisement
"I lost a very good friend this weekend. I wanted to hear from the president how he is going to stop that from happening," Don said. "Instead, I got a campaign video. What do I need a campaign video for? I want to know how you're going to stop my loved ones from dying...How are you going to keep friends and loved ones from dying? It is crystal clear from what happened today what the president's top priority is, defending himself rather than focusing on the health and well-being of the American people."
That friend who the anchor lost was gay philanthropist and activist Robby Browne.
Though COVID-19 is affecting us all, it's hard to deny that Don has been affected strongly by the pandemic and that he's hoping his "brother" gets to come back to work with him soon. We hope the same.