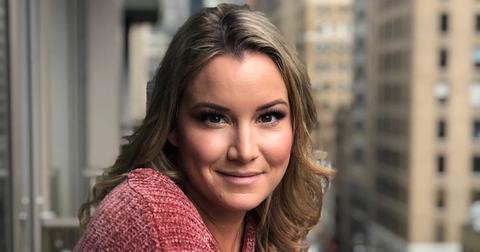 Hannah From 'Below Deck Med' Is Four Months Smoke-Free and Living Her Best Life
By Distractify Staff
Chief Stew Hannah Ferrier is reprising her role as HBOC of Below Deck Med and fans are curious about why she looks different. Specifically, viewers are wondering whether she's pregnant. Luckily, Hannah herself took to Instagram to clear up any rumors.
"So a few of you have noticed a bit of a difference in my appearance lately," she captioned a post from May, "and apart from a few pounds the difference is coming from the inside out."
Longtime smoker Hannah Ferrier has officially quit.
As it turns out, the "few pounds" are a result of quitting smoking, which is a difficult enough feat for anyone. And fans of Below Deck Med who've been following since Season 1 know how much Hannah enjoyed her cigarettes.
The chief stew revealed she didn't quit with nicotine patches or gum. "After many, many years I have officially quit smoking! Three months today!" "If you are interested in how I did it," she continued, "I actually got hypnotized!" "It's amazing and it worked for me," she added.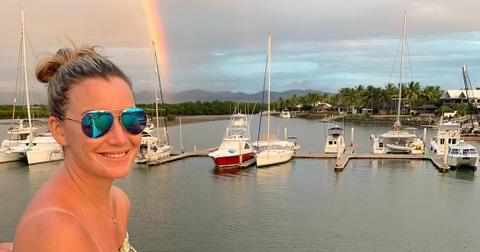 "It was a long time coming but I always believe you need to do these things for yourself when you are ready if you want to succeed," she added. Most recently, she posted an update on Instagram that said, "It's going so well!! 4 months and haven't touched one!!"
Way to go, Hannah!
Hannah reveals her shipwreck diet.
On a recent Watch What Happens Live with Andy Cohen, Andy reminded us that Below Deck's chief stew Kate Chastain once survived a shipwreck. He took the throwback as an opportunity to ask Hannah what her diet staples would be if she were ever in a similar deserted-island situation.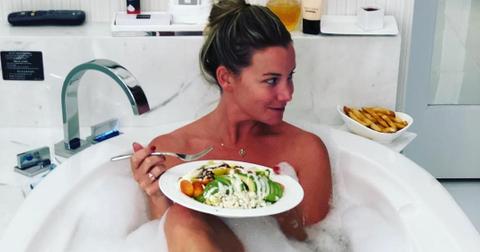 "Probably — definitely — rosé," she said. "You'd need wine. Especially if you were there with the rest of the crew." "Food-wise, probably bread and cheese — if I'm in France," she continued. "Good bread and good cheese. How I'm not like 100 kilos is beyond me!"
Those requests seem much more flexible than the usual charter guest preference sheet.
Is Hannah engaged? Who is she dating?
Earlier this year in January, Hannah uploaded a photo of herself and her dad in a dedication post on Instagram. "The love I have for this man needs no filters, edits, or captions," she began.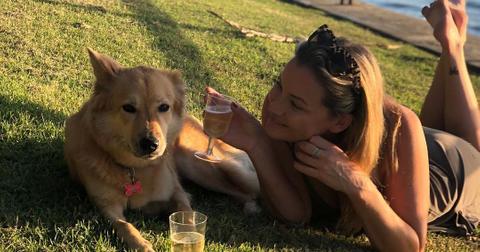 "Every day I wake up blessed that I was brought up with such an amazing, strong man as a role model. When trolls on the internet attack me for being single for such a long time, I smile to myself because I have the most amazing role model in the world," she wrote. "I refuse to settle for anything less."
So it didn't surprise anyone when she posted a photo of herself and a dog on Valentine's Day, captioning it, "Me and BAE enjoying a cheeky champagne for Valentine's Day." However, the comments revealed that the pooch wasn't hers after all. In fact, it belonged to her boyfriend.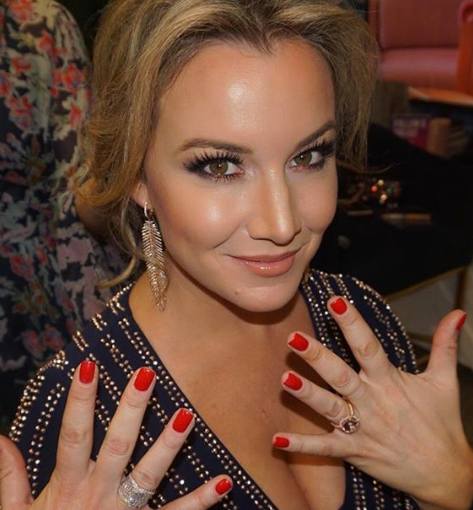 "Shes not my pooch," Hannah dished in the comments. "She's my boyfriend's. But I keep him off Insta."
Considering we've already seen her lock lips with Chef Ben, Adam, Conrad, and flirt with Malia back in Season 2 days, we respect the move to keep her new boo private.
Last year, she was linked to Australian basketball player Isaac Humphies, but the two haven't been photographed together lately and it's unclear whether they're still dating. Also unclear is whether the gorgeous rock she sported on her left hand during last week's Watch What Happens Live is an engagement ring or just a great sartorial choice.
After all, she's isn't wearing the rose-cut diamond band in any of her other recent posts...
Don't miss Hannah on this season of Below Deck Med, which airs Mondays at 9 p.m. on Bravo.