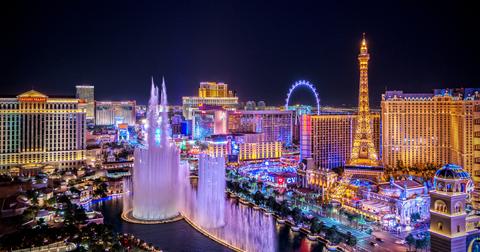 Las Vegas Has Basically Shut Down Thanks to the Coronavirus
By Gina Vaynshteyn

Updated
In the midst of what feels like a Black Mirror episode, all major institutions have been shutting down due to the coronavirus. Schools, colleges, restaurants, shops, and gyms have shut down across the U.S. due to fears of spreading COVID-19 — and that now includes many of the major casinos in Las Vegas. Since the majority of what Las Vegas has to offer is its casinos and entertainment, that's a really big blow to the state of Nevada, which heavily relies on tourism to fuel its economy.
A report from Applied Analysis for the Las Vegas Convention and Visitors Authority confirms that Vegas tourists spent $34.5 billion in Southern Nevada in 2018, and that there are more than 234,000 jobs that cater to the industry. With casino and hotel occupancy being so low (it's projected to be in the low teens), casino management feels like it has no choice but to lay off many employees and close their doors.
MGM is closing all of its Vegas hotels and casinos.

If *this* doesn't make you take this seriously, you're an absolute moron. pic.twitter.com/1r8mKdikrV

— Angry Staffer (@AngrierWHStaff) March 16, 2020
Which casinos in Las Vegas have stopped operations?
While not all casinos have closed due to the fear of spreading the coronavirus, many have paused operations and cut back on staff, the New York Post reports. "It is now apparent that this is a public health crisis that requires major collective action if we are to slow its progression," MGM CEO Jim Murren stated. At least 150 Vegas restaurants have closed, according to the Las Vegas Review-Journal, and at least 14 casinos have stopped operating, according to the Los Angeles Times.
Wynn-Encore and MGM Resorts International confirmed on on Sunday that they'll be closing their properties. This includes: Bellagio, Excalibur, Vdara, Park MGM, Signature at MGM Grand, New York-New York, Mirage, NoMad, Mandalay Bay, MGM Grand, Aria, and Delano. The casino owners say they will re-evaluate after two weeks, and MGM states that it won't be taking any reservations before May 1. The Cosmopolitan has also temporarily shut its doors.
MGM Resorts says suspending all of its Las Vegas properties effective Tuesday, with casino operations closing Monday.

"MGM Resorts will not be taking reservations for arrivals prior to May 1" pic.twitter.com/a4w42IN0bw

— Dan Linden (@DanLinden) March 16, 2020
Which casinos are staying open in Vegas?