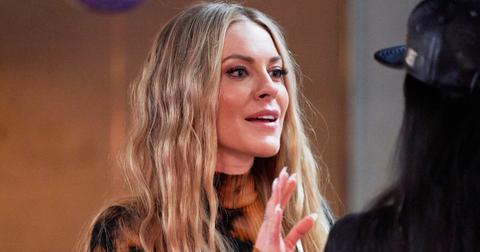 Leah McSweeney From 'RHONY' Opened up About Her Bipolar II Disorder Diagnosis
By Shannon Raphael

Updated
Though Leah McSweeney has won fans over quicker than perhaps any other first-season housewife ever in Bravo history, there's one person that the RHONY star can't please — her co-star Ramona Singer. The only remaining O.G. housewife is set to discuss Leah's bipolar disorder diagnosis in a negative manner on the July 30 episode of the reality series, and the newbie is not having it.
Is Leah on RHONY bipolar? The Married to the Mob creator got candid about her mental health.
Article continues below advertisement
Is Leah on 'RHONY' bipolar?
The reality star will discuss her bipolar 2 disorder diagnosis for the first time on the show on the July 30 episode. When the cast takes a trip to Cancun, Mexico, Leah discusses with Dorinda how Ramona tried to paint her mental health in a negative light.
While Leah and Ramona had initially gotten along when Season 12 began, Ramona has made several comments about Leah's drinking habits throughout.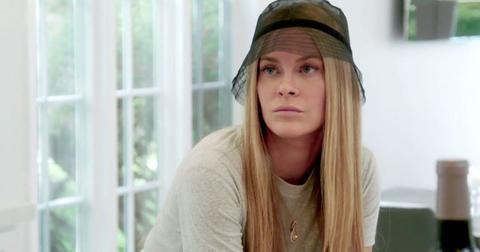 Article continues below advertisement
On the July 23 episode of the reality series, Ramona hosted her birthday party with more than 50 of her closest girlfriends (whom she has mentioned ad nauseam throughout Season 12), and she reprimanded Leah for having too much fun at the soiree.
Toward the end of the episode, Leah, Elyse Slaine, and Dorinda Medley began dancing together, and Ramona quickly ran over to yell at Leah (meanwhile, Sonja Morgan was dancing on top of a mirrored tray, which she stomped on and crushed into smithereens). She even demanded that production stop filming the party, and it was evident that her feud with Leah would be brought along in her luggage to the cast trip to Mexico.
Article continues below advertisement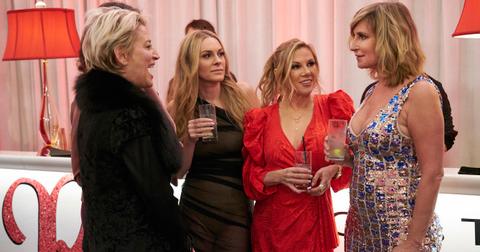 In a teaser clip ahead of the July 30 episode, Leah sits down with co-star Dorinda Medley to discuss how Ramona Singer finally went too far with her comments.
"I think you're more hurt by bigger things than just the party and stuff. I think you're hurt that she's talked about you —" Dorinda begins to her RHONY ally.
"Whatever, I don't care about the party... when you start talking about 'Leah has depression and she's on pills, it's a line that —" Leah explains.
Article continues below advertisement
"When did she say that?!" Dorinda interjects.
"To Sonja," Leah says. "It's just a line you don't cross. Right before the trip to Mexico, Sonja called me and she kind of let it slip out that Ramona was gossipping about me having bipolar disorder, which I find repulsive as f--k," she shared in her interview confessional.
Back at their sit-down, Dorinda wonders how Ramona heard about Leah's mental health diagnosis in the first place.
"When did you tell her about it?" Dorinda asks
"I never did. She must have been doing some digging on me, which is also very weird," Leah responds.
Article continues below advertisement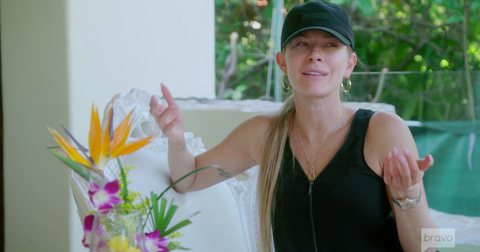 In her confessional, Leah opens up more about being bipolar.
"I was diagnosed with bipolar II disorder on my 30th birthday, and really dedicated the last seven years of my life to getting it under control and to getting myself to a good place," Leah says. "I'm not even on medication for bipolar II disorder, so for her to even be talking about it in this way is despicable."
It certainly isn't the first time Ramona has cut deep with her comments, but her side of the story will be shared on RHONY.
Article continues below advertisement
What is bipolar II disorder?
Per the American Psychiatric Association, bipolar II disorder "involves a person having at least one major depressive episode and at least one hypomanic episode... People return to usual function between episodes. People with bipolar II often first seek treatment because of depressive symptoms, which can be severe. People with bipolar II often have other co-occurring mental illnesses such as an anxiety disorder or substance use disorder."
In addition to opening up, the RHONY star has shared resources for those struggling with their mental health (especially during the coronavirus pandemic) on her Instagram page.
"We have all affected [sic] by this bizarre time we are living through and needing some help right now is nothing to be ashamed of," she wrote in the caption of a May 22 post.
The Real Housewives of New York City airs on Thursdays at 9 p.m. ET on Bravo.