Is the 'Reply All' Podcast Canceled? Here's What We Know
Is the 'Reply All' podcast canceled? Host PJ Vogt and producer Sruthi Pinnamaneni have stepped down amidst controversy, but will the show still go on?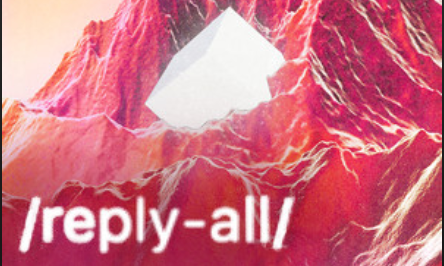 In February of 2021, Gimlet-run podcast Reply All began the mini-series, "The Test Kitchen," investigating the toxic workplace dynamic at Bon Appetit that led to the outlet's downfall. But after only two episodes of the series aired, a former Gimlet employee came forward with allegations of discriminatory and toxic behavior at the company — with one of the show's hosts and a producer called out specifically.
The news has put a hold on the ambitious series, but what about Reply All? Is the podcast canceled?
Article continues below advertisement
Is the 'Reply All' podcast canceled?
In a thread on Twitter, Eric Eddings, a former employee at Gimlet, specifically called out both producer and senior reporter Sruthi Pinnamaneni and host PJ Vogt for their own contributions to a toxic work environment at Gimlet.
"[Reply All] and specifically PJ and Sruthi contributed to a near identical toxic dynamic at Gimlet," Eric posted on Twitter on Feb. 16, 2021.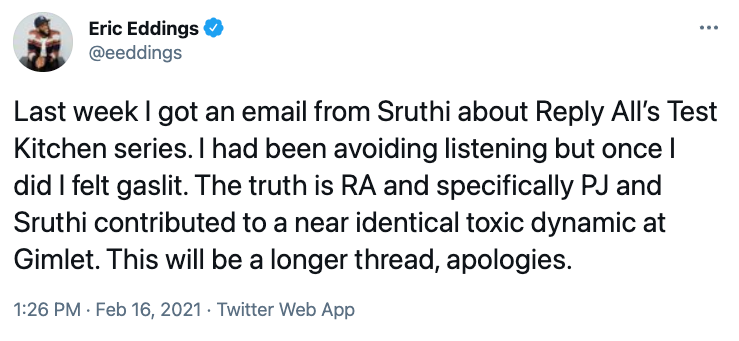 Article continues below advertisement
"The [Bon Appetit] staffers' stories deserve to be told, but to me it's damaging to have that reporting and storytelling come from two people who have actively and AGGRESSIVELY worked against multiple efforts to diversify Gimlet's staff and content," he continued.
Eric outlined how he'd personally spoken with PJ about potential avenues for improvement in the team's diversity, though his requests were ignored. Ultimately, he claimed PJ and Sruthi worked against the union committee when it formed.
Both Sruthi and PJ have since released apologies, and both have stepped down from the podcast.
"I want to begin by acknowledging the complicated and emotional nature of what has unfolded on social media and in conversations over the last 24 hours," managing director Lydia Polgreen said in a statement, according to The Hollywood Reporter. "I have had direct discussions with those involved and many others of you who are feeling the impact of this, and I plan to continue these in the days and weeks ahead."
Article continues below advertisement
"From the moment I arrived at Gimlet, it was clear that our culture needed work, and that there were big things that needed to change to make this a better, more equitable place," the statement continued. "We have spent a lot of time working to make those changes in partnership with many of you. These events are a reminder of how much work remains."
Sruthi was reportedly set to leave Reply All before the allegations were made, while PJ is taking a temporary leave of absence.
Article continues below advertisement
'Reply All' canceled the rest of the 'Bon Appetit' series, but not the podcast as a whole.
With one of Reply All's hosts and a producer leaving the show at the same time, the future of the popular podcast was thrust into limbo. On Feb. 25, Alex Goldman (the other original host of the show) gave an update. "We now understand that we should never have published this series as reported. And the fact that we did was a systemic editorial failure," Alex said. "We are not going to be continuing the series, and PJ and Sruthi have both decided to leave the Reply All team."
Article continues below advertisement
Alex clarified that the first two episodes of the Bon Appetit series will remain on the podcast feed, but with an added disclaimer. He then gave a bit of information about the future of the podcast, saying: "We plan to find a way to get to the bottom of what went wrong here, both with the series and with the show. And once we fully understand it ourselves, we also want to tell you — as best we can — what happened. As we contend with everything, we're placing the show on pause. You'll hear more from us soon."
Alex also wrote a thread on Twitter listing the many people who are involved in making the show, and reiterated that "this isn't the end of Reply All." There have been no further updates since the Feb. 25 announcement. For now, fans are just waiting to see what happens next.