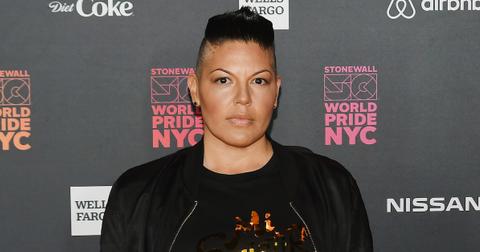 Is Sara Ramirez Still Married? The 'Grey's Anatomy' Star Came Out as Nonbinary
By Michelle Stein

Updated
Grey's Anatomy fans will forever see Sara Ramirez as Dr. Callie Torres — it's just a fact. The orthopedic surgeon left Grey Sloan Memorial Hospital for good when she moved to New York with her girlfriend in the Season 12 finale. Which is probably why few were shocked when Sara came out as queer and bisexual IRL after leaving the show. (Callie was bisexual, after all.)
After the actor came out as nonbinary in 2020, many fans wondered: Is Sara Ramirez still married?
Obviously, just because someone has come out as nonbinary doesn't mean they can't remain married to their spouse. (It's also likely her husband knew about her gender and sexual orientations way before the general public.) Still, some fans are curious about how/whether Sara's gender identity has affected her marriage. Let's take a closer look.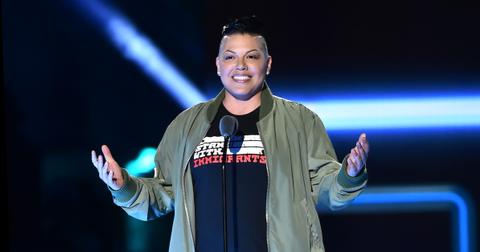 Sara married Ryan DeBolt in 2012.
After dating for several years, Sara married businessman Ryan DeBolt on June 4, 2012. The couple exchanged vows during a beachside wedding held in New York.
Sara came out as bisexual in 2016.
Although Callie Torres on Grey's Anatomy came out as bisexual on the show back in 2009, Sara didn't come out publicly as queer and bisexual until 2016. The actress did so during a speech at the True Colors Fund's 40 to None Summit.
"Coming out publicly has given me a sense of relief," she told People in 2018. "It's been a form of liberation for me to own all of my identities so that I no longer feel the need to hold back or hide any parts of myself when I walk through any threshold in life."
In reality, though, Sara's coming out has been an ongoing process since she was 18 years old.
"Although my caretakers were ill-equipped to support me in the ways that I needed and although I internalized a lot of bi-antagonism and biphobia and discrimination growing up, either in straight spaces or LG spaces, I knew my truth and my truth never went away," she told People.
The timing of Sara coming out as bisexual came after the Pulse nightclub shooting in Orlando, Fla., during which 49 people were killed and 50 others were wounded. It is one of the deadliest attacks against the LGBTQ community and Latinos in modern U.S. history — and it inspired Sara's decision to go public with her sexuality.
"Coming out publicly was something that I was afraid of because I was concerned that it would affect my career in a negative way," she told People. "I was afraid of the discrimination I might face, not just outside Hollywood, but inside."
Sara continued, "As I continued to read and hear about the countless forms of violence perpetrated against us, including the Orlando shooting at Pulse nightclub, an organic, incremental urgency to use my platform to empower those who are part of these communities that I'm a part of came over me in a way that I've never felt before."
Sara came out as nonbinary in August 2020.
On Aug. 28, Sara came out as nonbinary via Instagram, revealing she will use both she/her and they/them pronouns. They captioned the post with, "New profile pic. In me is the capacity to be Girlish boy, Boyish girl, Boyish boy, Girlish girl, All, Neither," and included the hashtag #nonbinary.
Is Sara Ramirez still married?
As far as public records are concerned — and as far as either Sara or Ryan have shared publicly — Sara is still very much married to Ryan. We wouldn't expect them to comment on the status of their marriage unless it were ending, assuming their desire to continue keeping their relationship out of the public eye.