Tips for Catching a Shiny Pumpkaboo in 'Pokémon GO'
Pumpkaboo can be found in abundance ahead of Halloween in 'Pokémon GO,' but is the shiny version available in the mobile AR game?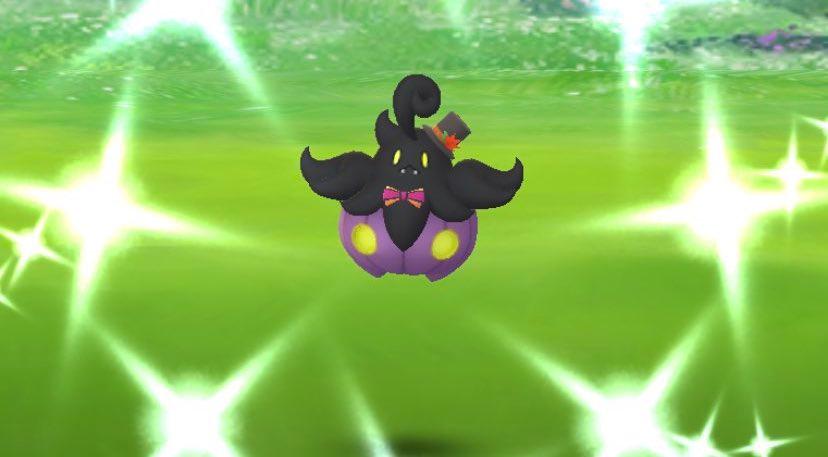 Spooky season has descended upon Pokémon GO — so of course a Pokémon that looks like a pumpkin gets to have its moment in the spotlight during the Halloween season.
Article continues below advertisement
Pumpkaboo, a Grass and Ghost-type Pokémon, has been found more often in the wild leading up to the scary holiday. But can this Gen VI Pokémon be shiny in Pokémon GO?
Article continues below advertisement
Can Pumpkaboo be shiny in 'Pokémon GO'?
Yes, players will be able to find shiny Pumkaboo in the wild throughout this event. Just like most other Pokémon in the game, Pumpkaboo has a shiny spawn rate of 0.2 percent, meaning it'll take some serious grinding to find a shiny one. There are also four size variations of this Pokémon — and if you're looking to catch shiny versions of them all, you'll have to grind a bit harder.
In place of Pumpkaboo's traditional pink body and gray head, shiny Pumpkaboo has a purple body and a black top, making it pretty distinct from its traditional form. Of course, you won't know if you've got a shiny Pokémon until you start the encounter, so you'll want to try to catch every Pumpkaboo you come across.
Article continues below advertisement
Here's how to capture Pumpkaboo in 'Pokémon GO.'
Though Pumpkaboo is appearing more frequently than before in Pokémon GO, there are still a limited number of ways trainers can obtain this Pokémon. Unfortunately, you won't be able to get it through hatching eggs or by completing research events, as the Pokémon is not being offered as a reward through these avenues. At this time, the only way to find Pumpkaboo in Pokémon GO is to spot it in the wild and catch it.
This, of course, also means players will only have until the Halloween events are over to capture it, or Pumpkaboo will become harder to catch in the wild. The Halloween event will end after the holiday concludes, meaning Nov. 1 is when Pumpkaboo will no longer be found as frequently as it currently can be in the wild. Be sure to capture enough that you can obtain all of the evolutions you want.