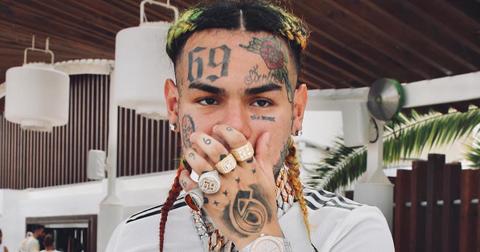 What's Next for Tekashi 6ix9ine? Rapper Might Be Headed to Witness Protection
By Anna Quintana
On Sept. 17, Tekashi 6ix9ine (real name: Daniel Hernandez) took the stand in federal court and testified against his former gang, the Nine Trey Bloods.
According to TMZ, Tekashi was still rocking his signature rainbow hair on the stand and testified that he joined the gang in 2017. He also identified the two men on trial — Aljermiah "Nuke" Mack and Anthony "Harv" Ellison — something investigators had been unable to do until Tekashi's testimony.
So, does this mean that Tekashi 6ix9ine gets out of jail free?
Along with identifying the two men on trial, it was also reported that Tekashi pointed out more gang members, who were featured in his "Gummo" music video. Tekashi also made it clear his main role was financing the gang.
Before agreeing to testify, Tekashi was facing a minimum of 47 years in prison for racketeering charges but he cut a deal with the feds and agreed to plead guilty. This means that instead of decades behind bars he could be a free man as early as January 2020.
Tekashi 6ix9ine's sentencing hearing is scheduled for Jan. 24.
A federal judge will determine the terms of his sentencing on Jan. 24. "Should the defendant successfully cooperate, the government agrees that it will file at the time of sentencing a motion… for a sentence below any mandatory minimum," Tekashi's plea deal read.
In his plea deal, Tekashi confessed to helping the gang in its attempt to kill a rival gang member, paying an associate to shoot Chief Keef, taking part in an armed robbery, and selling heroin. You can read the full plea deal here.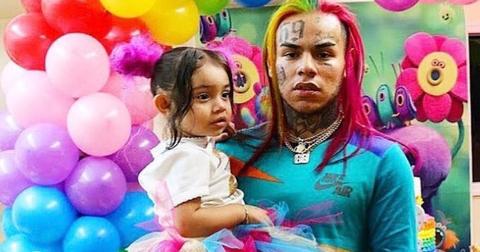 "I apologize to the Court, to anyone who was hurt, to my family, friends, and fans for what I have done and who I have let down," the 22-year-old rapper said at the time.
Tekashi has a 6-year-old daughter named Saraiyah with his ex, Sara Molina. He allegedly fathered another daughter right before he was arrested with a woman named Layna.
Tekashi 6ix9ine will be eligible for witness protection.
Since Tekashi is clearly taking a big risk by testifying against the Nine Trey Bloods, he will be eligible for witness protection. However, that won't be easy considering his very recognizable face tattoos.
As expected, fans (and fellow rappers) are trolling Tekashi for joining the gang for "street cred" and the idea of the rapper entering witness protection.
"69 going up in s federal courthouse today kids! Message of the day don't be a Internet gangsta... be yourself [sic]," Meek Mill tweeted.
Dj Akademiks added, "Breaking: Tekashi 69 is in court testifying as we speak against his kidnappers." Surprisingly, he does have support from a few famous friends.
"As a person and regardless of whatever he did, I kind of miss that guy, dog," Tory told Complex News of his "KIKA" collaborator. "As a person, he's a funny guy... I really just don't care. I don't give a f--k about how people view me. God forbid I kill somebody tomorrow and I go to jail and y'all look at me as a murderer for the rest of my life. That doesn't change the songs that I made."
Following his arrest, Nicki Minaj also reached out, writing, "Danny, I love you and am praying for you, your mother, daughter & her mom during this time."