Speculation Is Heating up About Whether Ja Morant and Johanna Leia Are Dating
Johanna Leia and Ja Morant's Instagram activity has some suspecting that the basketball star and influencer may actually be dating.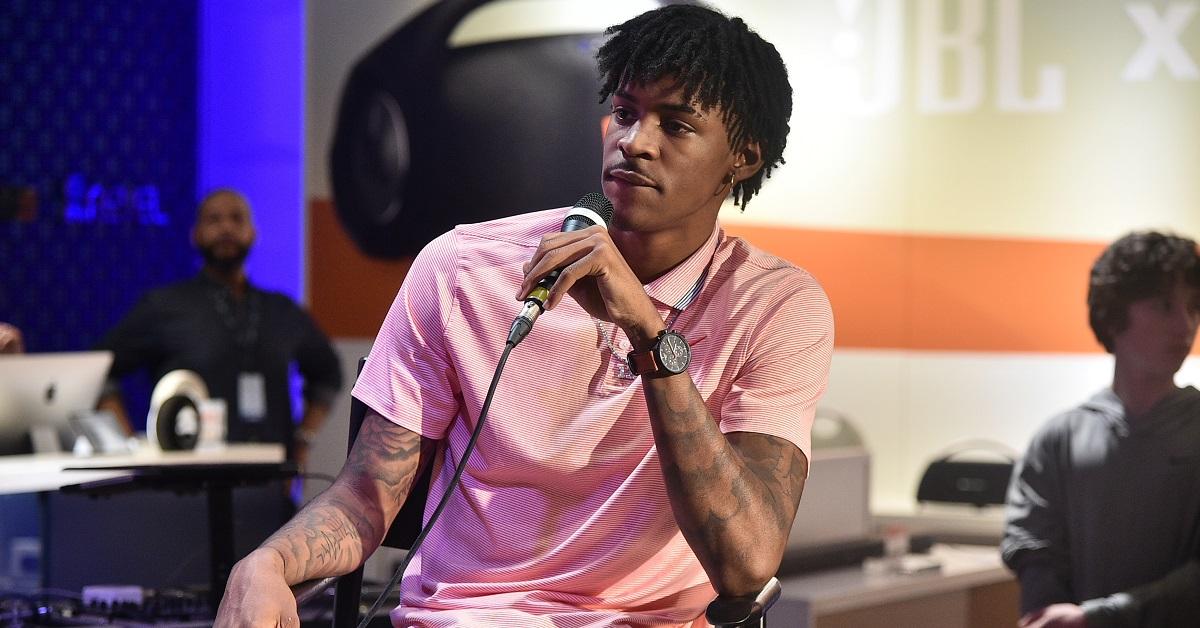 Speculation about celebrity relationships has been a constant on social media since it was created, and oftentimes, that speculation proves to be true. That latest unconfirmed rumors suggest that there may be something between Memphis Grizzlies star Ja Morant and Instagram influencer Johanna Leia. Now, many are wondering what exactly this speculation is based on.
Article continues below advertisement
Are Ja Morant and Johanna Leia dating?
Ja and Johanna have yet to be spotted together, but a careful examination of both of their Instagram accounts suggests that they may be linked. Ja seems to be following Johanna's account particularly closely and has liked several of her recent posts. Johanna is also following Ja, and a source suggested that Ja had recently had Johanna flown out from Denver so that she could watch him play.
Article continues below advertisement
The combination of these reports has fueled pretty consistent speculation about a possible relationship, but it's impossible to say for sure whether there's anything behind the rumors based on social media alone. They have yet to address the rumors in any way, and it's possible that the reporting is incorrect and the social media activity is nothing more than a coincidence.
Johanna was previously linked to Drake.
Although the latest rumors suggest that Johanna may be in a relationship with Ja, she was previously linked to Drake, and TMZ reported that the two first met through Johanna's son, who is a top high school basketball prospect. Reporting also suggests that Drake took Johanna to an empty Dodgers Stadium for a romantic dinner. Drake also developed a relationship with her son, who he advised on topics like managing your money and fame more generally.
Article continues below advertisement
Johanna was Drake's first consistent relationship in a while, and while they didn't share much about one another on social media, it seems like things were pretty hot and heavy for a time. More recently, though, their relationship seems to have cooled off, so much so that speculation is heating up around the possibility that Johanna may be linked to someone else entirely.
Article continues below advertisement
Johanna has two children.
Other than her Instagram profile, Johanna is likely best known for her appearances on the Lifetime series Bringing Up Ballers. She was raised in Chicago but later moved to Los Angeles with her mother and two children. She had both of those children with Aaron Bailey, who played with the Indianapolis Colts from 1994 to 1998. Her children, Amari and Savvy, are both regularly featured on her social media channels.
Amari currently plays basketball at Sierra Canyon High School, where Lebron James' son is also a prominent player. Drake was likely able to give Amari plenty of pertinent advice about his future, but it seems like Ja may be even better equipped to explain what it's like to be a professional athlete.
Of course, if Johanna and Ja are romantically linked, that probably isn't the only reason. Still, it may be a nice side benefit to be in a relationship with someone who knows what it's like to play a sport at the highest possible level.