James Charles Goes After Wet n Wild For Copying His Morphe Eyeshadow Palette
James Charles recently tweeted at Wet n Wild for copying his new Morphe collaboration palette. The new 40 Palette does look wildly similar to James's 39 Palette. Will James Charles sue?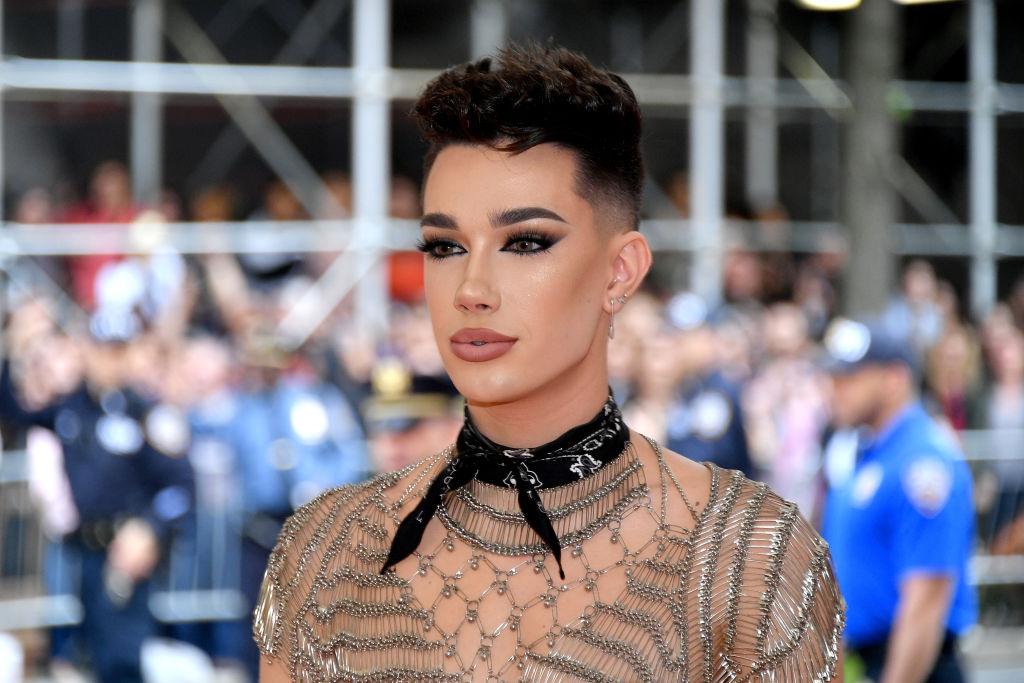 On September 7, James Charles tweeted, "That's crazy...your "NEW" palette looks extremely similar," in response to Wet n Wild's announcement about their new 40 Palette. The drugstore beauty brand debuted the collection at RuPaul's DragCon and told consumers it would be available for purchase this fall.
Article continues below advertisement
Along with a couple clown emojis, James additionally tweeted, "there are only so many colors you can put into an eyeshadow palette & I'm not claiming to 'own' specific colors. BUT when you copy the exact shades & layout from my palette without even TRYING to hide it...?" Wet n Wild added fuel to the fire with their response.
"We certainly didn't copy the price :)," the beauty brand replied on Twitter. Yikes.
Article continues below advertisement
Is Wet n Wild's eyeshadow palette really that similar to James Charles's? 
The palettes are suspiciously similar — right down to the order of shades. The only major differences are some of the eyeshadow sizes in the palette and a few of the shades on the top row are different. Twitter user Kaleigh Frostick posted a meme that mocked Wet n Wild for "copying" James's "homework." "Can I copy your homework?" the tweets states. "Yeah just change it up so it doesn't look obvious you copied." Ouch. While the 40 Palette isn't on Wet n Wild's website yet, we doubt the palette will cost $39, which is what James Charles's Morphe palette is going for.
Article continues below advertisement
Many James Charles fans agree with the YouTube star, some tweeting "Sue them sister," and "Unleash your inner lawsuit, sister." While others are actually attacking James for being, well, petty. Some just don't support the collaboration between Morphe and James Charles at all — most likely due to the fact that the YouTuber was embroiled in some internet drama earlier this year (more on that in a sec). A Twitter user wrote, "The fact that your name was on the morphe palette was the ONLY reason I didn't buy it. I don't want to support you in ANY form. Not to mention it's cheaper. You have plenty of money already, im [sic] sure you'll survive."
Article continues below advertisement
Others claim James's palette isn't even unique enough for him to be complaining that another beauty brand copied it. "I dont [sic] understanf [sic] how your [sic] complaining but you took your palette layout from morphe or w.e. and you stay [sic] 'recreating' (and i say they loosely) looks from other smaller artist and try yo pasd [sic] them as your own.. But please continue with your ted talk."
Article continues below advertisement
And some felt the need to point out that Wet n Wild's whole business model is creating beauty product dupes.
Article continues below advertisement
There's been a lot of James Charles drama this year.
Back in May, James got into it with Tati Westbrook (his good friend) when she called him out for promoting her rival's brand, Sugarbear. James apologized, but it wasn't enough to keep Jeffree Star from tweeting about his "predatory" behavior. James lost 2 million subscribers (including big-time celebrities like Miley Cyrus and Kylie Jenner) that week alone. Many think it was a big publicity stunt, since after James posted an apology video to YouTube, Tati deleted hers. Womp, womp. Still, this clearly left a bad taste in many fans' mouths.
Article continues below advertisement
Will James Charles sue Wet n Wild?
It's unclear if he even can and there haven't been any official reports, but hopefully the YouTube star will try to avoid any more ~drama~ this year.
It's true that it isn't a cute look for Wet n Wild to be copying James's palette — but when a brand is known for their dupes, is it really fair to go after them?