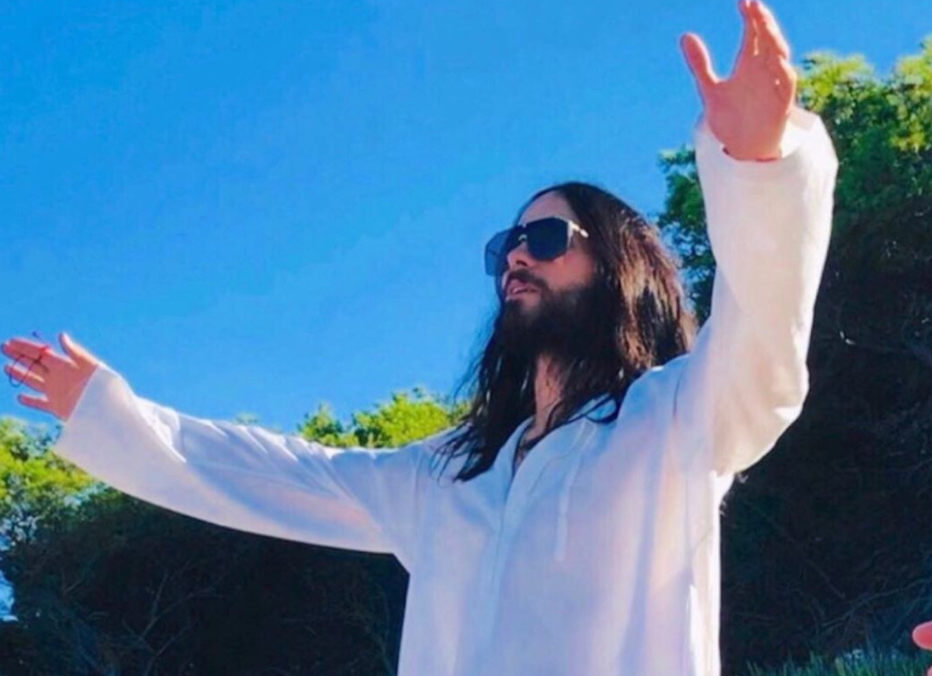 Jared Leto Has His Own Fyre Fest-Like Cult, No We Are Not Joking
Today in Strange but True Things You Need to Know: Actor Jared Leto has a cult and his followers consider him their prophet.
Article continues below advertisement
Back in 2019, it was reported that Jared started a real cult and he actually invites fans to join him on a very isolated island (Mars Island) where he walks around in a flow-y white dress, his long brown hair parted down the middle. Jared has admitted himself that it's a cult, saying, "Yes, this is a cult, #MarsIsland," on his band 30 Seconds to Mars' Twitter page. Jared apparently bought (or rented) part of a private island where his fans followers congregate.
Article continues below advertisement
Here's the official description of Mars Island: "Mars Island is a three night, all inclusive festival experience. Relax and restore with yoga amongst the trees, take a dip in the pool, catch a midnight screening or gaze at the stars, and catch two intimate performances with Thirty Seconds to Mars. Mars Island is an experience like no other." Did anyone tell Jared about Fyre Fest by any chance? While the whole thing might partly be a marketing ploy for the band, that isn't stopping Jared from embracing his new identity as prophet.
Article continues below advertisement
How much does it cost to join Jared Leto's cult?
The starter package starts at $995 (which doesn't include travel), and it goes up to $6,499, which is the highest tier. If you go with this package, you get an "exclusive VIP experience" with Jared himself. The event, which is located in Croatia, is happening from August 21-24, 2020.
Article continues below advertisement
The cult's followers are referred to as the "Echelon." In a promotional video, we learn that the Echelon is: "Belief, Hope, Emotions, Understanding, Music, Support, World Unification, Love, Shouts, Communication, Freedom, Happiness Tears, Dreams; It Is The Family." The video shows devoted fans with actual Echelon tattoos. Members of the Echelon also use the uniting hashtag #YouWouldntUnderstand, which is kind of a motto that Jared started and uses himself. (It's also used to fight back against any nay-sayers.)
Article continues below advertisement
Is Jared's cult related to the fact that the actor/prophet didn't know that the world was in the middle of a pandemic until he returned from his 12-day retreat? Was he on cult-related duties? On March 16, he tweeted, "Wow. 12 days ago I began a silent meditation in the desert. We were totally isolated. No phone, no communication etc. We had no idea what was happening outside the facility."
He added, "Walked out yesterday into a very different world. One that's been changed forever. Mind blowing - to say the least. I'm getting messages from friends and family all around the globe and catching up on what's going on." This is what happens when you're in a cult! You don't realize the world has succumbed to a pandemic!
Article continues below advertisement
Way back in 2013, Jared told the New York Times that his cult was "a joke, a response to journalists saying, 'You have such a cult following." But it seems like Jared and his band took the label very, very seriously. Since 2015, they've held "summer camps." In all seriousness...Jared's "cult" may just be a Fyre Fest-like marketing tool for his band 30 Seconds to Mars which hopes to host an isolate, luxurious event around music and spirituality. Or maybe it's truly a cult-cult. Maybe we just... #DontUnderstand.