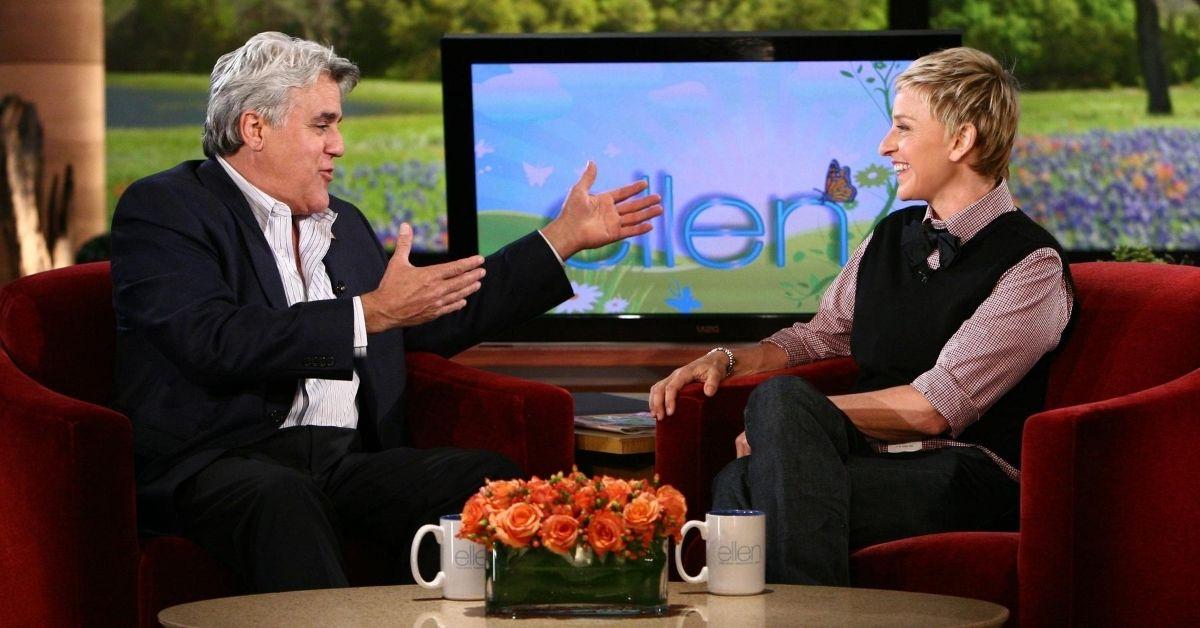 Jay Leno Is Defending Ellen but Is He the Best Moral Compass?
Jay Leno released a statement defending Ellen DeGeneres, but after Jay Leno's racist joke, people question if he's a good moral compass.
Jay Leno recently came to the defense of fellow talk show host Ellen DeGeneres amid the allegations she's facing over employee mistreatment and that she fosters an abusive and toxic workplace. The 70-year-old host tweeted his support for Ellen, but the backlash was swift with people reminding others of Jay Leno's racist joke, hinting that maybe he's not the best moral compass for this.
Article continues below advertisement
Jay Leno came to the defense of Ellen on social media.
On Aug. 4, Jay took to Twitter to defend Ellen DeGeneres and offer his input and support for the talk show host.
Tweeting to his 626,800 followers he wrote, "I don't discard a 40-year friendship on hearsay." Accompanying the tweet was a photo of him and Ellen when he was a guest on her show. He added, "The Ellen I know has raised over $125 million dollars for charity and has always been a kind and decent person. I fully support her."
Article continues below advertisement
His statement comes after a BuzzFeed News report indicated 12 current and former staff members of The Ellen DeGeneres Show say they've experienced a long-term toxic work environment that included acts of racism and being fired after taking bereavement days or medical leave.
"That 'be kind' bulls--t only happens when the cameras are on. It's all for show," one former employee said, according to BuzzFeed News. "I know they give money to people and help them out, but it's for show."
Article continues below advertisement
Days after that report, Ellen issued a public apology.
"On day one of our show, I told everyone in our first meeting that 'The Ellen DeGeneres Show' would be a place of happiness — no one would ever raise their voice, and everyone would be treated with respect," she wrote, according to Variety. "Obviously, something changed, and I am disappointed to learn that this has not been the case."
Several celebrities also spoke out saying they, too, believe Ellen isn't as kind as she makes herself seem, which is likely what prompted Jay Leno to issue his public support.
Article continues below advertisement
However, given Jay Leno's racist joke on 'America's Got Talent,' people were quick to dismiss his support.
While on set of America's Got Talent working as a guest judge, Jay Leno's racist joke sparked a workplace issue of its own. The joke was revealed when Gabrielle Union opened up about her 2019 exit from the popular show and how he contributed to the toxic environment.
Article continues below advertisement
While he was filming a commercial in the America's Got Talent offices, Jay said something regarding artwork in Simon Cowell's office. The painting in question featured Simon and his dogs. Jay reportedly made a comment about the animals in the photo, remembering food at a Korean restaurant — reinforcing the stereotype that Asian people eat dog meat.
"My first big interview in this industry, the first person who allowed me to come on their talk show, was Jay Leno. I've always held him in high regard, but I was not prepared for his joke," Gabrielle told Variety. "I gasped. I froze. Other things had already happened, but at this point, it was so wildly racist."
Article continues below advertisement
Jay's joke was brought up again after his tweet supporting Ellen.
Jay Leno was one of the first people to publicly come to the defense of Ellen and the accusations she's facing, but his tie to toxic work environments didn't go unnoticed by the public. People replied to his tweet pointing out that he's perhaps not the best moral compass on this topic.
Article continues below advertisement
"You were also personally responsible for contributing to a toxic workplace culture on a TV show," one Twitter user replied. "You should provide that context as you stand by Ellen. Did you apologize to Gabrielle Union?"
"I remember very well that you also contributed to highly toxic workplace practices as well Jay Leno and you called Gabrielle Union difficult after calling out racism," another said. "Let's not pretend as if donating to charitable causes erases disgusting behavior."