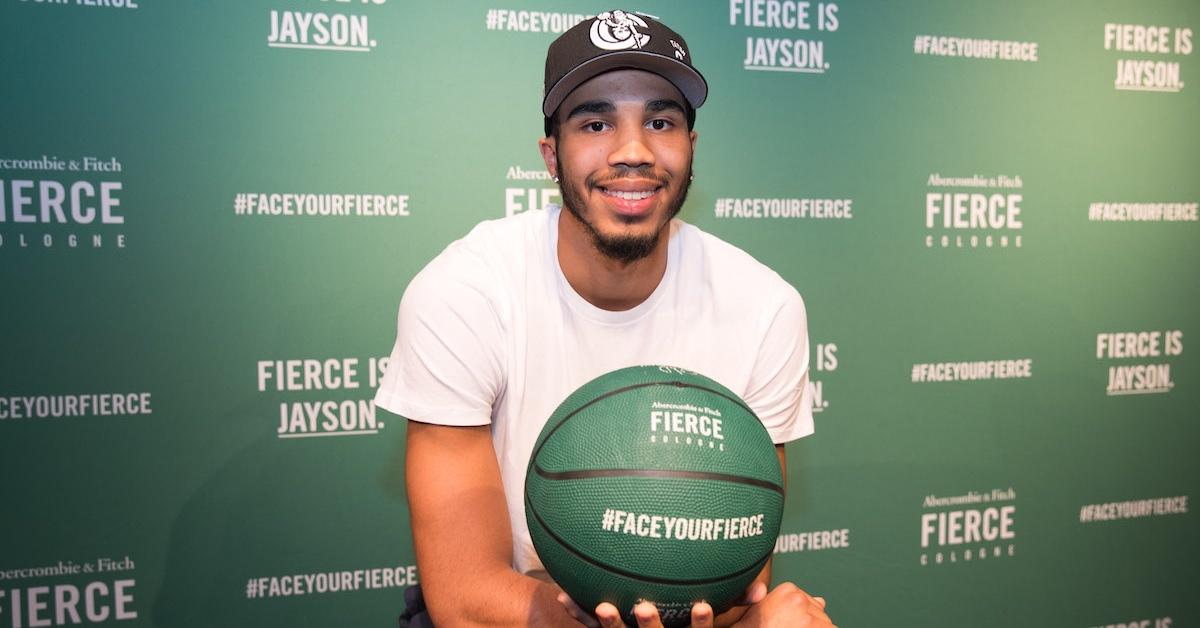 Jayson Tatum's Baby Mama Is an Entrepreneur and Hairstylist
Even though Jayson Tatum and the Boston Celtics fell short of securing the 2022 NBA Championship title, the young baller is still winning at life. Aside from Jayson winning the Eastern Conference Finals with his team, the 24-year-old has been prospering in his love life and with parenthood. That's right — for folks that have been out of the loop, Jayson is a dad to 4-year-old Deuce, aka Jayson Tatum Jr.
Article continues below advertisement
Although Jayson has been in the headlines as of late for his rumored relationship with an R&B star, fans have long wondered about the nature of his co-parenting relationship with his baby mama. After all, NBA players are no exception to some baby mama drama. You've come to the right place to get the 4-1-1.
Article continues below advertisement
Jayson Tatum's baby mama, Toriah Lachell Mimms, is an entrepreneur and hairstylist.
Having a child with an NBA player or public figure comes with its share of pros and cons. Sure, fans of said celebrity may instantly gravitate towards you and support any projects or business ventures you have going on. On the flip side, social media trolls can sometimes rear their ugly heads. However, Jayson's baby mama, Toriah Lachell Mimms, has done a great job of remaining low key and focused on her career.
MixedArticle reports that Toriah is based in the Boston area and works as a hairstylist and entrepreneur. According to Toriah's Instagram bio, she owns the hair salon The Curl Bar.
Article continues below advertisement
A quick browse through Toriah's Instagram shows how passionate she is about hairstyling and working with hair of all textures. Toriah is also Rezo Cut certified, a Cut it Kinky Alumna, and a Deva-inspired stylist. Not to mention, she currently has a sizable following of 12.5 thousand followers on her personal Instagram page with half the following for Toriah's business page.
Article continues below advertisement
As for Toriah's relationship with Jayson, MixedArticle shares that she and Jayson first started dating in high school. The couple's relationship failed to go the distance, and rumors of Jayson cheating on Toriah made their rounds. However, the reason that the two went their separate ways has not been disclosed to the public. It's also unclear where Toriah and Jayson stands in terms of co-parenting.
Article continues below advertisement
Even though Toriah and Jayson were unable to keep their relationship intact, they were able to bring a beautiful son, Deuce, into the world. The site shares that Deuce was born on December 6, 2017.
Jayson Tatum is rumored to be dating R&B singer Ella Mai.
Alexa, play "Boo'd Up" by Ella Mai. It appears that there may be some sparks between Jayson and singer Ella Mai. Over the 4th of July weekend, the pair were spotted at businessman Michael Rubin's annual soiree, per The Sun. The two appeared to be in great spirits with big smiles on their faces.
Article continues below advertisement
Two celebrities being spotted together is no clear indication of a romance, but social media was set ablaze since Jayson and Ella were rumored to be dating since 2020. ClutchPoints reports that Ella was reportedly seen at Jayson's home in October of that year, which set off the coupledoms rumors. However, both Ella and Jayson have been mum about their rumored romance.
Article continues below advertisement
Not to mention, Ella fans know that the Jamaican-Irish songstress is notorious about keeping her love life out of the spotlight. In fact, there has never been any rumors of the 27-year-old dating anyone in the public eye before Jayson.
Folks may believe that Jayson and Ella are nothing more than friends, but the pair was spotted yet again at Coney Island Amusement Park in Brooklyn over the holiday weekend, via a video obtained by The Shade Room.
Although Ella and Jayson were not serving up any PDA, the fact that they were spotted twice in the same weekend clearly shows that they are spending time together. And social media users are eating it up.