Celtics Fans Continue Their "Anti-Kyrie Irving" Agenda During the NBA Playoffs
The feud between Celtics fans and Kyrie Irving is heating up during the playoffs, and some are curious to know why the two parties hate each other.
Cue up "Sweet Victory" because this game is one for the books.
On Easter Sunday, the Boston Celtics clinched Game 1 in their playoff series against the Brooklyn Nets after Jayson Tatum delivered a game-winning buzzer-beater against Kyrie Irving; if that doesn't scream karma, we don't know what does!
Article continues below advertisement
After Celtics fans continuously heckled the guard during the game on April 17, several fell victim to multiple double birds from the man himself. Kyrie's history with Boston runs deep and has evidently left fans very bitter, but it seems their mutual grudges are coming out to play quite early in this year's playoffs.
So, why is there bad blood between the two parties? Better yet, why do Celtics fans hate Kyrie Irving so much? Here's everything we know.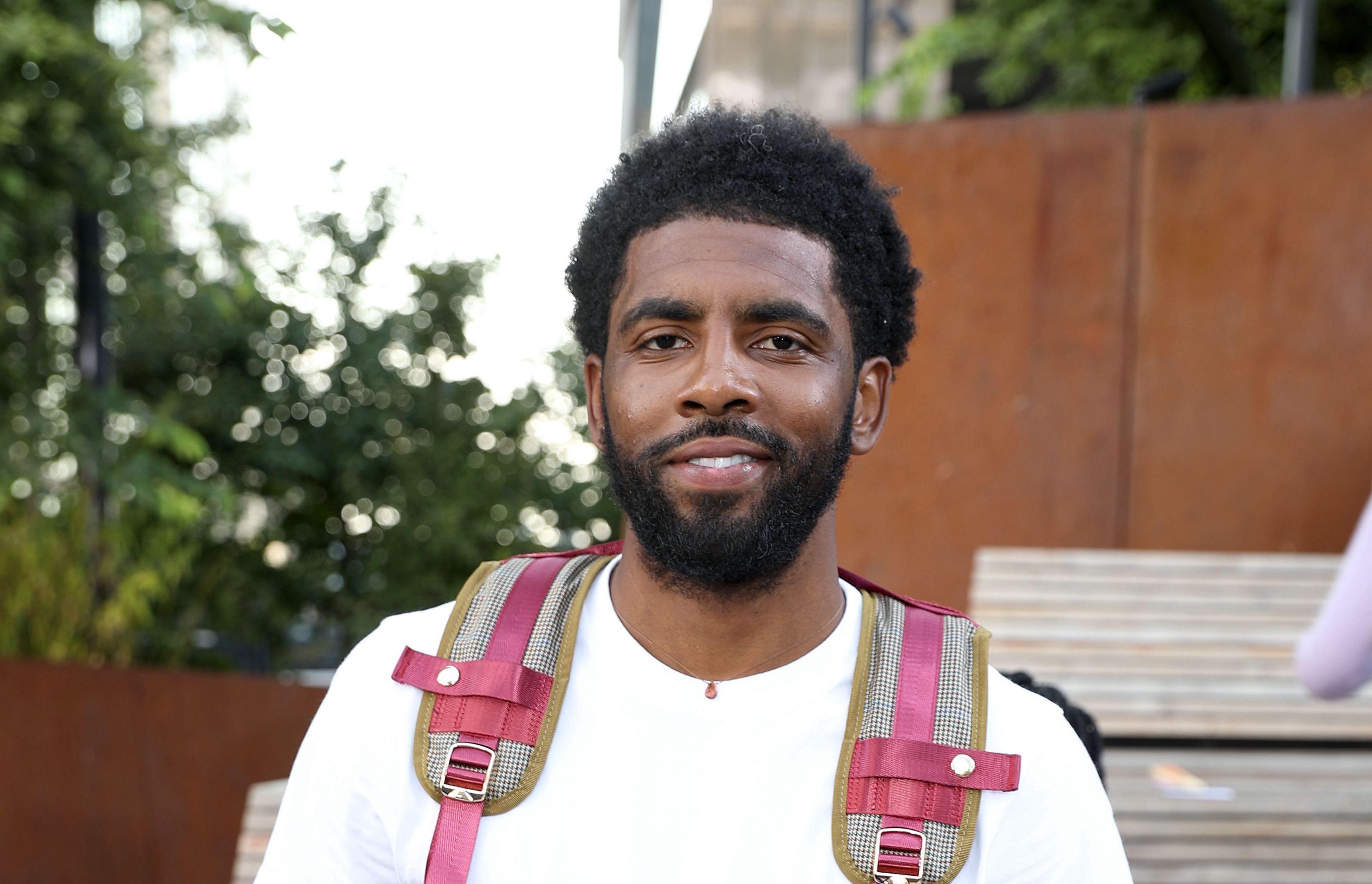 Article continues below advertisement
Why do Celtics fans hate Kyrie Irving?
OK, how much time do you have because we are about to write a 30-page paper on why Celtics fans hate Kyrie Irving — just kidding. But, we will be diving into every reason the 30-year-old Uncle Drew star is loathed by fans who bleed green and gold.
For one, Celtics fans believe Kyrie is one of the most toxic players in the league. When playing for the organization from 2017 to 2019, Kyrie never once took accountability or responsibility for his team's poor record — he would blame everyone else before even thinking about mentioning his own mistakes.
Article continues below advertisement
After a frustrating loss to the Orlando Magic in January 2019, Celtics fans noticed Kyrie throwing a massive fit because he didn't get the ball for the last shot.
Tensions in the locker room were clearly mounting and things only seemed to get worse once Kyrie talked about the team's "lack of experience" in a post-game interview. Um, was Kyrie kidding? The young players had been leading the Celtics into the playoffs year after year without him, so what lack of experience was he referring to?
Article continues below advertisement
Celtics fans also dislike Kyrie for his smug and arrogant ways. He is known to be very nonchalant about losing and rarely discusses plans to improve ahead of games. Ultimately, Kyrie's attitude has left fans with the impression that he never really cared about the franchise.
The cherry on top of the cake came when Kyrie abruptly retracted his promise to re-sign with the Celtics in 2019. He eventually conjured a "super team" plan with Kevin Durant and the pair signed to the Brooklyn Nets in July 2019, understandably leaving Celtics fans incensed.
Article continues below advertisement
Why did Kyrie Irving leave the Celtics?
After up and leaving the Boston Celtics, Kyrie explained that the death of his grandfather had him re-evaluate his priorities, which influenced his desire to play closer to his home in New Jersey.
"After he passed, basketball was the last thing on my mind," Kyrie explained, via USA Today. "There was a facial expression that I carried around with me throughout the year. [I] didn't allow anyone to get close to me in that instance, and it really bothered me."
Article continues below advertisement
"So, throughout the year, it started becoming more and more clear that my relationship within my home life has way higher precedence than the organization or anyone," he added, also noting that he "failed" the Celtics.
"And I failed those guys in a sense that I didn't give them everything that I could have during that season, especially with the amount of pieces that we had," he concluded. "My relationships with them personally were great, but in terms of me being a leader in that environment, I failed."
Well, it's clear that Celtics fans didn't believe a word of Kyrie's apology, and for all we know, Kyrie didn't mean it. As we can clearly see on the court, the hatred is still very much alive between both sides.