10 Times JD and Turk on 'Scrubs' Were the Epitome of #BFF Goals
The early 2000s series showcased a special type of friendship between a doctor and a surgeon. In fact, JD and Turk were #BFF Goals on 'Scrubs.'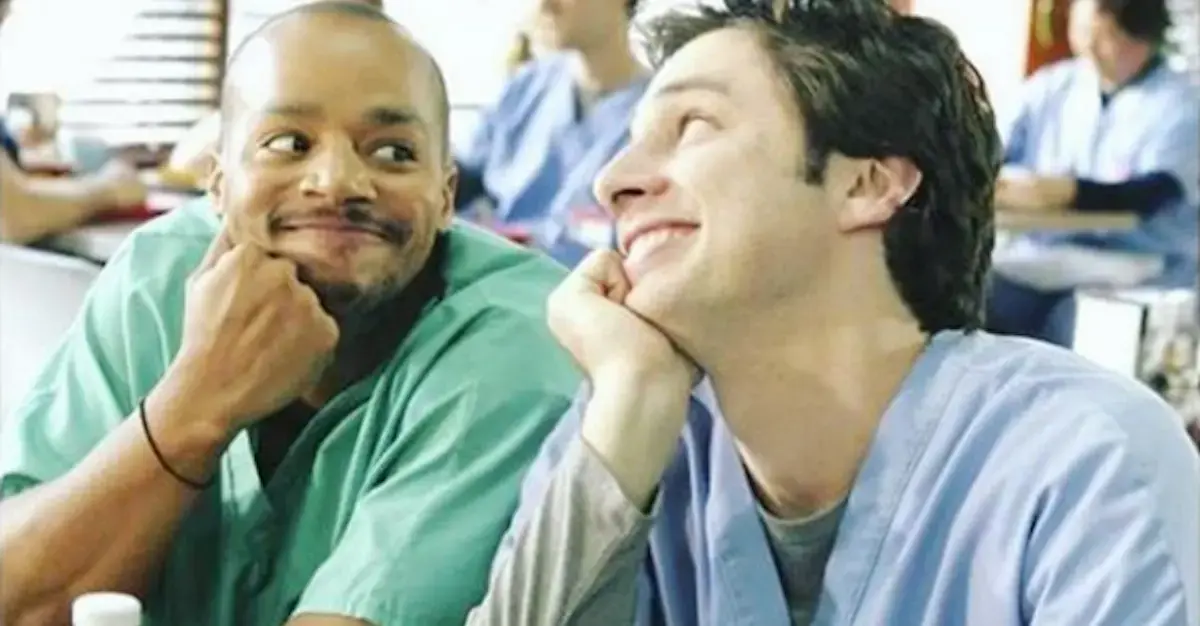 Happy National Best Friends Day! In honor of this day dedicated to the closest of pals — which happens to be June 8 — we'd like to highlight a pair of best buds that epitomizes #BFFGoals: JD and Turk from Scrubs. Played by Zach Braff and Donald Faison, these early 2000s characters share a unique bond that has withstood the test of time. (Bonus: Zach and Donald are BFFs IRL; they even started a podcast called Fake Doctors, Real Friends with Zach and Donald.)
Article continues below advertisement
So grab your bestie and have them lift you high above their shoulders while you yell, "EEEAAAGGGLLLLLEE!" and join us in reminiscing over one of the most epic on-screen friendships of all time.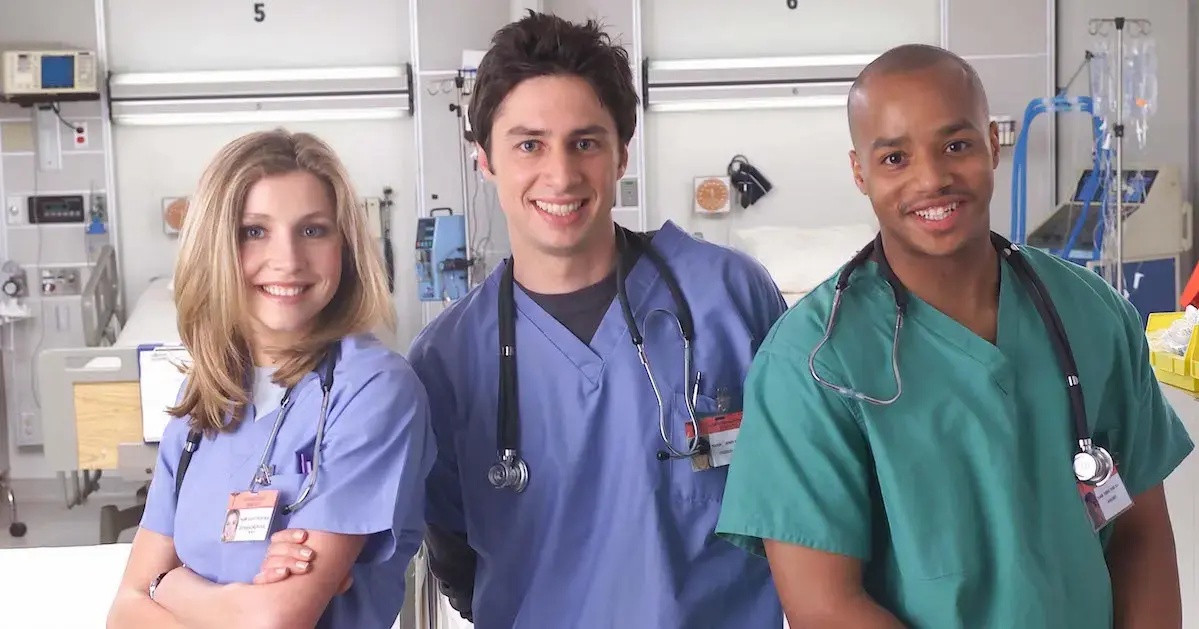 1. That time JD joined Turk and Carla on their honeymoon.
This scene was set up by Carla checking in on Turk and JD ahead of the besties not working together anymore.
"I'm just saying, the only time you two haven't been together was our honeymoon," Carol pointed out, to which JD and Turk exchanged awkward glances.
"Honey, JD and I were together during our honeymoon. He flew in and stayed in a bungalow by the pool," Turk revealed.
"He forgot his favorite lotion!" JD argued. "Am I supposed to let him get ashy?"
Turk reassured his wife, "We only hung out together when you were sleeping or when I said I was going to get a massage."
Article continues below advertisement
2. Turk's reaction when JD went to Disney without him.
JD took his son, Sam, to Disneyland — which is a completely normal father/son thing to do. However, it was Turk's reaction that showed how special his friendship with JD really is.
"He and I swore to each other that since neither one of us has been to Disneyland, that we would go for our 40th birthday together," Turk told Elliot, when she let slip the real reason JD wasn't at work that day.
"What do you want me to say?" Elliot asked.
"I want you to tell me that he's not at Disneyland right now. Can you tell me that?" an increasingly agitated Turk replied. "You know what, adults move on, and that's what I'm doing right now. I'm moving on." Turk then proceeded to break down into angry/devastated (but hilarious) rant about the betrayal — and, well, you just have to watch it for yourself.
Article continues below advertisement
3. JD bought them matching tiki necklaces from 'The Brady Bunch.'
This scene is peak #BFFGoals for a couple of reasons. 1) The "down low" chest bump — which is more like a crotch bump — just isn't working out for Turk. 2) JD gifted his bestie with a tiki necklace from The Brady Bunch. And he even made sure to get himself a matching one! (The cameo by Barry Williams, the actor who played Greg Brady, was icing on the cake.)
Article continues below advertisement
4. The full-turbo spinning eagle.
A recurring joke between JD and Turk was when Turk would pick up JD and spin him around above his shoulders — while JD stretches out his arms and bellows, EEEAAAGGLLLLEEE!" Odd? Yes. But also #BFF Goals. (The full-turbo spinning eagle in the clip above was the best of them all.)
Article continues below advertisement
5. When JD and Turk acknowledged they act like a married couple.
"When Sam gets older, I teach him about sports and stuff, and you're in charge of Izzy's emotional crap.. We agreed that's how we raise our kids," Turk said to JD about their distinct roles in co-parenting.
"Our kids?" JD replied, with a laugh, also pointing out, "Turk, we're not married."
"Dude, we're a little married." Turk insisted.
"I know. I love it," JD agreed.
Article continues below advertisement
6. When they played "giant doctor."
It takes a special kind of friendship to stand outside Sacred Heart while greeting incoming patients as a the "world's most giant doctor" — aka, JD sitting on Turk's shoulders as they both wearing a super long white coat.
Article continues below advertisement
7. Which brings us to the "multi-ethnic siamese doctor."
This stunt involved Turk and JD waring a shirt with two head holes and an extra-large white coat, as if they were conjoined twins. I mean, come on — they even used a public restroom together while "attached" like this. If this isn't peak #BFF Goals, we're not sure what is.
Article continues below advertisement
8. The 'Guy Love' musical number.
Not only was "Guy Love" seriously catchy, but it perfectly captured the love shared between Turk and JD. Go ahead, watch it again. We dare you not to walk around humming it for the next day straight.
Article continues below advertisement
9. When JD and Turk dramatically reunited in Season 9.
JD and Turk's reunion in Season 9 of Scrubs was amazing. "I thought it'd be more dramatic if we spotted each other from afar and then ran to see each other," J D shouted down to his bestie from a balcony. The BFFs then ran to each other in slow motion as "Guy Love" played in the background. It was perfection.
Article continues below advertisement
10. When they tried to tone down their "guy love" ... but just couldn't.
After the interns put on a sketch that painted JD and Turk as a married couple, Turk decided they need to tone down their PDA at work. But try as they might, the BFFs couldn't denying their "guy love" — and they ended up going right back to hugging.