Jewelry Store Claps Back at a Very Deceptive 1-Star Review
A jewelry store's response to a customer's 1-star review for identity theft went viral on Reddit, sparking debate among users on the platform.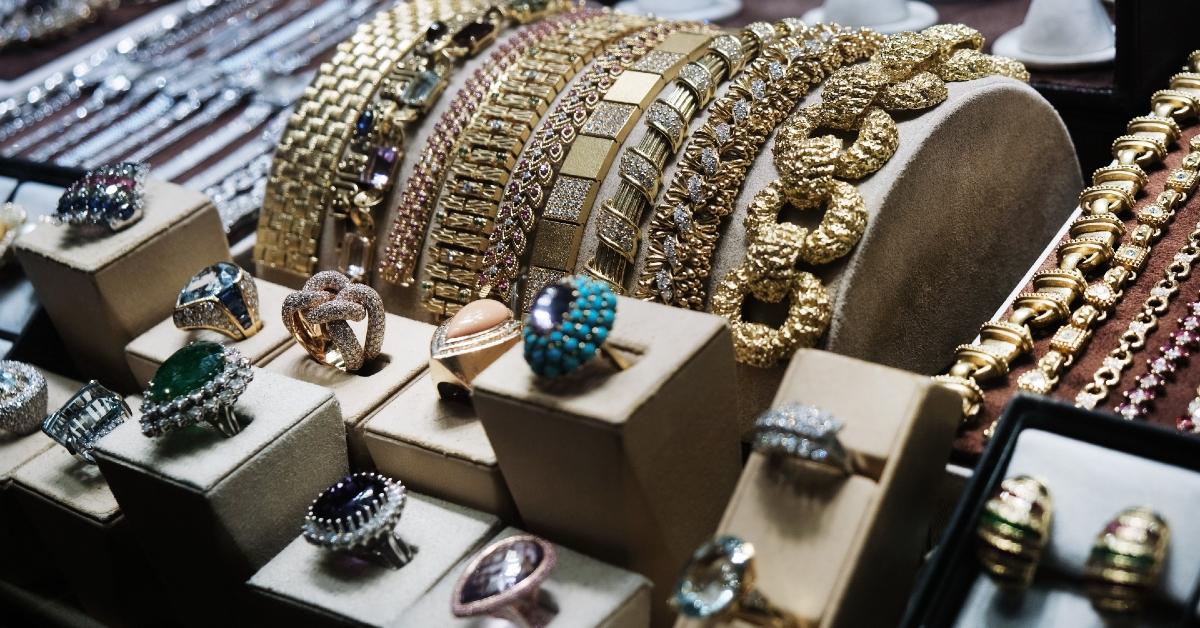 Online reviews can either make or break a company, especially when it comes to locally owned small businesses that don't benefit from the name recognition bigger brands can bank on. When folks are searching for great products to purchase, often they'll just look at the "star" rating that a place has to help them quickly make a decision.
Article continues below advertisement
If one spends a few minutes looking at the basis of these reviews, however, you'll quickly see that in some cases these first-hand assessments should be taken with a massive grain of salt.
It's common to find five-star reviews posted from accounts that are clearly not linked to a real individual and were more than likely posted by the company.
On the flip side, there are plenty of one-star reviews where the low rating don't really have much to do with the business itself. Amazon is filled with one-star reviews of companies and products from folks who weren't happy with the way their local delivery service brought them their product.
And, in the case of this viral Reddit post from a local jewelry store, it doesn't seem like the customer's poor experience was the store's fault.
Article continues below advertisement

Reddit user @Bobolobo posted a screenshot of a jewelry store's response to a customer's one-star Google review. The customer in question accused the business of identity theft after they were charged for items they did not purchase.
Article continues below advertisement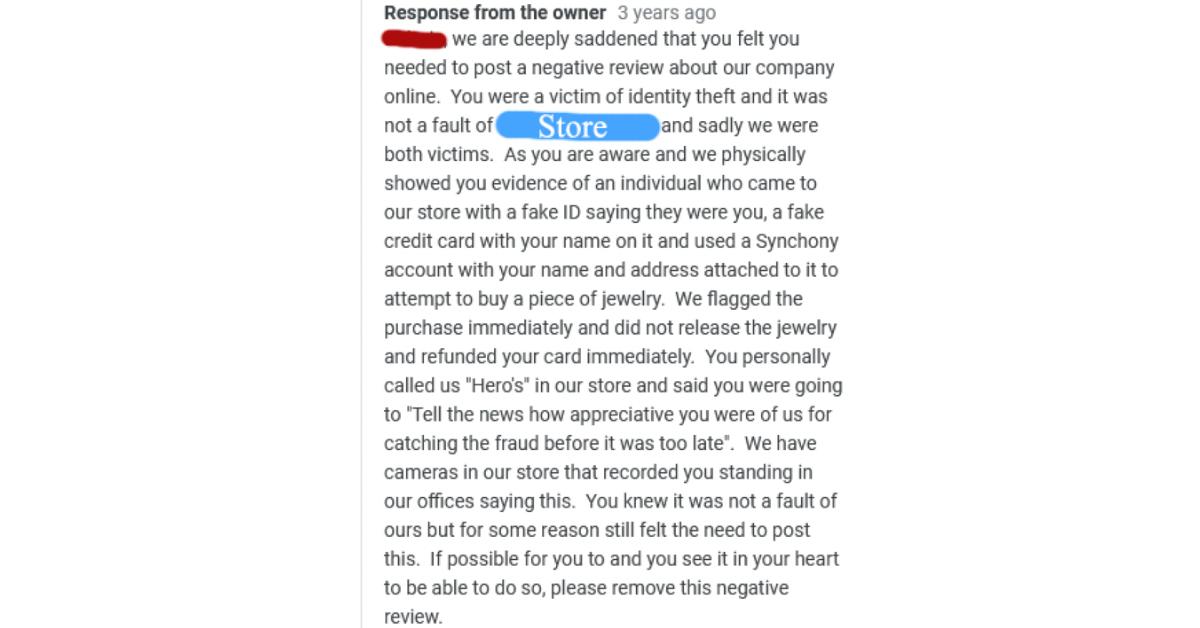 "They got my information and charged jewelry on my credit card. Do not give them your information," the person wrote.
However, the business expressed their disappointment that the individual would call out the shop like that, seeing as they had spoken with them earlier and explained the situation.
Article continues below advertisement

The owner of the store wrote: "[name crossed out] we are deeply saddened that you felt you needed to post a negative review about our company online. You were a victim of identity theft and it was not a fault of [store's name crossed out] and sadly we were both victims."
Article continues below advertisement

The company continued, "As you are aware and we physically showed you evidence of an individual who came to our store with a fake ID saying they were you, a fake credit card with your name on it and used a Synchrony account with your name and address attached to it to attempt to buy a piece of jewelry. We flagged the purchase immediately and did not release the jewelry and refunded your card immediately."
Article continues below advertisement

"You personally called us 'Hero's' [sic] in our store and said you were going to 'Tell the news how appreciative you were of us for catching the fraud before it was too late.' We have cameras in our store that recorded you in our offices saying this. You knew it was not a fault of ours but for some reason still felt the need to post this. If possible for you to and see it in your heart to be able to do so, please remove this negative review."
Article continues below advertisement

According to the jewelry store, they never completed the purchase and actually did the reviewer a solid by alerting them to the fact that someone was stealing their personal information and was attempting to make unauthorized purchases.
Article continues below advertisement
Redditors had a lot of theories about what could have possibly happened in this scenario. Some folks think the "customer" in question was a friend of the reviewer who was attempting to commit fraud, while they were in on it the entire time.
Article continues below advertisement
Others quipped that the individual had their Google account compromised and the person who tried to get the item in question was complaining about them out of spite.
Have you ever been a victim of identity theft? Do you think that the vendor's you've dealt may've had something to do with it? Why do you think the person posted the negative review if what the business is saying is true?