J.J. Watt's Brothers Play for the Pittsburgh Steelers, So the Sibling Rivalry Is Real
J.J. Watt's family is dedicated to sports — two of his brothers play for the Pittsburgh Steelers, and his wife plays professional soccer.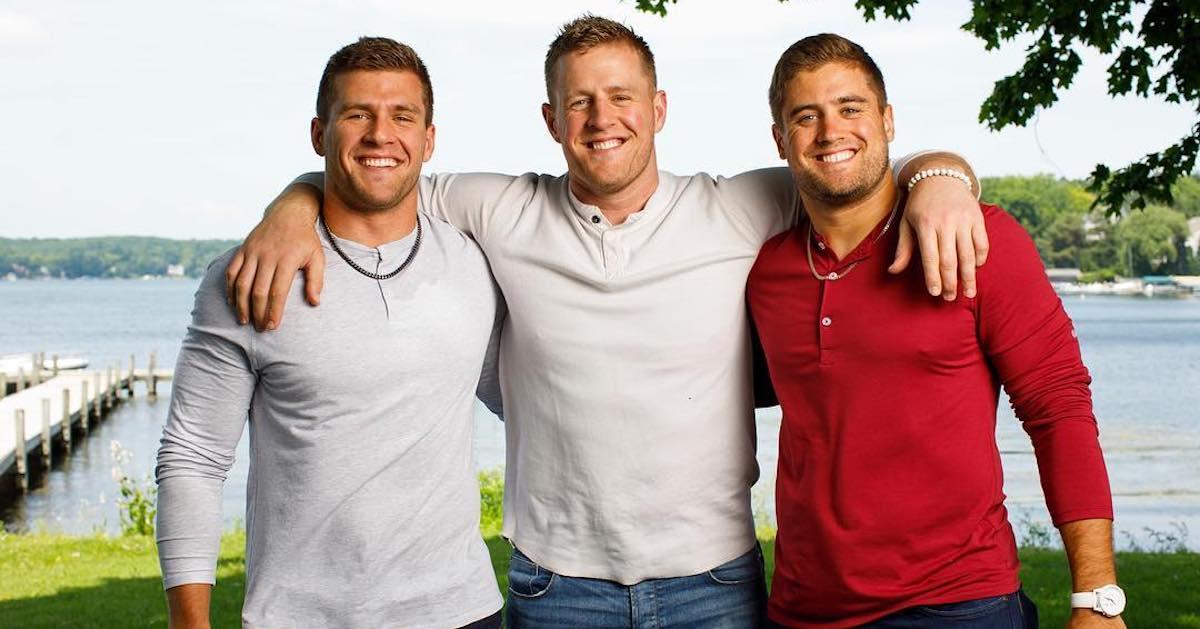 While some NFL stars try to become commentators after they retire, many lead quiet lives after they hang up their cleats. Others head toward the spotlight in a different capacity, like Rob Gronkowski, who appeared on The Masked Singer during his brief retirement.
Few have managed to make the transition to other TV ventures while still being active players, but that's exactly what Houston Texans star J.J. Watt is doing.
Article continues below advertisement
While J.J. has become a household name for his playing career, he's also hosted SNL and starred on a slew of high-profile commercials. He's certainly heavily padding his resume for his post-NFL life.
The defensive end is hosting the Fox competition series Ultimate Tag with his younger brothers, Derek and T.J. Watt. J.J. Watt's family is stacked with top athletes, who you'll be seeing more of on TV.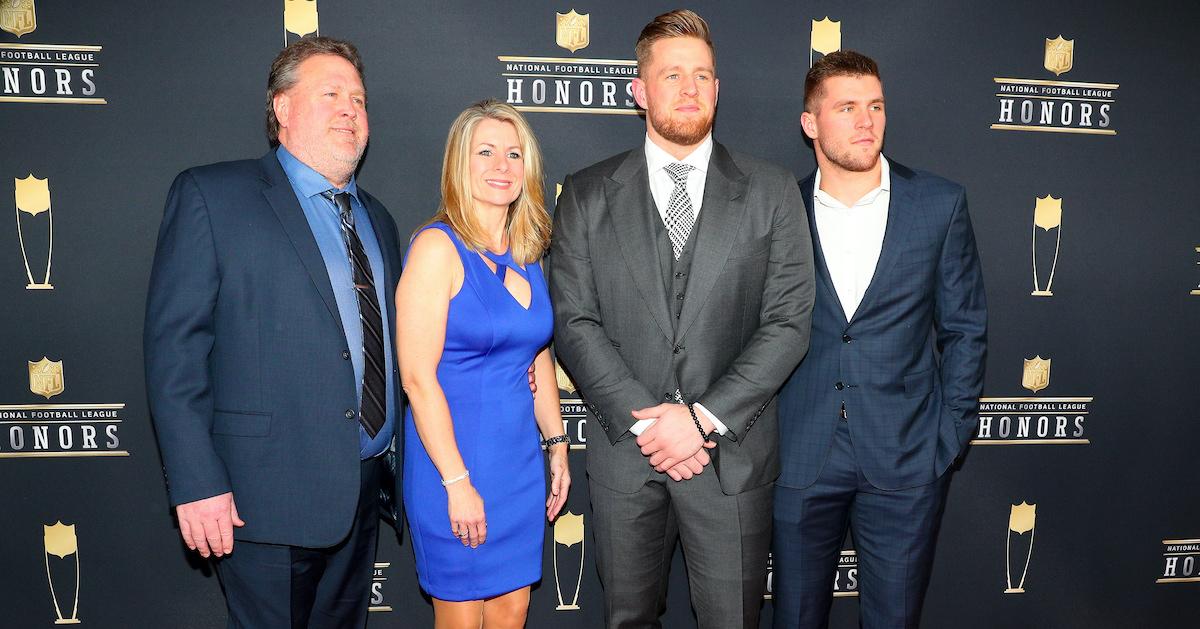 Article continues below advertisement
Both T.J. and Derek Watt play for the Pittsburgh Steelers.
All three of the Watt brothers played college football at the University of Wisconsin. Though J.J. had five years in the NFL as the only Watt brother in the league, fullback Derek Watt was selected for the San Diego Chargers in the sixth round of the 2016 draft. Trent Jordan "T.J." Watt was drafted one year after brother Derek to the Pittsburgh Steelers. He is an outside linebacker.
Interestingly, Derek was traded in March of 2020 to the Pittsburgh Steelers, which meant that he was joining brother T.J. He signed a three-year contract for $9.75 million.
Outside of football, Derek married Gabriella Watt in 2018, and the two are parents to son Logan.
T.J. is in a relationship with Dani Rhoades, who played soccer at the University of Wisconsin.
Article continues below advertisement
Who are J.J. Watt's parents?
Born in 1989 in Waukesha, Wis., Justin James "J.J." is the oldest of Connie and John Watt's three children. John worked as a firefighter for 25 years, while Connie is the vice president for a building operations company.
Though all three of their sons would go on to play football professionally, John and Connie were originally hockey parents.
Article continues below advertisement
J.J. focused on hockey from the age of four until he was an early teenager, and he ultimately gave it up when it became too expensive and it conflicted with other things on his schedule.
In a 2019 piece for Today, Connie told Sheinelle Jones that the boys were inspired to play hockey because John had played it when he was growing up.
The family was so dedicated to the sport that Connie went right from the hospital after giving birth to T.J. in 1994 to J.J.'s practice.
"We gave birth, and J.J. had practice, so we went right from the hospital to the rink," Connie said. "But it was our life."
As for how Connie and John manage to support their sons during the NFL season, Connie said that she has an Excel spreadsheet to keep track of their games. When her sons play each other, Connie explained that she has the perfect solution to make sure she doesn't root too much for one team.
Article continues below advertisement
"I hold [my grandson] Logan in my lap so I don't have to clap," Connie said. "It's very hard. When they step out on the field, I know only one is going to come out winning the game, and the other one is going to be bummed. So I just sit there, and I hold Logan and I don't clap either way... I always tell each of them before the game, 'don't hurt your brother.'"
With two of her sons on one team, the stakes will be even higher for Connie and John in the 2020 season.
Article continues below advertisement
J.J. Watt's wife, Kealia Ohai, is a professional soccer player.
J.J.'s sport-centric life extends to his personal life as well. After about three years of dating, J.J. announced on Instagram in May of 2019 that he was engaged to Chicago Red Stars forward Kealia Ohai. The two walked down the aisle on Feb. 15, 2020.
Before playing for Chicago, Kealia began her professional soccer career on the Houston Dash. She met J.J. through her brother-in-law, Brian Cushing, who was J.J.'s teammate on the Houston Texans.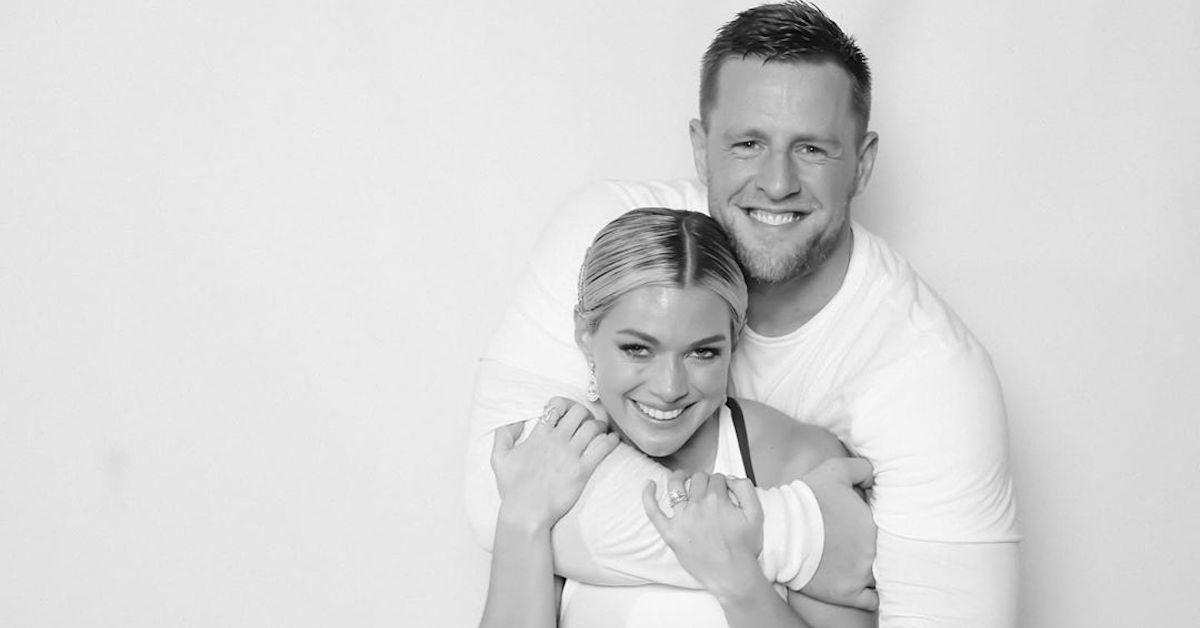 Though a matchup with J.J.'s family members on Ultimate Tag would certainly be epic given all of their athletic talents, the Watt brothers will leave the competition to the contestants.
Ultimate Tag airs on Wednesdays at 9 p.m. on Fox.