Fans and Experts Are Disputing Fitness Influencer Jo Lindner's Actual Cause of Death
What was Jo Lindner's cause of death? The German bodybuilding star known as "Joesthetics" died at 30 years old. How did the fitness influencer die?
German fitness influencer and bodybuilder Jo Lindner, also known as "Joesthetics," passed away on July 1, 2023, at 30 years old. His girlfriend, 28-year-old Nicha, first announced his passing on her Instagram in a tragic post about how hard he worked and how much he cared for every one of his followers. She shared that he died from an aneurysm, but what would cause that in someone young and healthy?
Article continues below advertisement
Jo's fans and followers are reeling over his sudden death and wonder what his exact cause of death was, as there seems to be some speculation. Some have suspected his steroid use (which he has been open about), his hormone treatment, or even the COVID-19 vaccine contributed to his death. So how did Jo Lindner die?
Article continues below advertisement
Jo Lindner, aka Joesthetics, reportedly died from an aneurysm, but experts are divided on what caused it.
On July 2, Nicha shared, "Jo is the best place everyone. Yesterday his past away by aneurysm .. I was there with him in the room.. he put on the necklace in my neck that he made for me .. than ..we was just lay down cuddle..waiting the time to go meet Noel at the gym at 16.00 .. he was in my arms.. than this is just happening too fast.. 3 days ago he kept said that he pain his neck .. we not really realize it… until it too late [sic]."
Article continues below advertisement
She shared how sweet, kind, strong, hard-working, loyal, honest, and smart Jo was, which his fans seem to agree with. He "believed in everyone," especially Nicha, also a bodybuilder. Regardless of what she has shared, however, fans were quick to blame his death on several different factors.
Jo has been open about his steroid use, so many fans have blamed his aneurysm on that. In his last Instagram post before he died, he shared how he had to return to testosterone replacement therapy (TRT) after trying to quit for a year. However, that messed up his natural testosterone levels, so he needed to go back on under a doctor's care.
Article continues below advertisement
Dr. Mahdi, a UK doctor with a popular YouTube following, shared that because a doctor was supervising his steroid use, they would have likely caught any factors or symptoms that could have led to a steroid-caused aneurysm. Mahdi explained that it's more likely that genetic factors caused Jo's aneurysm.
Article continues below advertisement
Vigorous Steve, one of Jo's bodybuilding friends, commented on his video about Jo's passing, "As clarification; we're currently not sure on what the actual cause of Jo's passing is. However, based on the limited information that we have at this time, it's very likely that he died from the complications of a blood clot. I felt it was important to highlight all of the potential causes during this video; vax, Deep Vein Thrombosis (DVT), and undiagnosed hereditary risk conditions."
Some people think Jo's death was caused by the COVID-19 vaccine, although this has been disproved.
It's always scary when someone seemingly young and healthy passes away suddenly, but a genetic cause of death is the most likely. In fact, when fans began speculating that Jo's death was caused by the COVID-19 vaccine, which every expert and friend has ruled out, Nicha revealed in her Instagram stories that Jo's aunt died of an aneurysm four years earlier.
Article continues below advertisement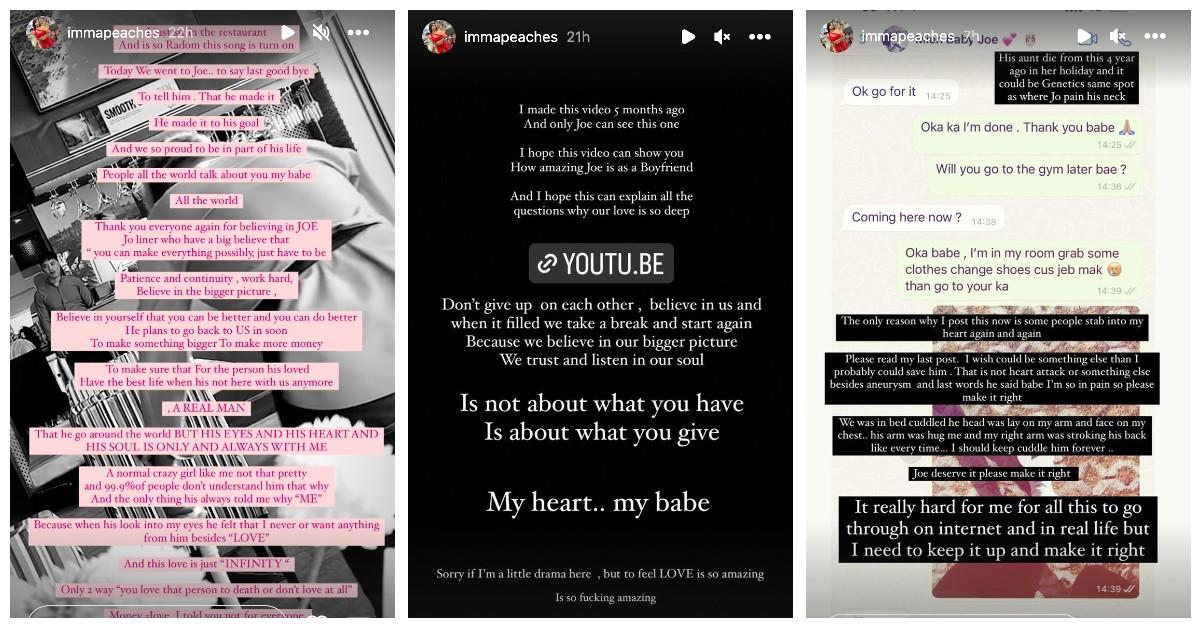 Nicha wrote that Jo and his aunt had pain in the same area of their neck before passing away. She wishes that there was something else she could have done and that it was not a heart attack or steroids that took his life.
In fact, he shared on Raw Talk that after getting the COVID-19 vaccine, metals were found in his blood (perhaps related to steroids and not the vaccine), so he had to do two plasmapheresis treatments. Those took the blood out of his body, cleaned it, and put it back in.
Article continues below advertisement
This means that because his blood was "cleaned," his aneurysm couldn't have been related to the vaccine since its proteins were no longer in his system. Jo's many fans, followers, and friends shared their condolences on social media. Influencer MRN commented, "Please pray for him. He had a pure and compassionate heart, always treating everyone with respect. He even took negative comments to heart and strived to be a positive inspiration to others."
Jo is survived by his girlfriend, mother, and other family members. Our condolences go out to his friends, family, and fans.