In This Economy? Job Listings With Ridiculous Demands and Pay
Unemployment is at an all-time low, yet it's unbelievable what some employers try to get away with. These job postings contain giant red flags about low pay and high expectations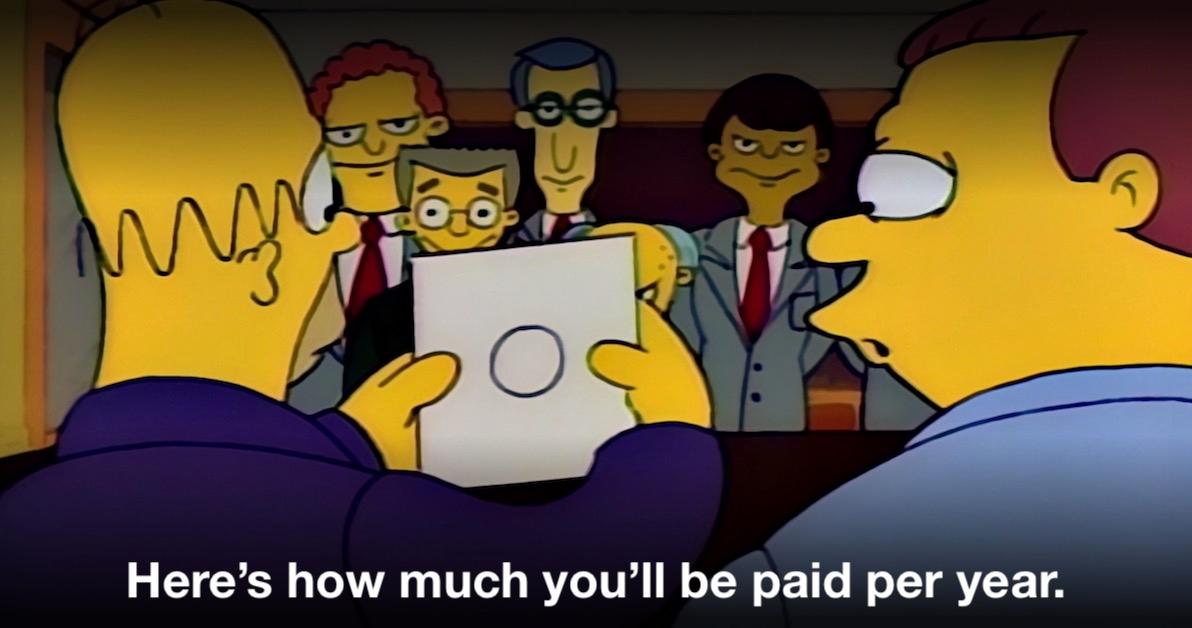 Employment in the United States is at a near historic low, yet the quality of the jobs being offered by some employers is definitely questionable. Everybody's always trying to get what they want or need while paying as little as possible, including businesses, both small and large.
Article continues below advertisement
Still, it's astonishing at times to see how brazenly some employers attempt to obtain labor for next to nothing — and in some cases literally nothing. Unpaid internships are still a thing somehow, and some "job creators" have taken to expecting more and more experience and skill in positions that pay $0 an hour.
It's reached a point of such ridiculousness that I can't fault many people on Twitter for believing this job posting that advertises a "reverse financed internship" — meaning it requires the candidate to pay for the privilege of working there — is genuine rather than parody.
If your desired position or industry is a particularly competitive one, this joke posting probably seems a little too close to home, and even 3 percent unemployment it would hardly chock me if people did start charging for the "privilege" of working for them.
Matt Buckland (aka @elSatanico on Twitter), who works in talent and human resources, has become somewhat of a self-proclaimed collector of postings like this. Perhaps the most ironic is this advertisement seeking an unpaid personal assistant intern for a UK charity called... Fight Against Slavery.
While I am in no way equating an unpaid internship with slavery since the former is entered into willingly, they do both seek to obtain free labor, and it's definitely not a good look for a charity devoted to ending human exploitation engaging so blatantly in a form of labor exploitation themselves.
Article continues below advertisement
The "hackathon" con
Some companies don't even try to hire people for free — they just use the interview process to extract free labor. That seems to be the case for one company that put out feelers for software developers, then hosted a "hackathon" for candidates to build code the company then used to build their iPhone app for free.99.
Article continues below advertisement
Writing gigs are the worst for this kind of job listing...
The reddit community Choosing Beggars is full of employers attempting to get creatives to toil for pennies, like this one. They want a writer experienced not only in professional writing but ideally with four years of experience in finance — an industry where even entry-level jobs pay very very well. And yet, as you can see in the salary field, they're hoping to pay this highly qualified expert less than a dollar an hour.
Article continues below advertisement
Care industries are also notorious for low wages and high expectations.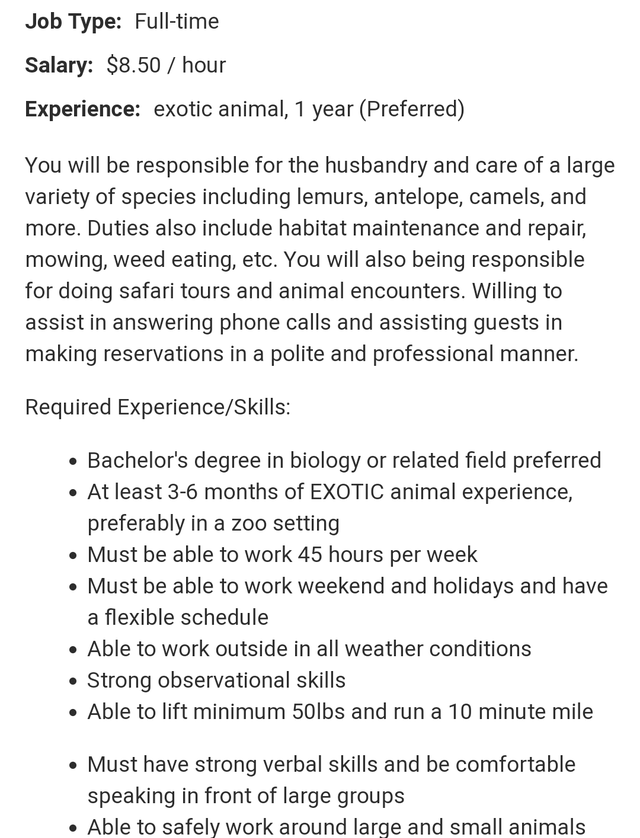 Usually you see this in positions dealing with childcare, child education, and social work, but it seems animal husbandry is also an area where employers think if your heart bleeds enough for defenseless critters, you'll perform back-breaking work for slightly more than minimum wage. This position is essentially looking for a professional zoologist willing to work for McDonald's wages. Plus you have to work more than full time, often in inclement weather, and you must be able to run a 10-minute mile to qualify.
Article continues below advertisement
Rebuild our website and maybe there's a job in it for ya!
People who work in all kinds of creative fields — some of which require specialized education, such as web design, coding, or graphic design — frequently see companies looking to pay them for their work in "exposure." This is an imaginary currency dreamt up by cheap businesspeople who want quality work for zero dollars.
A website takes many hours of work to design and extensive coding knowledge. Imagine offering that much work in exchange for nothing more than a bullet on your resume. Last I checked, grocery stores and creditors aren't yet accepting Exposure Bucks.
Article continues below advertisement
At this rate you'll pay off your loans in 20never
The median debt for graduate students is almost $60,000, and many people who obtain master's degrees accrue six-figure student loan debts. And yet there are people out here looking for that level of education in a role that barely pays more than $30K a year.
Article continues below advertisement
That's Dr. Donuts, sir.
This Australian cafe is looking for someone to work in a cafe part time, but they'd really prefer candidates have a doctorate. Now I'm wondering if there's a doctoral program for Pastry Studies somewhere.
Article continues below advertisement
We want you to administer payroll... just not for yourself.
Here's hoping this is just a case where the salary field was left blank and the poster doesn't actually expect someone to work for free getting other people paid all day!
Article continues below advertisement
Childcare seekers are some of the worst offenders.
It never ceases to amaze me how little people are willing to pay the people they entrust to keep their children safe. Your kids should be the most precious things on earth to you. And yet many parents seem to think nothing of asking for college-educated, first-aid certified caretakers in exchange for sub-minimum wage salaries. This woman is seeking a CPR-certified nanny with a college degree who can work 8-5, 7 days a week... for $80 a week. That's less than $2 an hour.
Article continues below advertisement
Pay me to watch my kids!
This delusional person isn't even offering free room and board to their prospective nanny — they essentially want someone to care for their two children after school and occasionally on the weekend in exchange for a discount on their rented room. "I usually rent the room out for 700 but because you will be helping with the children that is what the cost will be 400 a month." Wow, what an amazing opportunity.