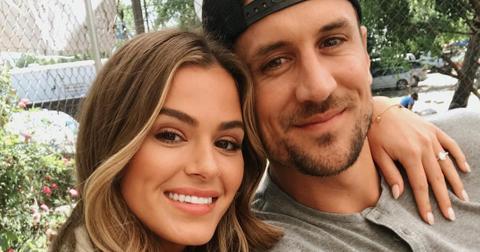 Everything We Know About JoJo Fletcher and Jordan Rodgers' Wedding
By Chrissy Bobic
If there's one thing Bachelor and Bachelorette fans look forward to after a season of watching a lead man or woman date a couple dozen contestants, it's the wedding. Sometimes the resulting couple does get married, while other times, they end up breaking things off before fans even know what's happening. For JoJo Fletcher and Jordan Rodgers, however, who fell in love on Season 12 of The Bachelorette, it looks like they are going to get a happy ending with a wedding of their own.
After spending three years together, JoJo and Jordan are finally ready to take the plunge and they are closer than ever to their post-Bachelorette nuptials. It doesn't look like it's going to be another of many televised weddings from the franchise, but it does have the potential to be one of the most anticipated from Bachelor Nation overall.
Here is everything we know about JoJo Fletcher and Jordan Rodgers' wedding: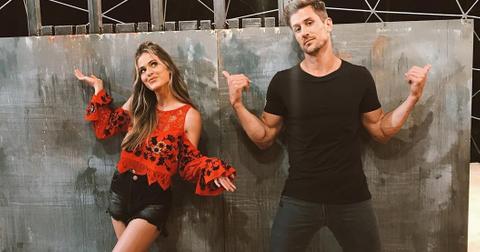 JoJo and Jordan are getting married in 2020.
The biggest detail about the wedding is that, despite red herrings of the past, JoJo and Jordan are getting married in 2020. In July, they appeared on Today and revealed their plans to get married in the spring or summer of 2020, so it really is closer than ever.
"We're waiting to find the exact date with our venue, but that's it," JoJo said at the time. She revealed that they were "actively planning" their wedding and that fans could expect to hear more about it sooner rather than later. As one of the few success stories to come from The Bachelorette as of late, that's pretty good news.
They have been planning their wedding for the past year or so.
When Jordan appeared on The Jenny McCarthy Show on SiriusXM in October, he revealed that they had, in fact, set an actual date, but hadn't yet revealed it to the public. He also shared that he and JoJo had been planning all of the most important details of their wedding, despite some fans still speculating at the time just when it might happen or if it would happen at all.
But just in case you're holding out hope for that big televised wedding complete with Chris Harrison officiating it, don't hold your breath. Jordan also revealed that they have tried to keep the wedding guest list as small as possible. "Small" might be pushing it, though the idea seems to be to keep the wedding authentic to them as a couple.
It could be a destination wedding.
Destination weddings can make things easier for some couples. For JoJo and Jordan, it could be the answer to all of their wedding must-haves. In February on their web series, Engaged with JoJo and Jordan, JoJo revealed that they had considered a destination wedding. Her main caveat? No red roses. And after a season of The Bachelorette in which red rose were kind of everything, you can't really blame her.
The guest list is going to be exclusive.
In the past, the weddings of stars from The Bachelor franchise were sometimes full of other stars from the franchise, either as guests or in the wedding party. And when those getting married sometimes become besties with other Bachelor Nation stars, that's not too surprising. JoJo and Jordan's wedding, on the other hand, is slated to feature close friends and family and the one confirmed former Bachelor contestant in the bridal party is Becca Tilley.
With the lack of successful engagements in Bachelor Nation in recent years, JoJo and Jordan's wedding is like a ray of light at the end of the dark reality dating tunnel. Hopefully the wedding itself manages to live up to expectations, because the Bachelor Nation hype is very real.