Man Dressed as the Joker Live-Streams His Arrest on Facebook
Jeremy Joseph Garnier was dressed in full Joker garb and makeup when he live-streamed his own arrest on Facebook.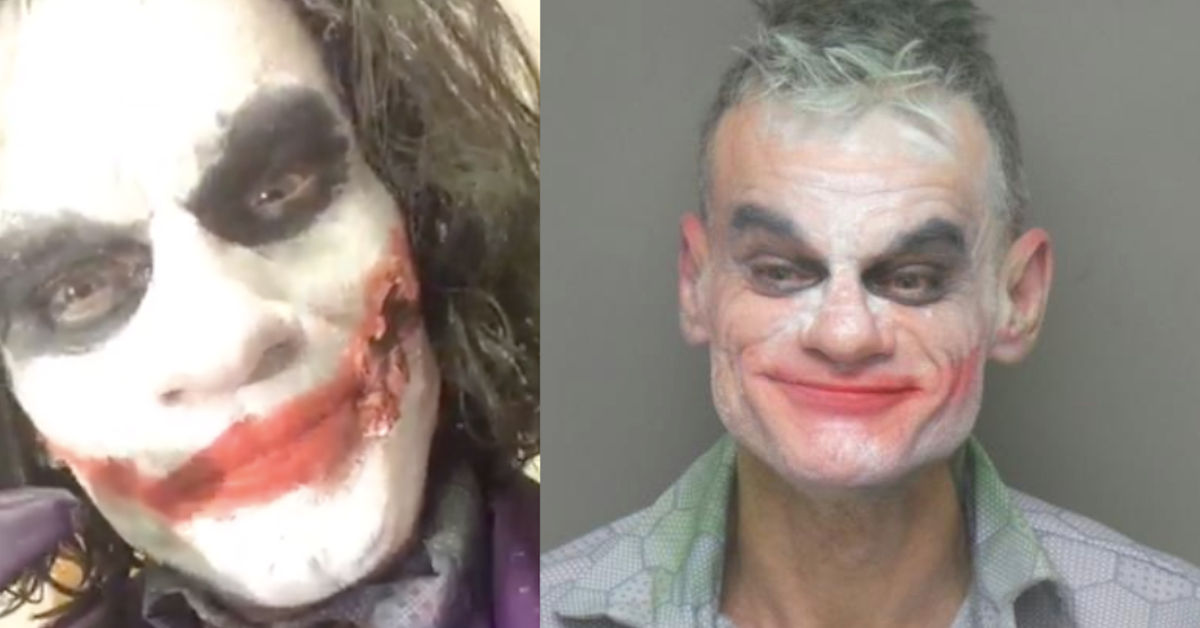 A man dressed as the Joker was arrested and charged with making "terrorist threats" in the first degree, according to the River Front Times. Not only that, but he also live-streamed the whole thing on Facebook. Jeremy Joseph Garnier recently got dressed up and headed out for a night on the town in the Delmar Loop section of St. Louis.
Article continues below advertisement
University City police said, in a statement, that they responded to "a report of a disturbance involving a male subject dressed in a costume." The caller said that the man was "making threats via the Facebook Live app."
Article continues below advertisement
In the hour-long Facebook Live video, which is still up on Jeremy's Facebook page, he can be heard ordering a Sprite from a bartender and then saying, "I don't drink alcohol. I can't be inebriated when I'm planning on killing a bunch of people."
Jeremy was taken into custody and is being held without bond. Even though his comments are clearly disturbing, his friend, Glenda Volk, has arranged a GoFundMe page to raise money to secure an attorney for Jeremy. She claims that he is not in any way dangerous.
Article continues below advertisement
On the GoFundMe page, Glenda writes, "Someone reported mistakenly that he was making 'threats' when he was only playing a role. He is being held at St. Louis County Jail charged with making 'terroristic threats' and given no bond.
"While this was undoubtedly not Jeremy's best decision considering the consequences...he was not threatening anyone. As he says... He was chasing 'clout'...trying to increase his Facebook viewers and bring attention to the opiate crisis plaguing this country."
Article continues below advertisement
Indeed, about 54 minutes into the live stream, Jeremy says, "The reason I have your attention is to end the epidemic of opiate addiction and heroin overdoses which are plaguing our society. It's the leading killer in people under 50 years of age.
"Cold shock resuscitation can safe a life. When you share this video, let them know that the Joker ain't joking around when it comes to serious addiction. You need to leave that stuff alone and inspire the children not to do it."
And then he adds, "And kill a few people while you're at it."
Article continues below advertisement
With the GoFundMe page, Glenda hopes to hire an attorney for Jeremy and get him a psych evaluation "to show he truly is not a threat to society and to hopefully get a bond and get these charges dropped or at least reduced."
Article continues below advertisement
According to the River Front Times, whose reporter watched the whole video, it does appear that Jeremy is mostly harmless. They write, "It begins with Garnier in what appears to be a private residence, dressed in a purple suit with clown makeup on and generally acting very Joker-y.
"From there he gets into a car and drives to the Galleria, where he wanders around talking to employees and shoppers alike, noting that some 2,000 people are watching him on his feed.Within a fairly brief time, police approach Garnier and begin to question him, saying they'd received a report that he was making threats."
Article continues below advertisement
Jeremy then claims that he wasn't making threats and that he is a performance artist. When an officer tells him he's not allowed to be in the mall with face paint on, he agrees to leave.
Then, he drives to Blueberry Hill, and that's where he makes the comments about "killing a bunch of people." The police arrive shortly after and put him in cuffs.