Who Are Joshua Fields Millburn and Ryan Nicodemus of 'The Minimalists' Blog?
'The Minimalists' blog has grown into an enterprise of living a simpler life. Meet Joshua Fields Millburn and Ryan Nicodemus, who founded the project.
The concept of minimalism has become increasingly popular. There are a variety of different methods people have attempted to achieve a more minimalist lifestyle, including van life and the Marie Kondo method, but few achieve a truly a minimalist lifestyle.
But Joshua Fields Millburn and Ryan Nicodemus of The Minimalists blog have worked for more than a decade to live life as far from materialism as possible — and the venture has found both men great success.
Article continues below advertisement
What is 'The Minimalists'?
Even if you've never read The Minimalists blog, you've probably heard of the duo's podcast, aptly named The Minimalists Podcast. The show frequently ranks in the top 100 podcasts in the U.S., and has more than 250 episodes to it, talking about everything from throwing out waste, to how minimalism applies to politics, to even looking at some of the downsides of the lifestyle.
The pair have also released two films and a few short series online about the lifestyle.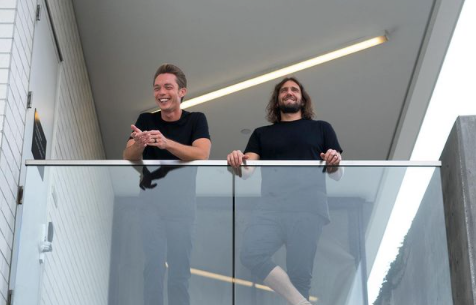 Article continues below advertisement
In addition to these projects, Joshua and Ryan have published four books on their journey. Their first, Minimalism: Live a Meaningful Life, was published in 2011, discussing how the duo came to live minimalistic lives.
Their other books, Everything That Remains: A Memoir by The Minimalists, Essentials: Essays by The Minimalists, and Love People Use Things (the last of which will be released in 2021) take a closer look into minimalism and how the concept can be applied beyond decluttering.
Who are Joshua and Ryan?
According to their bios on The Minimalists blog, the two men have known each other since they were kids, both growing up in Ohio.
While Joshua and Ryan are polar opposites (Joshua is an introvert, Ryan is an extrovert; Joshua likes things orderly while Ryan claims to be more flexible), the two shared very similar life experiences growing up.
Both men admit that as children, they were aware of their family's financial struggles, leading them to pursue corporate careers and monetary success.
Article continues below advertisement
But, if you couldn't tell from the title of their blog, they both decided that corporate life wasn't for them. Before starting The Minimalists, Joshua says he was the "youngest director in our company's 140-year history" before deciding to step down in 2011. Ryan also had a cushy office job before being laid off around the same time as Joshua's own self-realization.
After both men paired down all of their belongings and tried to look at life from a different point of view, they started The Minimalists.
The pair now live and work in Los Angeles, each living in minimalistic homes with their respective partners and working out of their minimalistic office, where they've put out blog posts, books, podcasts, and more on the lifestyle, in addition to multiple humanitarian projects.
"Minimalism is the thing that gets us past the things so we can make room for life's important things — which aren't things at all," Joshua and Ryan wrote on their site.