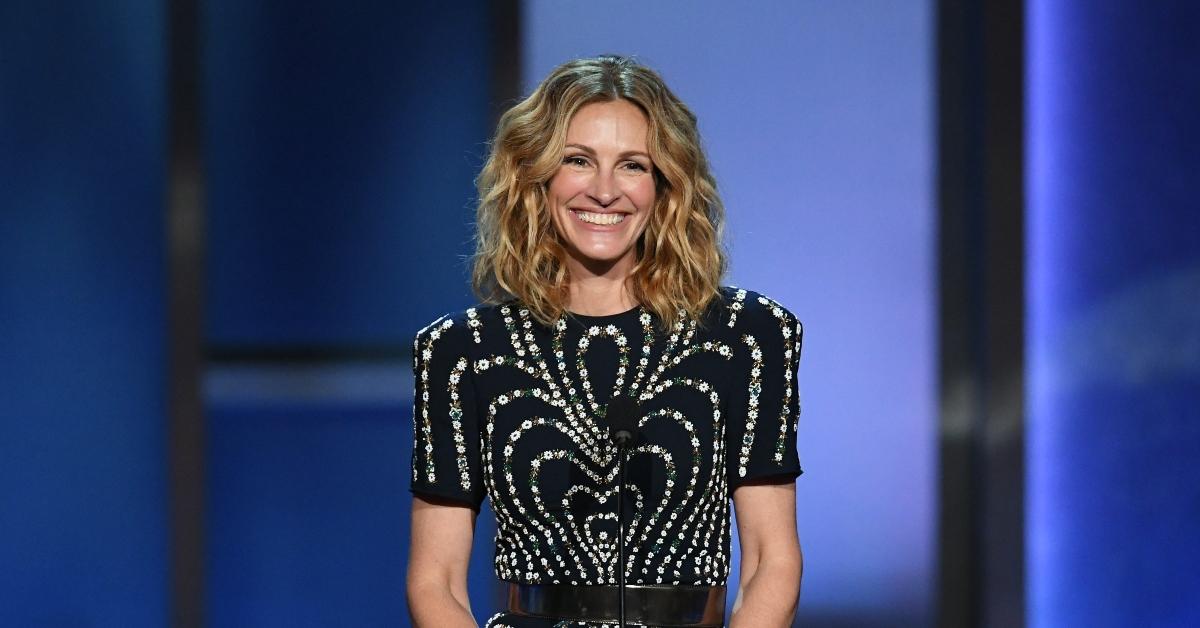 Julia Roberts Is a Famously Private Person — What's There to Know About Her Kids?
Once considered to be the highest-paid actress in Hollywood, Julia Roberts cemented herself as a star with appearances in hit rom-coms like Pretty Woman and Notting Hill.
Throughout her almost four-decade-long career, the Academy Award–winning actress earned accolades for her impeccable portrayal of real-life people like Erin Brockovich, or Elizabeth Gilbert in Eat Pray Love. Her professional achievements are well-documented. What about her personal life? What's there to know about her kids?
Article continues below advertisement
Julia Roberts shares three kids with husband Daniel Moder.
Julia and her daughter, Hazel Patricia Moder, caused a stir by making a rare appearance at the 2021 Cannes Film Festival. On July 10, 2021, they attended the premiere of Flag Day, the feverishly anticipated movie directed by Sean Penn. Julia and Hazel were there to support Daniel Moder, Julia's husband of nearly 20 years, who worked as the cinematographer on Flag Day. But so, what's there to know about Julia's family? How many kids does she and Daniel have?
Article continues below advertisement
Julia and Daniel share twins Hazel and Phinnaeus Walter, who were born on Nov. 28, 2004. They welcomed their youngest, Henry Daniel, on June 18, 2007.
Hazel has already endeared the internet thanks to her charming demeanor and distinct sense of style. For the opening of Flag Day, she wore an effortlessly chic button-up dress which immediately earned the approval of fashionistas and far beyond.
It's understood that Hazel, her twin, Phinnaeus (aka Finn), and Henry have all made an appearance in the 2016 Mother's Day, which featured Kate Hudson, Jennifer Aniston, Jason Sudeikis, and Julia in the lead roles.
Article continues below advertisement
Julia is very protective of her family life.
Foregoing the hustle and bustle of metropolises like Los Angeles, Julia and Daniel reportedly relocated to New Mexico to raise their three kids in a quiet, peaceful environment before Hazel and Phinnaeus were born.
Article continues below advertisement
The kids do, very rarely, make a splash on social media. Their youngest, Henry, made headlines after Daniel uploaded a short clip showcasing his unmatched skateboarding skills on the occasion of his 14th birthday on June 18, 2021. The father-son duo share the love of sports, and they frequently practice together.
Article continues below advertisement
Julia and Daniel celebrate their wedding anniversary on July 4.
Julia and Daniel tied the knot on July 4, 2002, on Julia's ranch in Taos, N.M. For the intimate-feeling affair, Julia reportedly flew in around 50 guests for the midnight ceremony held at the custom-built chapel in her backyard.
It's understood that Julia and Daniel were first introduced to each other on the set of The Mexican, a 2001 comedy in which Julia starred alongside Brad Pitt. Daniel served as the assistant cameraman of the movie.
Julia was married to singer-songwriter Lyle Lovett between 1993 and 1995. Before meeting Daniel, she dated high-profile celebs like actor Benjamin Bratt, Kiefer Sutherland, and Jason Patric. She was also linked to Ethan Hawke and Daniel Day-Lewis. Daniel was married to a makeup artist named Vera Steimberg between 1997 and 2002.