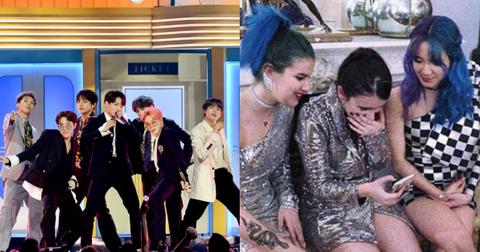 Twitter Thinks That Kaachi Is Copying BTS — Here's What They're Saying
By Lizzy Rosenberg

Feb. 11 2021, Updated 1:59 p.m. ET
In the realm of K-pop, there's no denying that BTS is totally iconic. The boyband, also known as the Bangtan Boys, consists of seven guys that formed a group in Seoul back in 2010, and they've managed to pave the way for many other K-pop groups, from Monsta X to Blackpink.
Article continues below advertisement
A handful of popular K-pop groups have actually been accused of copying BTS, including Kaachi — but are the rumors true? A handful of fans have taken to Twitter to express their contempt for the new girl group.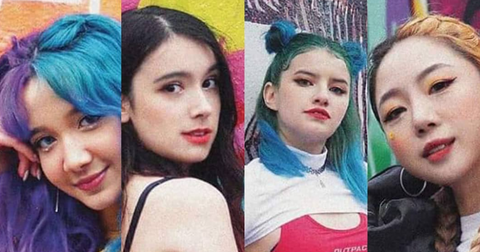 Article continues below advertisement
Who is Kaachi?
Kaachi is the U.K.'s first-ever all-female K-Pop group, according to All K-Pop, and at the end of last month, they released their debut single, which is titled "Your Turn." The band consists of four members of different nationalities, including Korean, Spanish, and British, and each of them are extremely talented.
The band chose the name 'Kaachi', because it apparently stems from the Korean word for 'Togetherness, Value and Unity,' which is symbolic of the group's beginnings, when they were discovered and put together after participating in the UK KPOP Dance Competition in London back in 2019. Now, they are signed to British label FrontRow Records, and this May, a UK TV Series on Channel 4 will look back on their inspirational journey.
Article continues below advertisement
Many believe Kaachi is copying BTS's song titles and logos.
Diehard BTS fans have taken to Twitter, to express their contempt for Kaachi, alleging that they are trying to copy the popular boyband's song titles, as well as their logos. For example, rumor has it that Kaachi is unleashing a new song called "Blue Swan," while BTS has a song titled "Black Swan." It's also been rumored that one of their new tracks is called "Real Love," whereas BTS already has a hit track called "Fake Love."
Article continues below advertisement
Additionally, many think their logo looks exactly like BTS's. Is all of this simply a coincidence? A handful of fans on Twitter definitely don't think so — see what they've had to say about it below.
I think that whatever the fuck Kaachi or so is doing isn't just "producing songs" it's fucking copying the songs of BELOVED BTS! All the members spend so much time doing their songs and then some rando koreaboo girl group arrives and copes their songs?! It's plagiarism🤮🤢 pic.twitter.com/5JSrY03YuH

— Isra (@Isra79967901) May 5, 2020
Article continues below advertisement
Guys i just want to sat this new "kpop" girlband called kaachi is already make things up worse. As you could se the logo the "h" look like twice logo if you drame them the "i" look like a logo of bts that wich framed AND THE THE FIRST A LOOK LIKE THE KREW LOGO #SUEKACCHIKREW pic.twitter.com/tXkYp7NSSg

— betty pun is puntastic (@krewsubscriber) May 6, 2020
Article continues below advertisement
Others think the similarities between BTS and Kaachi are merely a coincidence.
Other K-Pop fans, on the other hand, have taken to Twitter to say the similarities between Kaachi and BTS are totally coincidental — while there is a relatively likely chance that Kaachi took a little inspo from BTS (because really, who wouldn't?!) it seems like they probably just came up with somewhat similar ideas to the iconic K-Pop band.
Check out what these Kaachi supporters have said about the accidental similarities between the two K-Pop groups on Twitter below.
Article continues below advertisement
6. KAACHI isn't copying BTS. They have never used "I blue you," nor are they releasing "Blue Swan" or any other blatant BTS copies. Any stan accounts using the phrase are obvious trolls if you view their page. KAACHI also never released any information about future comebacks. pic.twitter.com/d88vWuE7AL

— vi ⁷ (@bbingchu) May 5, 2020
Article continues below advertisement
KAACHI makes me SICK but the copying of bts' logo is fake. On their Facebook page this is the logo, and someone decided to mirror it. Don't worry, they didn't steal the bts logo, someone faked it. I'm definitely NOT a supporter but I just thought y'all should know + pic.twitter.com/IA5ADyg93q

— nutella⁷ ⟭⟬ superhero (@pjnkmin) May 3, 2020
Are the rumors about Kaachi copying BTS true, or are they simply doing their own thing? It's a little unclear right now if they did — in fact — take a little inspiration from their predecessor, but we're definitely hoping for the best for them.
To be honest, another jam-worthy K-pop girl group is seriously what all of our Spotify playlists need right now.