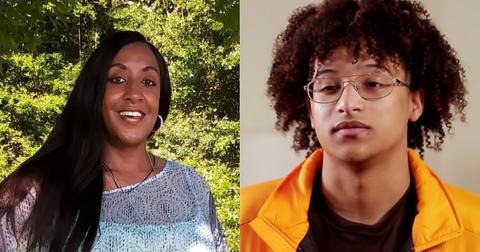 Karen and River Everett Are Now on '90 Day Fiancé: Pillow Talk'
By Leila Kozma

Updated
Tim Malcolm and Veronica Rodriguez announced their departure from 90 Day Fiancé: Pillow Talk, and fans are far from pleased. To add fuel to the fire, the unbeatable duo will be replaced by Chantel Everett's mother, Karen, and her brother, River — whom viewers might be familiar with from Season 3 of 90 Day Fiancé: Happily Ever After? series.
So, what's there to know about Karen and River? Why are they slightly less popular?
Karen and River Everett appeared on Season 3 of '90 Day Fiancé: Happily Ever After?'
Most viewers will recognize Karen and River from a brutal fight scene that took place in a Season 3 episode of 90 Day Fiancé: Happily Ever After?, titled "The End of the Line."
To diffuse lasting tensions between Chantel and Nicole, the Everett family threw a dinner party. Instead of engaging in an open discussion, however, Nicole denied any wrongdoing on her part, to which Chantel reacted with silent rage.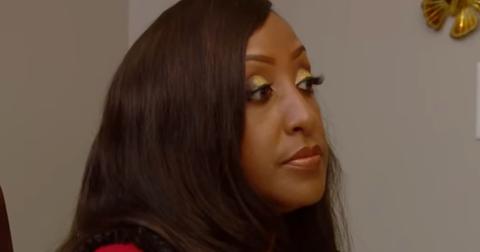 In a maladapted attempt to reinstate peace and harmony, Pedro asked Chantel to switch seats with him — subtly implying that she is the one causing trouble. River threw an insult at him, only for Pedro to stand up and start a fistfight.
Eventually, a member of the crew stepped in to de-escalate the situation, but it was already too late. Pedro and Nicole made for a quick exit while the family tried to recover from the shock of it all.
"To be honest, I'm mad at myself because I don't like getting out of character. I don't regret it, but I'm mad at myself because I don't like getting out of character like that," River explained on an Instagram Live shortly after the episode aired, In Touch Weekly reports.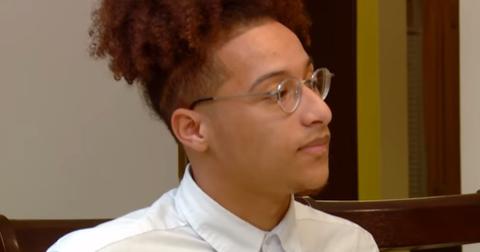 After 90 Day Fiancé: Happily Ever After?, Karen and River went on to appear on another 90 Day Fiancé spinoff, The Family Chantel. The reality show focuses on the hurdles they have to overcome as a family, such as the latest drama taking place between Chantel and her now-husband, Pedro.
Karen and River have interests outside of appearing on '90 Day Fiancé' as well.
In addition to a successful career as a reality TV show star, Karen is also a business owner, achievement ambassador, and an author. Likewise, River too has an interest in the creative industries as well. However, unlike his mom, he works as an ambitious musician, and the creator of songs like "Arcadia," "Gas," and "Shanghai."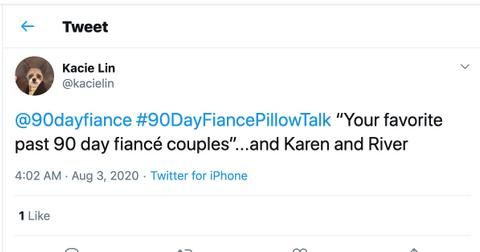 Despite their creative achievements, some fans aren't exactly convinced that Karen and River are the best fit for 90 Day Fiancé: Pillow Talk.
"I wasn't impressed by Karen and River on tonight's #PillowTalk. Bring back Veronica and Tim. Better yet, bring Dean and Tarik back. #90DayFiance," tweeted a person.
"90 day fiance happily ever after pillow talk WHY the hell is Karen and River still on here? TLC Please bring back anybody but them..," wrote someone else.
"@90dayfiance#90DayFiancePillowTalk "Your favorite past 90 day fiancé couples"...and Karen and River," joked another person.
The Pillow Talk for 90 Day Fiancé: Happily Ever After? airs Sundays at 10 p.m. on TLC.