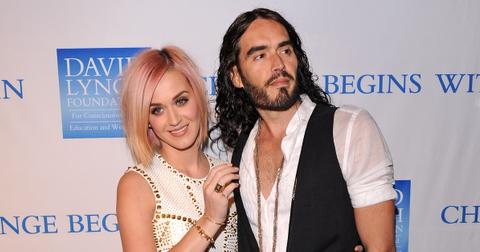 Was Katy Perry's Wedding Dress White When She Married Russell Brand?
By Michelle Stein

Updated
On March 5, Katy Perry dropped a brand new single — and the music video for "Never Worn White" basically broke the internet for a number of reasons. Fans now have so many questions for the American Idol judge. Among them is: Has she really never worn a white wedding dress? Let's take a closer look at Katy's wedding dress when she married Russell Brand.
Not only is the video absolutely gorgeous and the lyrics touching — and presumably about her upcoming wedding to Orlando Bloom — but at the very end, you can see Katy standing sideways while cradling a bump. (Hey, I wasn't kidding when I said fans had a lot of questions.)
Let's take a closer look at Katy's wedding dress from her marriage to Russell. Because I'm dying to get to the bottom of this pressing "Never Worn White" mystery.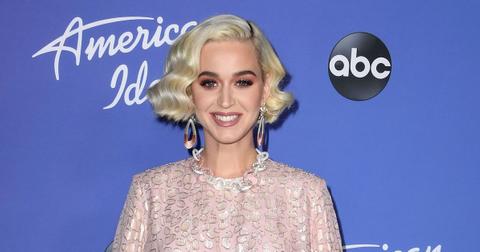 Was Katy's wedding dress white when she married Russell?
In case you forgot, Katy and Russell had a whirlwind marriage before she and Orlando were even an item. The American Idol judge started dating Russell in 2009 after they met at the MTV Video Music Awards. They tied the knot in 2010, but divorced in 2012.
Katy and Russell held their lavish wedding in India — complete with elephants — and it turns out she did not wear white. Instead, the singer wore a gray wedding dress from Elie Saab Haute Couture, according to Us Weekly. Sadly for fans, no photos were made public from Katy and Russell's wedding.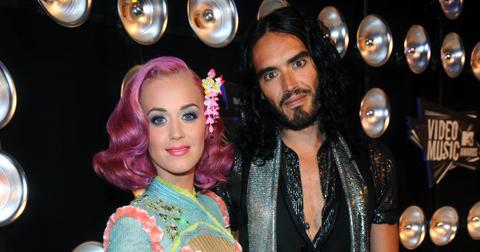 Although both Katy and Russell have kept details about their relationship and subsequent divorce private, she did touch about the subject during a 2019 interview with Paper magazine.
"It's easy to be single and not to be called out on your stuff, living your awesome single life thinking you're the greatest, and the best, and doing anything you want. But then when you get in a partnership you guys are there to teach each other lessons," she told the publication.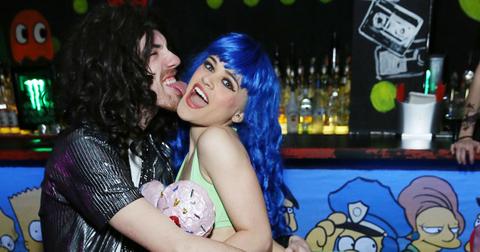 Now, Katy is expecting baby No. 1 with fiancé Orlando Bloom!
Katy didn't waste any time confirming the happy news. "I am excited," she said in an Instagram Story posted immediately after the video dropped. "We're excited and happy. It's probably the longest secret I've ever had to keep."
Katy continued, "I like to tell you guys everything, but I knew I would tell you in the best way, which was through a piece of music because that's how I speak to you. That's how we speak together with each other."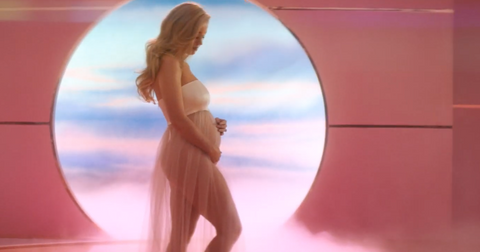 The mom-to-be also hinted at both the release of an upcoming album and her baby's due date. "There's a lot that will be happening this summer. Not only will I be giving birth literally, but also figuratively to something you guys have been waiting for. So let's just call it a double whammy."
The question remains: Will Katy wear a white wedding dress when she marries Orlando?
The question remains: Will Katy wear a white wedding dress when she marries Orlando? The famous couple is reportedly getting married this spring — likely in April, according to one source — after postponing their winter ceremony. Although Page Six more recently reported that they're planning a June wedding in Japan.
I guess we'll just have to wait and see.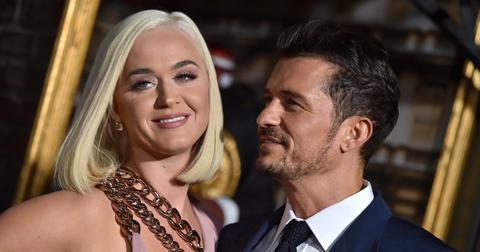 So there you have it. No, Katy didn't wear during her wedding with Russell. And yes, she really is pregnant.
I don't know about you, but I can't wait to watch her bump grow/see her maternity style when the live episodes of American Idol start airing. Congrats to Katy and Orlando!