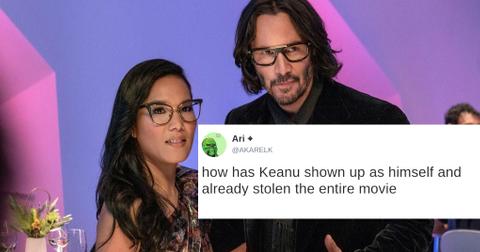 Keanu Reeves Improvised These Hilarious Lines in 'Always Be My Maybe' According to Ali Wong
By Mustafa Gatollari
Always be my Maybe is getting rave reviews, but there's a clear standout scene in the film for people and it involves everyone's favorite Hollywood blockbuster actor and star of John Wick: Mr. Keanu Reeves.
There's been a lot of obsessing over Keanu these past few years and a lot of it has to do with the success of his silly-idea-made-amazing action film franchise. But moreso with legendary stories of his amazing personality - especially in the face of such personal tragedy.
If you're a fan of stand-up comedy, then you're no stranger to Ali Wong, who takes her gig so seriously that she filmed multiple, hilarious comedy specials while very, very pregnant.
In Maybe, Ali plays a very successful celebrity chef who travels back to her hometown of San Francisco after her engagement breaks off. Her "rebound" is Keanu Reeves, who plays an uber-eccentric version of himself.
Ali says that Keanu was given complete comedic freedom to improvise his own lines and actions whenever he wanted in the film and the actress says that some of the film's best moments came from Keanu's enthusiasm and willingness to poke fun at himself and get as silly as possible.

Here's what Ali had to say:
"The part where he's listing off all those Chinese dignitaries, that was his idea. And then the part where he's like, 'I don't have a problem, Sasha, what's your problem?' and starts air fighting, he improvised that as well."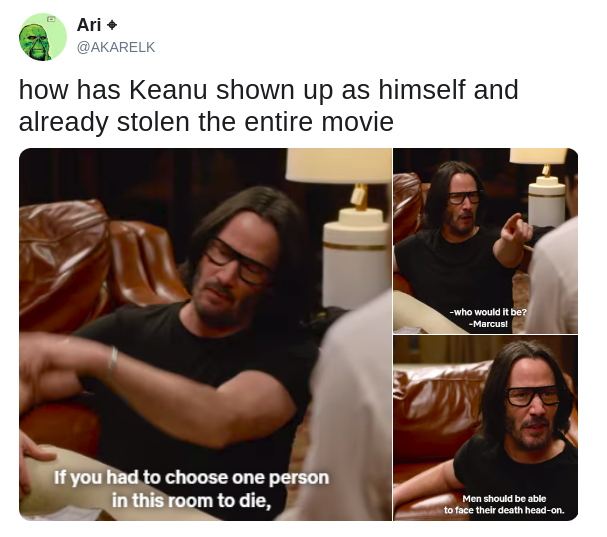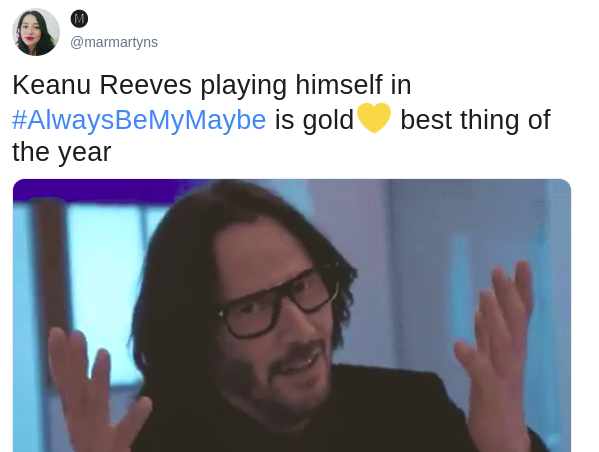 While the bulk of Keanu's work in the past few years has seemingly been restricted to action flicks, it's easy to forget that the man carved a name for himself in Hollywood by playing the lovable goofball, Ted Theodore Logan, in Bill & Ted's Excellent Adventure, which he'll be reprising in 2020.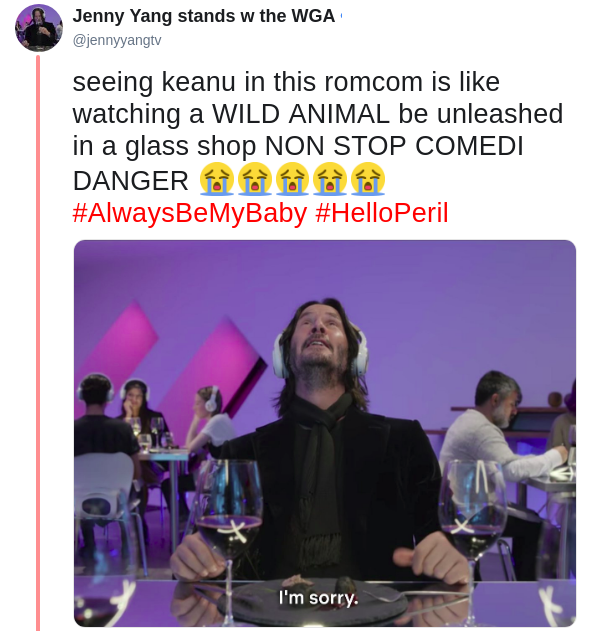 He rocked other comedic roles in Destination Wedding with Winona Ryder and Distractify's own Pippa Raga is a huge, huge fan of Keanu in Something's Gotta Give, where he acts opposite Jack Nicholson. I have to say, I've seen him in the film and she's right to love it, he's incredible.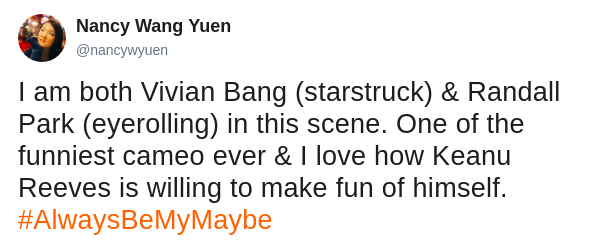 Keanu's versatility is often underestimated, aside from action and comedic roles, he can play some pretty convincing villainous characters as well. His role in The Neon Demon is downright chilling, along with his turn as a grimy lawyer in The Whole Truth.


He also played the bad guy in The Man of Tai Chi, which was his directorial debut. In fact, Keanu shot the film with Asian audiences in mind and used an entire Chinese cast and crew to film it. The end result? A badass martial arts movie that pays homage to past films in a specific genre that was widely praised by critics.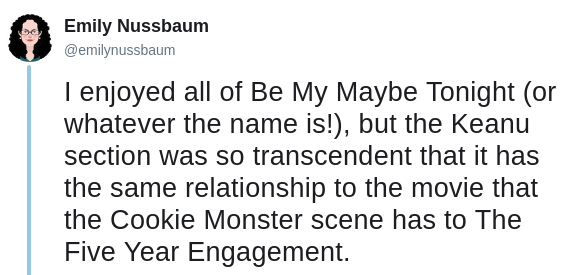 For Always be my Maybe, Keanu was hand-picked to be one of three love interests for Sasha. Wong explains why it was so important to have him along with Daniel Dae-Kim and Randall Park to People:
"It was really important to me that all of her love interests were Asian-American. And we wanted to find a sexy Asian-American man who would be Marcus' worst nightmare if he decided to confess his feelings."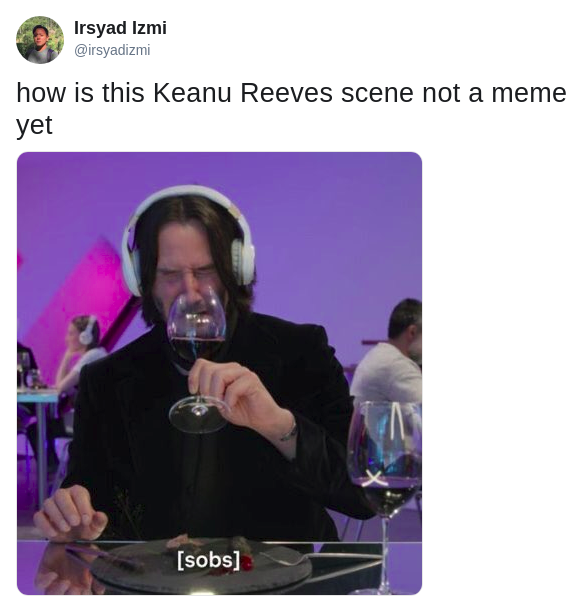 Have you seen the film yet? Or are you going to just go straight to Keanu's scenes, like me?