Keanu Reeves Fan Art That Makes All Your Movie Dreams Come True
Keanu Reeves is officially the internet's boyfriend, so it was only apt that people started making fan art of Keanu and imagining him in different roles.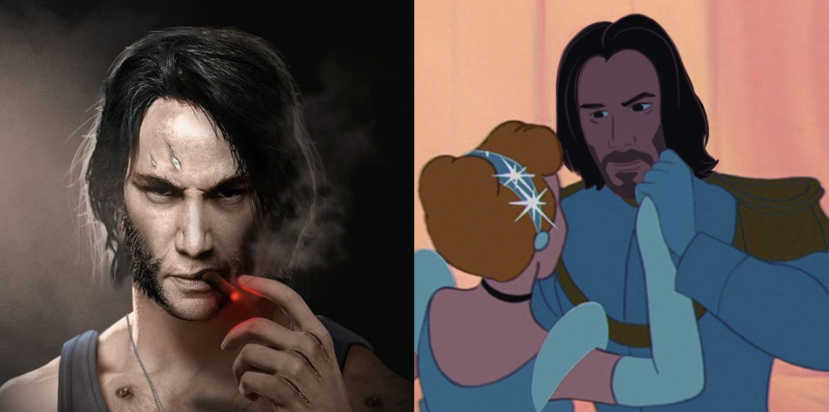 What can I say? 2019 is the year of Keanu Reeves. It may have taken us a little too long to fully appreciate just how amazing he is, but I think we're more than making up for it now. Keanu Reeves is officially the internet's boyfriend. He's part of the Toy Story universe. He's a cameo master, as proven by Always Be My Maybe. Fans are flipping out over the possibility of Keanu Reeves in the Marvel Cinematic Universe.
There's nowhere to pour all this love and appreciation we have for John Wick himself other than into awesome fan art. And that's just what the people are doing.
Article continues below advertisement
Ever since rumors of Keanu Reeves joining the Marvel universe have started to circulate, fans have gone wild with character suggestions.
Apparently, when Keanu Reeves was asked if he'd want to play Batman (I think we can all agree that seems like a perfect choice), he said he'd actually be more into playing Wolverine. And he looks pretty good in the role, thanks to this art from @bosslogic.
This might have been music to Kevin Feige's ears, as he has reportedly been trying to get Keanu to be in Marvel movies pretty much since they started making them.
Since that little tidbit of information dropped, people have been imagining Keanu Reeves in different iconic Marvel roles.
@daanys.art imagined Keanu Reeves in the role of Adam Warlock in Guardians of the Galaxy Vol. 3. And while Adam Warlock may not be Keanu Reeves' dream Marvel role, you can't deny that he looks pretty frickin' cool here. Warlock is cosmic-powered and was originally known as Him or Adam, and honestly, we have no problem with Keanu Reeves playing the first man, model for all men. All men should be like Keanu Reeves.
Of course, it's not even confirmed that this character will be in the next Guardians movie, but as fans, we can't help but speculate.
Article continues below advertisement
Look, Sebastian Stan played a wonderful Bucky Barnes. He was actually perfect for the role. But you know who else would be perfect? I have a feeling you know who I'm talking about. I'm talking about Keanu Reeves.
Maybe they make a movie where Sebastian is the Winter Soldier but so is Keanu, and then they fight each other to be the last Winter Soldier. But obviously they decide that two Winter Soldiers are better than one, so they team up to form the League of Winter Soldiers. I'm spinning gold, here. Call me, Kevin Feige!
Article continues below advertisement
One Redditor created this eerie portrait of Keanu as Marc Spector, better known as Moon Knight. If you were to come up to me and be like, "Guess what? Keanu Reeves is going to be in the Marvel universe! He's going to play a crimefighting silver-cloaked dude named 'Moon Knight,'" I'd be like, "Yes. This makes the most sense out of anything I have ever heard in my entire life."
But honestly, Keanu would be perfect for any role.
Article continues below advertisement
Why limit Keanu to the Marvel universe, you know?
He's Keanu Reeves. He can be a Marvel hero and a DC hero. He can do it all! Here, he is as a reimagined Aquaman, which I don't hate, even though Jason Momoa was pretty much born to play the role.
Quick, make up another superhero that wears a gold, scaly suit and wields a trident! John Wick? More like John Slick! You know...because he's slick with water...from being in the ocean... OK, you know what? You try coming up with superhero names.
Article continues below advertisement
Maybe a few years down the line, if Keanu Reeves starts going gray (which may never happen since he's ageless, timeless, and maybe actually immortal), he will take up the helm as Slade Wilson, also known as Deathstroke, from the DC universe. So, what do you think? Do you think that when Keanu Reeves gets older he will eventually become Jeff Bridges? Because that's what this awesome art by @bosslogic seems to suggest.
Article continues below advertisement
Maybe Keanu is destined for even more than comic book characters...
Fans were over the moon to see this awesome take on Keanu Reeves as Kenshi Takahashi from Mortal Kombat. It just like, looks right, you know? We already know he's a master at hand-to-hand combat. The John Wick movies prove that. He could very easily step into the shoes of a badass video game character. And there is a new Mortal Kombat movie slated to hit theaters in 2021, so there's still time to make this happen.
Article continues below advertisement
I'm not as familiar with Geralt of Rivia, this handsome devil of a protagonist from the video game The Witcher, but it's safe to say that Keanu Reeves could nail this role. I mean, look at him. He looks like if Gandalf and Deathstroke had a baby. Geralt is a monster slayer for hire who travels around protecting people from vicious, deadly creatures, and that is a job that I would like Keanu Reeves to have.
Article continues below advertisement
Kylo Ren? More like Keanu Ren!
Put Keanu Reeves in every major movie franchise. There. I said what we were all thinking. He doesn't have to take Kylo Ren away from Adam Driver, but Keanu Reeves deserves a spot in Star Wars. Like, why isn't he a Jedi? He needs to be a Jedi like yesterday. It's honesly shameful that there have been like ten Star Wars movies already and Keanu Reeves isn't in any of them. That's not the kind of world I want.
Article continues below advertisement
I'll tell you right now, I would 100 percent go see another Pirates of the Caribbean movie if Keanu Reeves was in it instead of Johnny Depp. I don't think he'd play Jack Sparrow with quite the drunken ease, but that's no problem at all. Maybe Keanu Reeves could play a pirate whose parrot gets hit by an errant bow and arrow, so he spends three or four movies scouring the high seas for the idiot who killed his pet.
Article continues below advertisement
Finally, artist Crystal Ro fulfilled every millennial woman's dream and transformed all the Disney princes into Keanu Reeves.
Prince Charming from Cinderella is a dolt. Prince Keanu is a knight in shining armor. The only thing Crystal forgot to include in this perfect picture is Keanu's respectful hand position when he's interacting with women. He doesn't touch women he doesn't know! He is probably as close to an actual Prince Charming the real world has ever had. And guaranteed that smoldering look is doing way more for Cinderella than Prince Boring's face ever did.
Article continues below advertisement
I love The Little Mermaid. I can't help it. I know the story is toxic and Ariel sacrifices her whole self to get with a guy she just met, but the songs are great and mermaids, and I just can't help it. I loved this movie when I was a kid, and it still holds a special place in my heart now. You can only imagine my delight when I saw this. Prince Eric made Ariel give up her mermaid tail and honestly seemed kind of disappointed when she got her voice back and could speak again.
Prince Keanu will support her bi-environmental lifestyle and just loves listening to her speak her mind.
Article continues below advertisement
It's a whole new world with Keanu Reeves as Aladdin. Jasmine looks slightly skeptical in this picture, but maybe that's because Aladdin was a child, and Keanu is a responsible adult man with a beard and a desire to sweep a good woman off her feet and onto a magic carpet. And can't you imagine Keanu Reeves with a hilarious monkey sidekick? That's all I've ever wanted, and it's all you've ever wanted too now that you think about it, right?
Article continues below advertisement
If Keanu Reeves played the prince from Sleeping Beauty (whose name is Prince Phillip, but you didn't know that either, did you? I googled it.), he wouldn't even have to kiss her to arouse her from her deep sleep. He's so powerfully handsome and wonderful that she would somehow feel his presence when he got close to her, and that would make her awaken immediately. Keanu Reeves is that powerful with the ladies.
Article continues below advertisement
Snow White and the Seven Dwarfs also has its fair share of this weird kiss-a-sleeping-woman business, but Prince Keanu Reeves simply would not stand for it. You see, in this picture, he's not leaning in to kiss Snow White. He's just leaning in real close and whispering in her ear, "Hey, wake up. You're not under a curse anymore. You're an extremely strong and powerful woman, and I am here to support you unconditionally."
Article continues below advertisement
Prince Naveen from The Princess and the Frog is a relatively new addition to the Disney prince universe, but Keanu Reeves could no doubt capture the charm of Prince Naveen, even when he was a big ol' frog. In The Princess and the Frog, Prince Naveen is kind of a partier and super vain, and he only learns his lesson and begins to change his ways when he's turned into that little amphibian. Keanu's already voiced a character in Toy Story 4... he could totally pull off the frog thing.
Article continues below advertisement
Keanu Reeves might even be able to undo all the problems with Pocahontas! Who knows? He can pretty much do anything. Like, for example, in this scene, I imagine Pocahontas is telling John Smith that his people are not welcome here and they should go. And I imagine Keanu Reeves' John Smith replying, "Right you are!" packing up all his stuff, and high-tailing it out of there before they were even able to pass on smallpox. The rest of the movie follows Pocahontas doing whatever she wants.
Article continues below advertisement
Mulan was one of the first Disney movies to be like, "Hey, maybe we should give these characters a little bit of agency?" But then again, it was also still like, "Woahhhhh a girl? Can do that?!" So, baby steps. Yes, we all know Li Shang was pretty attractive as is... but you know, only as good-looking as it is socially acceptable to say when referring to a cartoon character. You know who else is attractive? Keanu Reeves. Perfect match.
Article continues below advertisement
Last but certainly not least, Keanu Reeves is here to transform Stockholm Syndrome: The Musical into an actual, lovely love story. (I say this again, as a huge Beauty and the Beast fan. Huge. It pains me to admit how awful these stories are for women.) If anything, Keanu Reeves as the beast might be a little too sexy for the general population.
Fan art like this is just one more way we get to express our appreciation for Keanu Reeves, his seemingly perfect morals, and his even more perfect face/acting ability.