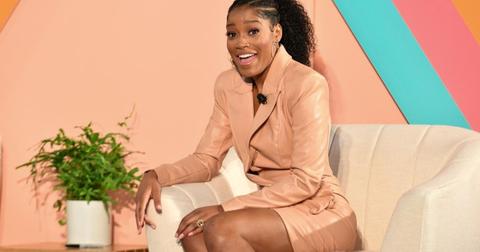 Keke Palmer Isn't Afraid to Speak Her Mind, but Boyfriends Are off Limits
By Devan McGuinness

Updated
There are a lot of very talented people in this world and if we were to just focus on the celebrities, it's hard to stand out among the best of those. For Keke Palmer, she's a rare star who stands out in more than one talent. She's never afraid to speak her mind, and is known to be raw and real on social media. But, there's one topic that she stays quiet about: her love life. To her, boyfriend talk is more private.
Article continues below advertisement
For Keke Palmer, boyfriend talk is off limits.
For the most part Keke Palmer boyfriend news has mostly just been rumors as she's not really been too open about publicly talking about her relationships. She was rumored to have dated rapper YG back in 2014 and she spoke about a breakup — reportedly her breakup with YG — in a 2016 video on YouTube called, "Keke's Journal Part 1: Adulting & Heartbreak." It's rumored that the breakup occurred due to YG's infidelity.
Article continues below advertisement
She was also rumored to be with her Brotherly Love co-star Quincy Brown, and Ty Dolla $ign was another she was lightly connected to.
You most likely won't find Keke posting about any boyfriend in the future.
Speaking with Harpers Bazaar in May 2020, Keke said relationships are off-limits for social media.
"I don't really do relationship stuff online, mainly because I don't know how I would do it without looking, like, cheesy or something, you know?" the 26-year-old told the magazine. "Yes, I'm a hundred percent authentic, but there is stuff that I do save for family and friends."
Article continues below advertisement
She continued, "I do have a Finsta. Sometimes I forget to post on there, 'cause I do post a lot of real moments and raw moments on my main Instagram page. But at the same time, when it comes to romance, [posting about it] doesn't really come naturally to me, so I feel like, why force it?"
Article continues below advertisement
"I've always had the same philosophy when it comes to dating," Keke said. "Not that I wouldn't give someone a try. But trying to keep my private life outside of my work life, to me, it's easiest when you don't date someone with the same career." Most recently, Keke was linked to Elvin Jackson, who does not appear to be in the industry himself, which lines up with her philosophy. The two started dating in 2018, though they reportedly broke up in 2019.
A few years earlier, Keke admitted to snooping in her partner's phones when she feels necessary. "I'm one of those girlfriends that'll hack into my guy's social media," she told Women's Health in 2017. "I'll fish for his password habits — birthday, pet's name — during a casual conversation, then use that to get into his e-mail or his social accounts."