Twitter Users React to Keke Palmer's Baby Name: "Black History Month for the Win"
After Keke Palmer revealed her baby's name on social media, Twitter users gave varying takes on the 'Nope' star's unique selection for her firstborn.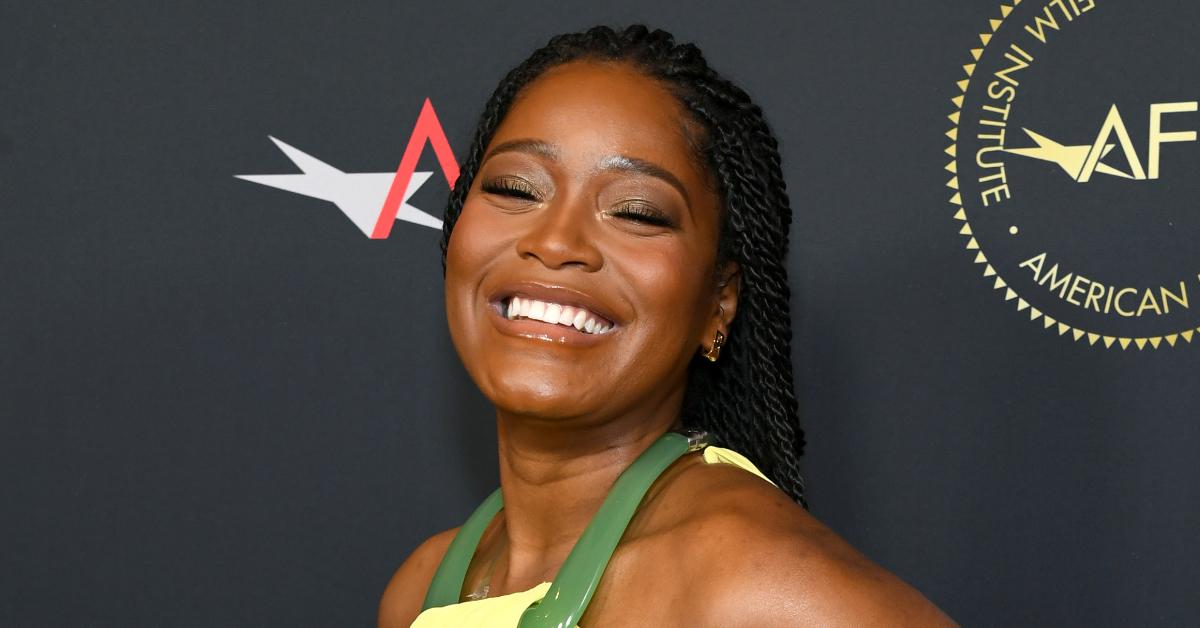 Actress and singer Keke Palmer's baby name selection might as well be a trending topic on Twitter, considering all the online discourse about it. And even Keke has joined the chat.
Article continues below advertisement
In case you missed it, the Password host announced the birth of her first child with an Instagram post on Feb. 27 bursting with photos and videos of herself and boyfriend Darius Jackson looking smitten with the newborn, who was born two days prior.
Keke Palmer's baby's name is Leodis Andrellton Jackson.
Keke Palmer revealed her choice of baby name on Tuesday as she announced the little one's arrival. "Born during Black History Month, with a name to match," she wrote in her Instagram caption, alongside a grinning emoji. "Leodis Andrellton Jackson. Welcome to the world, baby Leo."
On his Instagram, meanwhile, Darius told followers that Leodis was born on Saturday, Feb. 25, at 3:28 p.m.
Article continues below advertisement
So far, more than 2 million Instagram users have liked Keke's post, and fellow celebrities are celebrating the news. "Congratulations!" newly minted EGOT winner Viola Davis wrote. "Beautiful baby."
"So precious!" added The Little Mermaid star Halle Bailey.
And rapper Big Sean wrote, "Big congrats! Welcome to the club."
Famous folks also left loving comments on Darius's post, too. "Congrats to you and @keke," Good Trouble star Sherry Cola wrote. "Blessings!"
"Congratulations," added television host Kendall Kyndall.
Article continues below advertisement
Some Twitter users love the name, and some are scratching their heads.
So far, Keke's baby name has gotten a wide range of reactions on Twitter. Many fans appreciate the selection.
"Keke Palmer baby got a Black ass, country ass name," @123itsmeMary wrote. "I love it."
@thelocdlashtech tweeted, "Keke Palmer naming her baby Leodis is why I love her. 'Cause I just know she was ticked when she decided on that name. Black History Month for the win."
And @isthat_kt wrote, "Keke Palmer's baby and my great uncle got the same name. And like she said … that's a black ass name."
Other people, however, weren't feeling it.
"Why Keke Palmer name that baby LeeOtis?" tweeted @buttalov3_.
"I love me some Keke Palmer, but baby, why you name that baby Leodis?" @K_youloveher asked.
Amid the back-and-forth, one stan told critics to back off. "Y'all need to leave Keke Palmer and her baby alone," @jkoonayeon wrote. "Like, damn, the baby was just born and people already getting mad over his name."
Article continues below advertisement
Keke said that the name is "giving I marched with Martin."
When @_DocLee tweeted that the name sounds "like it led a civil rights march," Keke replied, saying, "It's giving I marched with Martin, purrrr."
"Can't wait for your son to change the world with a name like that," replied @whinysinglefem1.
One Twitter user made up a convincing backstory for the name. "Know your history," @QuanSai tweeted. "Leodis Andrellton Jackson was born on February 27, 1879, in Hobson City, Alabama, to parents Darius Jackson and Lauren Keyana Palmer. Leodis is credited with inventing the cast-iron skillet."
@ShaheemBee, meanwhile, joked that Keke should have named her child after her famous Disney Channel role: "You know you was suppose to name that baby True Jackson, lol."