Keke Palmer's Claims Against Trey Songz Resurface After He Addressed Other Allegations
Trey Songz is facing allegations of sexual assault by two women, but Keke Palmer opened up about Songz in 2017. What did she say?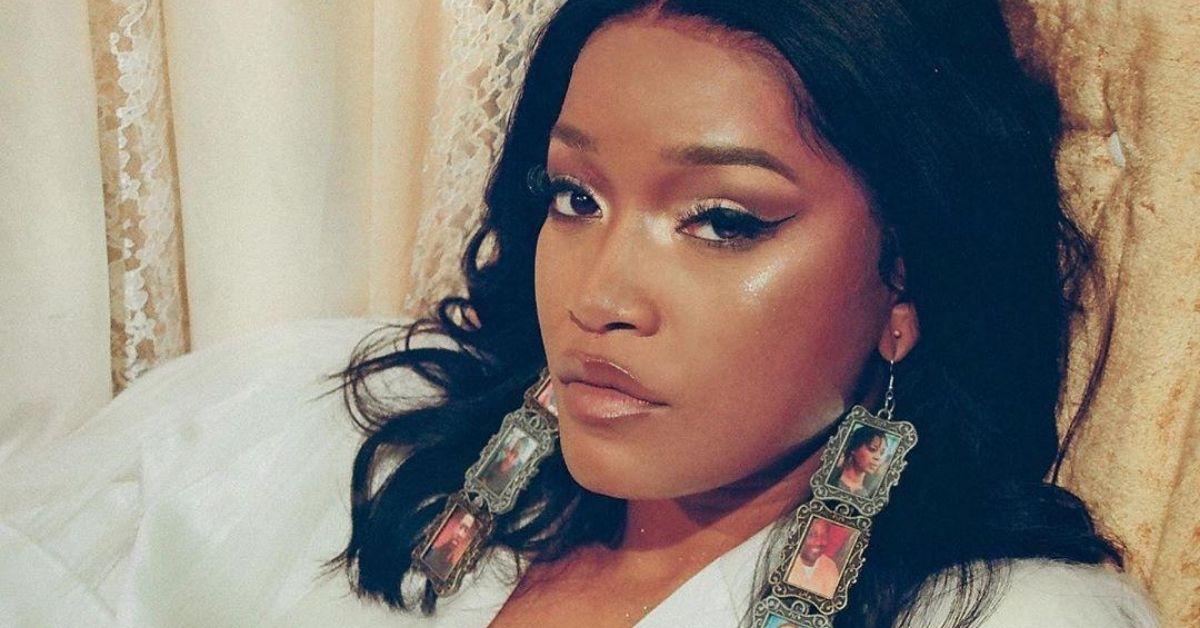 Trey Songz has found himself in the spotlight after sexual assault and misconduct allegations were launched against him. The allegations came up in a podcast that then went viral on Twitter. Trey Songz addressed the allegations, denying what happened, however, another person was brought up in this conversation: Keke Palmer. Back in 2017, Keke made allegations against Songz as well, which were largely ignored. What exactly did Keke Palmer say about Trey Songz?
Article continues below advertisement
Trey Songz has been accused of sexual assault.
Trey Songz, whose real name is Tremaine Neverson, has been accused a few times of sexual assault, and unfortunately, the latest came Aug. 17 when Celina Powell and her friend, Aliza, were on the No Jumper podcast. During the podcast, Aliza was asked to share "one of the nastiest things" she had done, and her reply alleged that she had been assaulted by Songz.
"I got peed on," she said during the podcast. "I didn't know what was happening. He just did it." When she was asked to name who she was referencing with that story, Aliza revealed it was Songz.
Article continues below advertisement
"I'm like, what the f--k? On my eyelashes?" she said. "And he's like, 'You're fine.'" She also said in the interview that Songz had refused to allow her to leave.
"He took my phone and my purse away for a whole day and held it over the balcony and was like 'B---h, if you try and leave, I'm going to drop this s--t.' He did the same thing to [Celina]. He just does the same s--t. He's, like, weird," she added.
Article continues below advertisement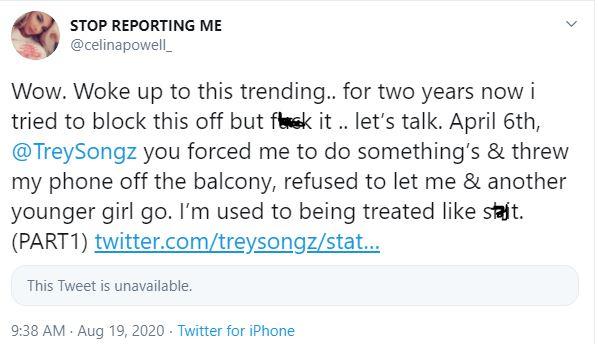 Celina took to her Twitter profile to share more about her story, alleging that Songz had abused her as well. In her tweets, she said that Songz "forced me to do [some things] and threw my phone off the balcony." She also said that he allegedly refused to allow her and another "younger girl" to leave.
Article continues below advertisement
According to Complex, Celina also mentioned being "scared" of him in her tweets and mentioned Keke Palmer, which brought another angle to this conversation with people wanting to know what she has to do with this story.
What did Keke Palmer say about Trey Songz?
Three years ago, in 2017, Keke Palmer accused Trey Songz of featuring her in his new music video, "Pick Up the Phone," without her consent. According to Huffington Post, in January of that year, Keke shared a post on social media (which has since been deleted) that accused Songz of "sexual intimidation," saying he ignored her when she asked to not be included in the music video.
Article continues below advertisement
"This is preposterous," she wrote in a now-deleted Instagram caption, according to Huffington Post. "How am I in this video Trey? After you found me in a closet HIDING because I was so afraid of anymore conflict. Literally my last option was to hide because you all would not listen when I said I did not want to be in the video the FIRST time. Just cause you give someone food and alcohol and throw in a little sexual intimidation doesn't mean they will buckle."
Article continues below advertisement
Keke Palmer said Trey Songz "secretly filmed" her despite having already told him she wasn't interested in being in the video.
"This is the sexism and misogyny I refer to because if I was a dude, he wouldn't have even tried me like this," she wrote. "Let this be a lesson to all, I'm not for the bulls--t. I'm serious about my business and you will not use my likeness without MY permission. When you in front of a boss you treat them like one, like I treat YOU. NO MEANS NO!!!!!!!"
If you need support, The National Sexual Assault Hotline is available 24/7 at 1-800-656-4673. You will be connected with a trained staff member in your area. Or visit RAINN.org to chat online with a support specialist at any time.