Kendall Jenner Put Cheese in a Salad Spinner, Internet Reacts
Kendall Jenner had another weird interaction with food after viewers caught her putting cheese into a salad spinner. Here's what we know.
Cooking is definitely one of those things that can feel very intimidating. I once watched a YouTube video on how to properly slice a potato and ya know what, it was a gift. If you're lucky enough to be raised in an environment where these skills are taught, then you'll have a lifetime of good eats. Some folks, however, never got that memo and are forced to play catchup in their adult lives.
Article continues below advertisement
Then there are ridiculously wealthy people who get away with not learning certain life lessons simply because things were done for them. Who knows if this is 100 percent the case for Kendall Jenner, but she definitely grew up in a privileged environment where the kitchens always seemed suspiciously immaculate. Her latest weird food interaction comes in the form of tossing some feta cheese into a salad spinner. Is that where it goes? Let's drill down into this dairy dilemma.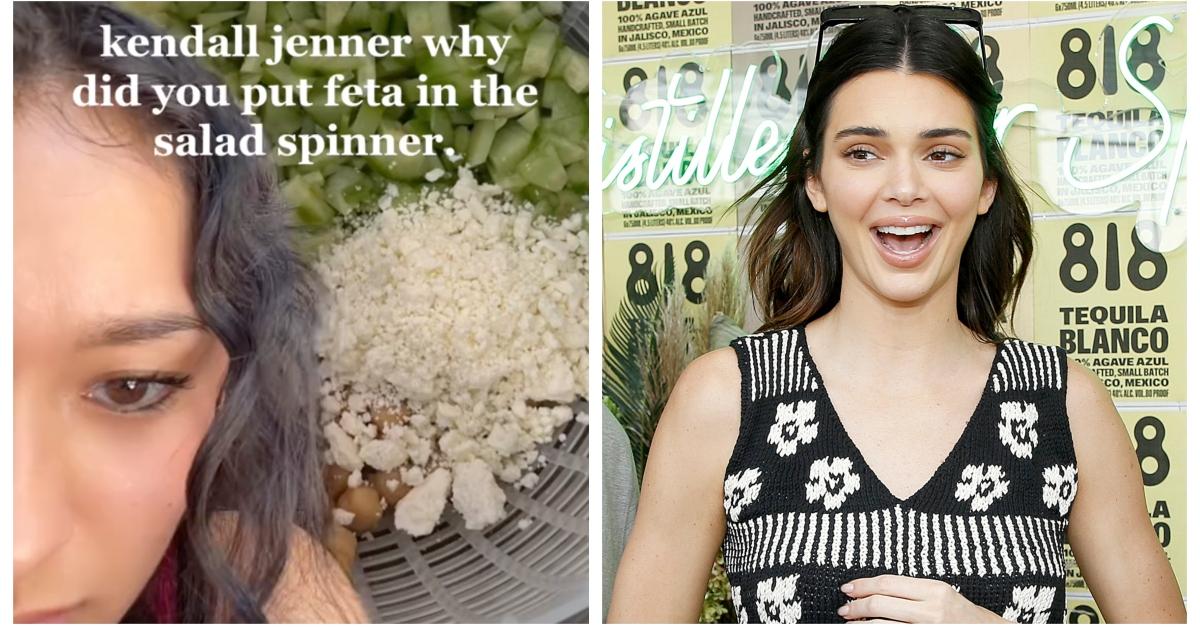 Article continues below advertisement
Does cheese go in a salad spinner? Is there a cheese spinner?
TikTok user @aly.sheehan asks a question that any self-respecting person might ask if they came across such a sight. Kendall, why did you put feta cheese in the salad spinner?
In a TikTok that can best be described as haunting, Aly points to the cursed salad spinner in question. It's clear that not only is there feta in the salad spinner, but also kale and possibly chopped cucumbers. I wonder if she once again cut up a cucumber in an unhinged fashion. It's where I first learned that perhaps Kendall has never seen a knife before.
Article continues below advertisement
Aly is so disturbed by this that she says her skin is crawling because of it. I'll be honest, that's kind of a wild reaction. It's not as if she put all of these ingredients into a salad spinner then tossed in some peanut butter and hollandaise. This food goes together. Using the salad spinner for more than just salad is hardly a stomach churning action. It's odd, but not gross.
Article continues below advertisement
What does a salad spinner do?
As much as I want to believe a salad spinner is just a tiny amusement park ride your greens get to go on, that's not what it's used for. According to Delishably, a salad spinner is a "versatile kitchen tool that not only allows you to thoroughly wash your salad ingredients but dries them, too." This is for anyone who prefers a crispy, not soggy, salad.
Article continues below advertisement
The device is pretty simple. First you cut up your fruits or vegetables, then throw them into the strainer basket. Run that under your kitchen faucet and shake it around a bit to thoroughly wash all the goodies inside. Now for the fun part. Put the lid on and start spinning away. Centrifugal force will drain the water completely, leaving behind crunchy treats. The Delishably article warns against washing anything that doesn't need washing. Is feta one such item?
It actually makes sense to wash feta cheese.
As wacky as it sounds, washing feta isn't entirely uncommon. Feta is often sold in brine, which is salt water. It's part of the reason why it's such a salty cheese. A lot of people like to wash their feta before eating it in order to cut down on some of the salt.
Article continues below advertisement
Who can say whether or not Kendall was thinking of feta brine and/or salt content, but the truth is now out there. It's not weird to wash feta cheese. I can't speak about other kinds of cheese, but feta gets a pass.
Article continues below advertisement
People in the comments think they know what Kendall Jenner is doing.
This "makes me wonder if she thinks a salad spinner's purpose is for mixing the ingredients together," said @_yllekelly in the replies. A lot of people echoed this statement. Based on the fact that Kendall put what appeared to be every salad ingredient into the spinner, that's certainly a strong theory.
I have another theory. I think Kendall absolutely knows what a salad spinner does but she took a look at it and realized it could be used for something else. When making a salad, I often lose a bunch to the counter in my efforts to mix up the ingredients. Isn't it possible that Kendall decided to avoid that fate by using the spinning mechanism to toss the salad? What do you think?