People Are Roasting Kylie Jenner's New Face Cream on Twitter, Saying It "Tears Skin"
Kylie Jenner became a billionaire selling cosmetics and beauty products. Her new Walnut Scrub, however, is being pnned as too harsh on people's skin.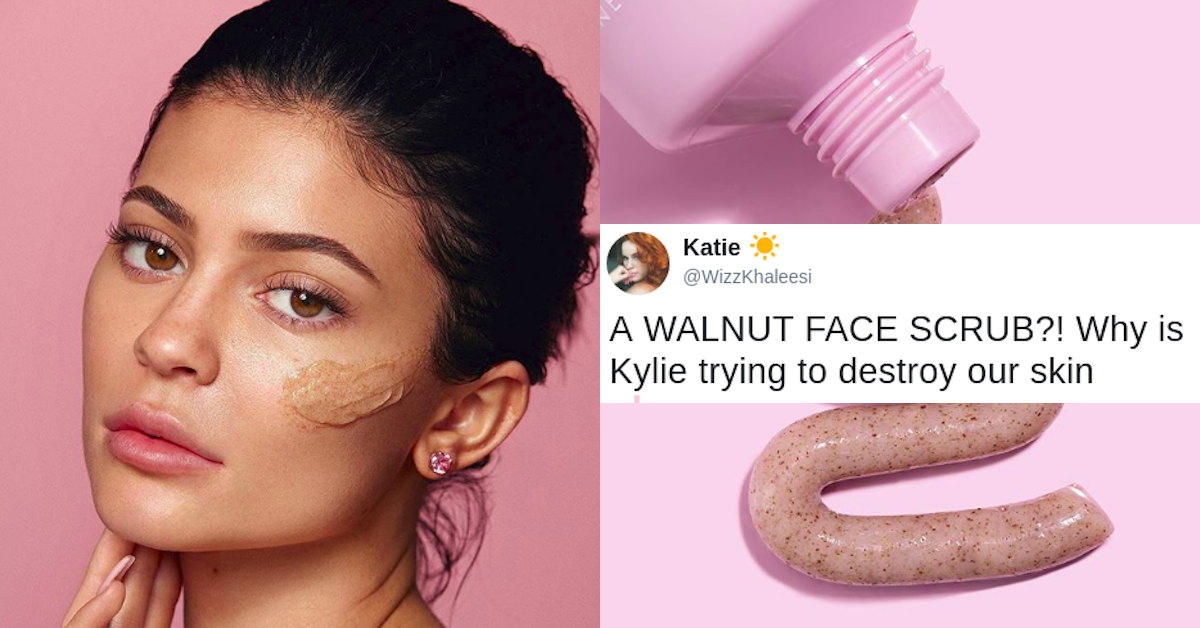 Kylie Jenner's new walnut face scrub is getting dragged all over social media by people who say it's super bad for your skin.
The reality star recently became the world's youngest female billionaire, and a lot of that help came from her high-margin business of selling cosmetic products. Her foray into the world was expertly orchestrated.
Article continues below advertisement
Even while she was in high school, Kylie's Instagram account was one of the most-followed on social media. Throughout the years, she became more glammed up and became a major player in the world of "enhanced beauty," so it was only a matter of time before she launched her own makeup line.
Kylie's first big products were her lip kits. In the beginning, the response was negative, with people complaining about the quality of the brushes, excessive clumping, and looking like a bargain-basement product right when you open the box.
The bad publicity wasn't enough to affect her sales, however, and it became clear there was a lot of money to be made with cosmetics attached to Kylie's name and image.
Article continues below advertisement
Her new line debuted on May 10 and the Instagram account already has well over 1 million followers. The skin set pictured above costs $125 and includes all six items (which cost $30 each on their own). The packaging is a slick, matte millennial pink and certainly looks great, as it should. If the Kardashians are good at one thing it's selling an image. All of the products are also hip to the times and billed as being "vegan, cruelty free, paraben, and sulfate free."
Article continues below advertisement
So they tick all of the boxes, and the set includes all of the basics: face wash, scrub, toner, serum, moisturizer, and eye cream.
Although the product will officially launch on May 22, the descriptions of are available online. One item in particular has people up in arms: Kylie's Walnut Face Scrub.

Article continues below advertisement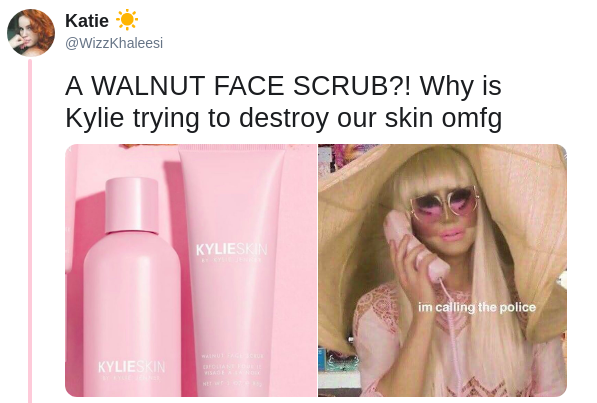 People are not excited about the prospect of scrubbing their faces with an abrasive concoction of ground walnuts and Kylie's other secret ingredients, mainly because it's widely believed that applying walnut to one's face is generally a very, very bad idea.
Article continues below advertisement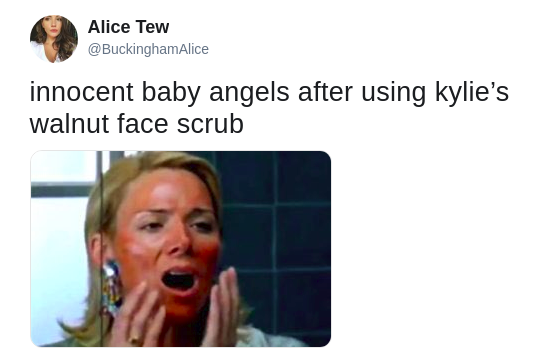 Article continues below advertisement
In a promotional video for the walnut face scrub, Kylie says other walnut scrubs out there are a little too harsh for people's faces but promises hers is soothing and mild enough for everyday use, though she prefers to use it only two to three times a week.

Article continues below advertisement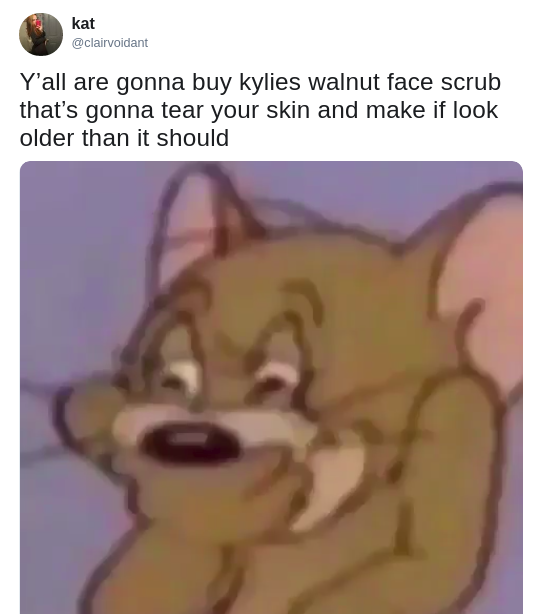 However, a lot of people think fans are overreacting and shouldn't preemptively whip out the pitchforks for Kylie's skincare line without trying it first.
Some say it hasn't even been proven that putting walnut on your face is bad for you.
Article continues below advertisement
Article continues below advertisement
Prevention had a few dermatologists weigh in on the issue, and although they didn't have any of Kylie's scrub to analyze for themselves, they did say traditionally people have found walnut too abrasive for the skin.
But they did go on to say any organic exfoliant can tear people's skin if it isn't fine enough or processed properly.
Joshua Zeichner, a dermatologist at Mount Sinai Hospital, NYC, says, "Walnut shell scrubs have traditionally been considered to be harsh on the skin. The issue was that if the powder wasn't finely ground up enough, sharp edges may disrupt the skin barrier."
It's worth noting, however, that isn't specific to walnut shell. "To my knowledge, there is no real data showing that walnut shell powder is any more harmful to the skin than other forms of manual exfoliation."
Article continues below advertisement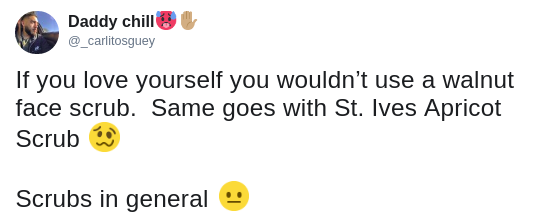 He went on to say, "It is unclear whether this new product contains walnut shell or the walnut itself. Moreover, it is unclear whether the process by which the powder was made is different than previous generations. Time and time again we have seen improvements in formulation of the same ingredients leading to better clinical outcomes and less irritation."
Article continues below advertisement
Debra Jailman, another NYC dermatologist and author of the book, Skin Rules, said many people find walnut to be "too irritating" on their skin, but whether Kylie's product will have you looking like Red Skull is contingent on the size of the particles and whether shells are used in the formula itself. "The reason people do not like walnut and there may be some controversy with her product is people may find that it's too irritating. It depends on the size of the walnuts and how uniform the particle size is on the walnut that she's using—and the other ingredients."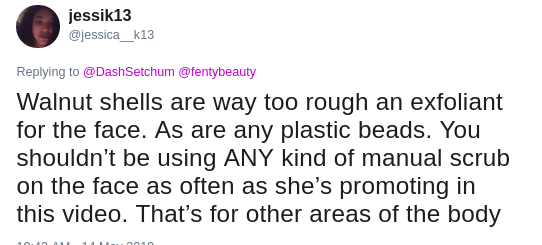 Some folks argue that face scrubs in general are just too harsh and continued use can lead to some pretty negative results. And there's some evidence to support this.
Still, that depends on how vigorously you're rubbing the stuff in there. If you've got extra sensitive skin, maybe stay away from Kylie's walnut scrub. I guess we'll have to wait for all the beauty bloggers to throw their two cents in once KylieSkin officially launches.