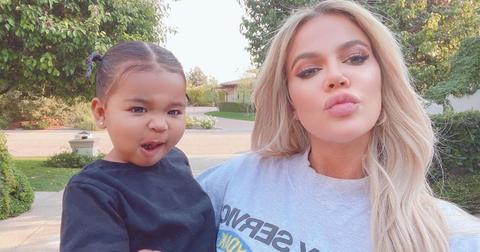 Khloé Might Have a New Reality Show on the Way With Daughter True
By Sara Belcher

Updated
It looks like the Kardashians are starting them young, because we just got a glimpse at a new reality show that Khloé Kardashian is producing about her and her daughter.
A new spinoff series was teased in the most recent episode of Keeping Up With the Kardashians. In the episode, Khloé and momager Kris are meeting with a group producers to "finalize the show that I'm developing," as Khloe puts it.
While all of the details for the show aren't finalized yet, here's what we know about Khloe's new show.
Khloé new reality show will likely be called Khloé and True Take the World.
In the episode, while the team is going over some details for the show, we get a glimpse at some of the concept art that would premiere with the show. In it, we see the title Khloé and True Take the World. This follows the same Keeping Up spinoff formula the Kardashians have been following for years — first, there was Kourtney and Khloé Take Miami, then there was Kourtney and Kim Take New York, then Kourtney and Khloé Take the Hamptons. 
Wow, talk about family memories.
Not all of their spinoffs have followed that same pattern, though. A couple of the spinoffs, particularly Khloe & Lamar, Rob & Chyna, and Life of Kylie found different naming techniques.
It'll follow Khloe and True throughout their daily lives.
The producers said that the show would be predominantly shot "at [Khloé's] house" but will also showcase "seeing mom and daughter out and about. Letting the world see just little snippets."
This will be a more personal look at Khloé and True's relationship, as currently all of the interactions these moms have with their kids we only see on Keeping Up With the Kardashians.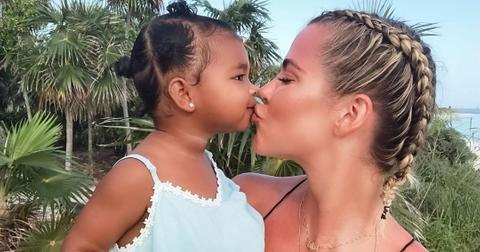 Where can you watch Khloé and True Take the World? And when does it premiere?
Unlike KUWTK, Khloé's new reality show will not be on E!. In the episode, the producers emphasized their big push to get the show out as soon as possible, saying they "want to shoot and put this on the internet as soon as possible." 
This also makes it sound as though instead of a full reality show, like all of the previous spinoffs, we'll get an internet-friendly series.
The episodes will be "five- to seven-minutes," meaning they'll likely premiere on YouTube or as clips on E!'s website. 
This is likely to reduce the stress filming a reality show could put on True, who's now 1 year old. You've got to start them somewhere, right?
Since we haven't seen any artwork or teasers yet, there's a possibility that it's still in the negotiation stages, and it could be a while before the show ever premieres.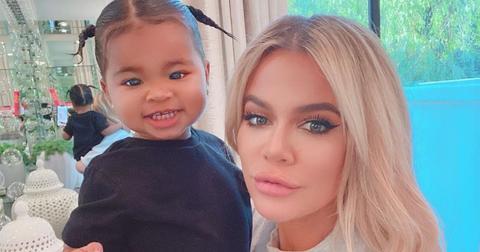 Will Khloé's baby daddy Tristan Thompson be involved?
It's currently unclear how involved True's father, Tristan Thompson, will be involved in the show — if at all. He wasn't mentioned in the negotiations during the show, so it's possible that he plans to stay out of it.
You can watch Keeping Up With the Kardashians on Sundays at 9 p.m. EST on E!