The 'Knock Knock' Ending Scene Isn't Without Its Symbolism
If you watched Eli Roth's 2015 erotic thriller 'Knock Knock' and are desperately looking for the ending scene to be explained, we've got you covered.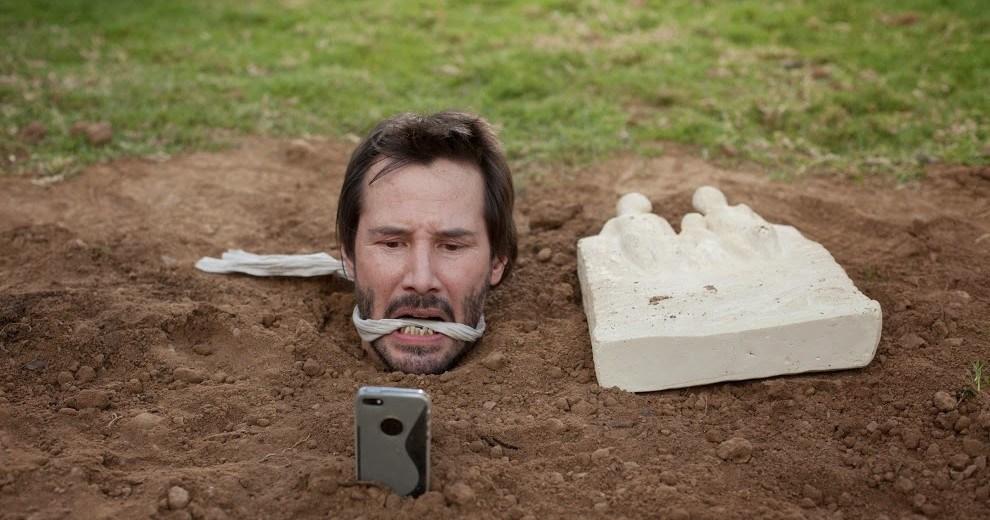 If you've watched any of Eli Roth's films (Hostel, Cabin Fever), you'll note that the director isn't necessarily known for his subtlety. However, it can't be said the man doesn't take a direction and absolutely run with it, which is exactly what happened with the 2015 flick Knock Knock starring Keanu Reeves. The erotic home invasion thriller has found new life on Netflix, and viewers of the film want its ending explained.
Article continues below advertisement
'Knock Knock' ending explained: details on the final moments of the 2015 movie.
If you haven't seen the flick or are thinking about watching it, here's a basic rundown of what it's about: Keanu Reeves plays Evan, a father and family man who's spending Father's Day weekend alone at home while his family is at the beach because he's still undergoing physical therapy for a recent shoulder injury. He seems like a decent enough dude who isn't malicious by any means, so it's only natural that Keanu Reeves is perfectly cast as the lead role in the movie.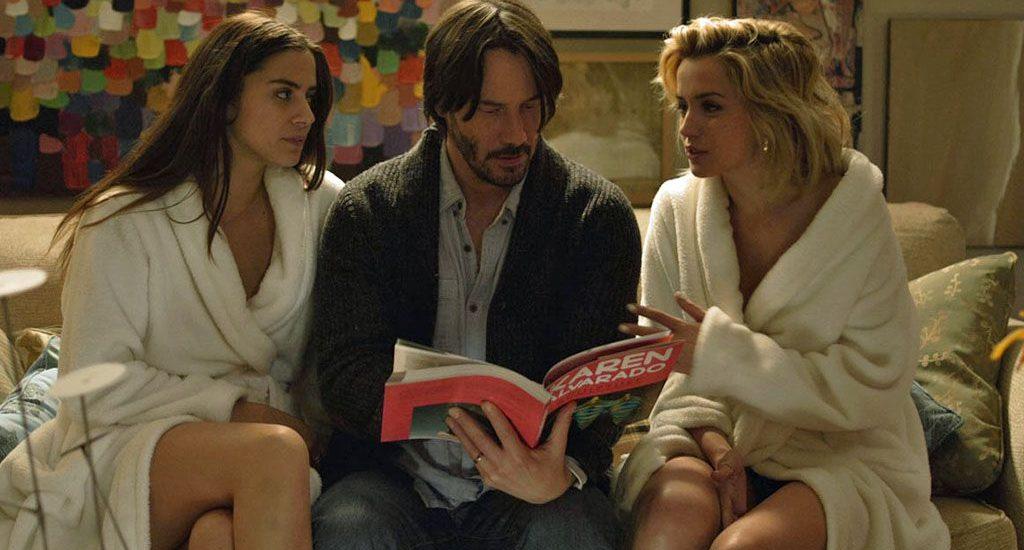 Article continues below advertisement
Everything's going fine until two attractive women show up at his door soaked to the bone from rain. After letting them inside so they can dry up, he offers to call them a cab and that's when the two women attempt to seduce him. Although he rejects their advances when the car shows up, he eventually has a threesome with the two of them. Big mistake.
After he takes "the bait," the girls revisit his home and destroy a sculpture his wife made. When he confronts them about it and says he's going to call the police, they tell him that they're underage. He ultimately does call the police and reports a break-in to cover his tracks, but they return at a later time and tie him up. Bel forces Evan to sleep with her while Genesis films them. The two women then vow to kill him at dawn for agreeing to sleep with them.
Article continues below advertisement
The film culminates in Genesis and Bel having Evan completely convinced of their intention to kill him, then pull the ripcord at the last minute. They inform Evan that this isn't their first time doing this and that they're effectively acting on behalf of disenfranchised and cheated-on women everywhere by torturing him in this way.
Article continues below advertisement
As Bel and Genesis say at the end of the film, "You know what's funny? They never say no. No matter who they are. No matter how much they love their families. You're all the same." It's an idea that Evan rejects entirely as he attempts to highlight the flaws in their logic for revenge: "You f--ked me. You f--ked me. You came to my house. You came to me. You came on to me."
The movie then ends with Evan's son coming home from the beach, seeing the house in physical disarray and saying "Daddy had a party." While it's an innocuous line, it underlies the irreparable damage that has been done to his family dynamic. Not only will his wife, Karen, know that he's cheated on her, but the ignominy of the entire situation has been broadcast on the internet for all the world to see.
Article continues below advertisement
Evan does indeed have a party, but it's not the one he planned on. It's doubly symbolic considering that his family, while away at the beach, is wondering how Evan is planning his "Father's Day." He's failed as a father, even though it could be argued he was pushed into it, or, as Evan puts it, "free pizza" came to his door.
Article continues below advertisement
'Knock Knock' also had an alternate ending that's different from the full feature on Netflix where Keanu Reeves gets revenge.
The movie's alternate ending still displays the same family-ruining dynamic present in the theatrical release of the film, but Bel and Genesis also steal Evan's dog. Unbeknownst to them, he's wearing a collar with a GPS tracking device. Some time passes and they've got another dude tied up: their next victim. As they're planning to go forward with their plan, there's a knock at the door.
It's presumed that the person at the door is Evan, who, after his family is destroyed, is now seeking revenge, and tracked his dog's collar to the new mark's house, where he's going to exact some revenge of his own.
Here's hoping for Bel and Genesis' sake that he doesn't lock into John Wick mode.