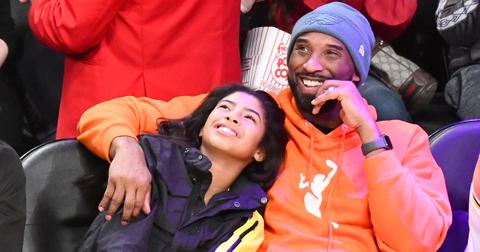 Celebs Remember Kobe Bryant and His Daughter Following Tragic Helicopter Crash
By Mustafa Gatollari

Jan. 27 2020, Updated 1:14 p.m. ET
NBA legend Kobe Bryant was riding in a private helicopter on January, 26th with his daughter Gianna when the vehicle crashed, killing both the multiple-championship winner, his 13-year-old daughter, Gianna, and seven others.
Kobe was arguably the NBA's biggest star since Michael Jordan, ushering in a new "dynasty" of basketball and adding to the Lakers' already impressive resume of high-profile victories.
Article continues below advertisement
Known for being a perpetual student of the game and exhibiting a dedication that was rare even among top professionals in the league, Kobe stunned the basketball world on several occasions. His retirement game was a masterpiece, he led the Lakers to several rings, and he once scored a mind-boggling 81 points in a single game alone.
His exploits off the court and after his basketball career were equally impressive.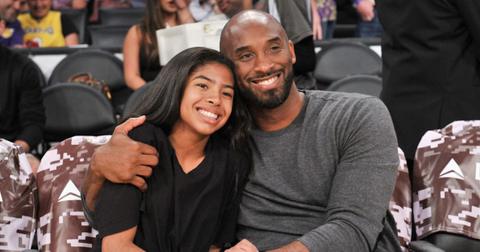 Article continues below advertisement
Kobe created, wrote, and narrated the 2018 Oscar winner for best animated short, Dear Basketball. Not bad for his first foray into film. He's supported and has been involved in no less than seven separate charities throughout his career as a top basketball player and was respected by a wide breadth of not only those in the basketball world, but several high profile actors, politicians, and a great number of people he's come into contact with.
"For those Kobe fans that are out there, that are feeling like I feel right now, just try and think of all the joy that he brought you."

Brian Shaw reacts to the reported passing of Kobe Bryant. pic.twitter.com/WjAwmIHQle

— NBA TV (@NBATV) January 26, 2020
Article continues below advertisement
Understandably, the Los Angeles legend became a home town hero for everyone all over California, especially in Hollywood. A great number of stars were shocked to hear the news that their homecourt hero and his daughter had suddenly passed away.
Article continues below advertisement
He was great,charismatic & among the hardest-working athletes ever,but what impressed me most was how deeply-involved Kobe was with his 4 daughters. Pray for them, Vanessa, his parents & his fellow passengers' families on this sad and shocking day. We will never forget you Kobe

— Jimmy Kimmel (@jimmykimmel) January 26, 2020
There are throngs of people expressing their condolences online, along with how much Kobe meant to them. I know several people close to me, especially a dear friend and cast member on Ghost Hunters, who has been a lifelong Lakers fan, who is absolutely shaken by the news.
Article continues below advertisement
Just devastated to hear about #KobeBryant .💔An extraordinary athlete, and a genuinely kind, wonderful man. Sending love, prayers & compassion to his family. To his entire @NBA family as well.

— Reese Witherspoon (@ReeseW) January 26, 2020
Article continues below advertisement
Much can be said of Kobe's accomplishments on the court: he's a five time NBA champion, earning rings in 2000, 2001, and 2002. Then again in 2009 and 2010. He was the finals MVP two years in a row, an 18-time NBA All Star, an NBA league MVP, four-time All Star Game MVP, two-time NBA scoring champion, a two-time Olympic gold medalist, and he's the Lakers all-time leading scorer with 33,643 career points, among other distinctions.
Article continues below advertisement
It's not no telling what you gone wake up to nowadays

— Meek Mill (@MeekMill) January 26, 2020
But perhaps Kobe's biggest asset weren't his physical attributes or athletic predilections, but he was reported to have a work ethic like no other player in the game. He never took "days off" and was a perpetual hard worker in the gym, embodying the "first to show, last to leave" mentality.
Article continues below advertisement
This can't be real 💔💔💔💔 there's no way!!! My heart hurts

— Khloé (@khloekardashian) January 26, 2020
I cannot believe this is real. My god. Oh my god.

— christine teigen (@chrissyteigen) January 26, 2020
Article continues below advertisement
In fact, Kobe achieved an almost mythical status before every game, showing up hours before practice to drill his shooting, working anywhere from 500 to 1,000 separate shots, from all areas of the court, working in and out, in and out.
Often, teammates and members of the opposing team would wonder just how in the world Kobe would get right into a game and already be on fire. That's because he dedicated a lot of time to warming up.
completely numb. RIP kobe bryant. praying for your family 🙏🏽❤️

— chloe x halle (@chloexhalle) January 26, 2020
Article continues below advertisement
There's no words to express the pain Im going through with this tragedy of loosing my neice Gigi & my brother @kobebryant I love u and u will be missed. My condolences goes out to the Bryant family and the families of the other passengers on board. IM SICK RIGHT NOW pic.twitter.com/pigHywq3c1

— SHAQ (@SHAQ) January 26, 2020
His love for the game started at a young age — he used to challenge fellow members of his high school basketball team to games of 100. Not 11, not 21, but 100.
Sometimes, during games even, Kobe would take out a laptop to show video footage of himself and teammates on how to get easier shots for themselves on the court.
Article continues below advertisement
...This S*** can't be real... this the first moment I was able to meet Gianna Maria, she's been to only 3 games this year... 2 of them were mine... She told me I was her favorite player to watch🙏🏽 I can't believe this😢😭

Rest Easy Gigi❤️ pic.twitter.com/IfDrE9Gjlv

— Trae Young (@TheTraeYoung) January 26, 2020
Most people will remember Kobe as the magnificent athlete who inspired a whole generation of basketball players. But I will always remember him as a man who was much more than an athlete. pic.twitter.com/9EZuwk8wrV

— Kareem Abdul-Jabbar (@kaj33) January 26, 2020
Article continues below advertisement
In fact, Kobe's work ethic was so impressive, Michael Jordan, known as one of the hardest grinders on the court who isn't afraid to honk his own horn, either, compared Kobe's tenacity to his own. If that doesn't speak volumes as to the kind of legend Kobe is, I don't know what does.
Our thoughts are with the Bryant family during this difficult time.
Article continues below advertisement
Article continues below advertisement
I'm so sad and stunned right now. In Staples Arena, where Kobe created so many memories for all of us, preparing to pay tribute to another brilliant man we lost too soon, Nipsey Hussle. Life can be so brutal and senseless sometimes. Hold on to your loved ones. We miss you, Kobe

— John Legend (@johnlegend) January 26, 2020
Eric took this photo right after the accident happened where Kobe, his daughter, and other beautiful souls were lifted up to be with God for eternity. I felt the power in the sky of the heavens parting to make room for the greatest of angels to rise. My heart is completely broken pic.twitter.com/GtDXjAEfYi

— Jessica Simpson (@JessicaSimpson) January 27, 2020
Article continues below advertisement
Article continues below advertisement