The Lana Cult on TikTok's Fighting the "Undeserved Hate" Lana Del Rey's Been Getting
Lana Del Rey has now got a "cult" on TikTok of folks who support the singer by posting a smiling photo of her face in front of an exploding car.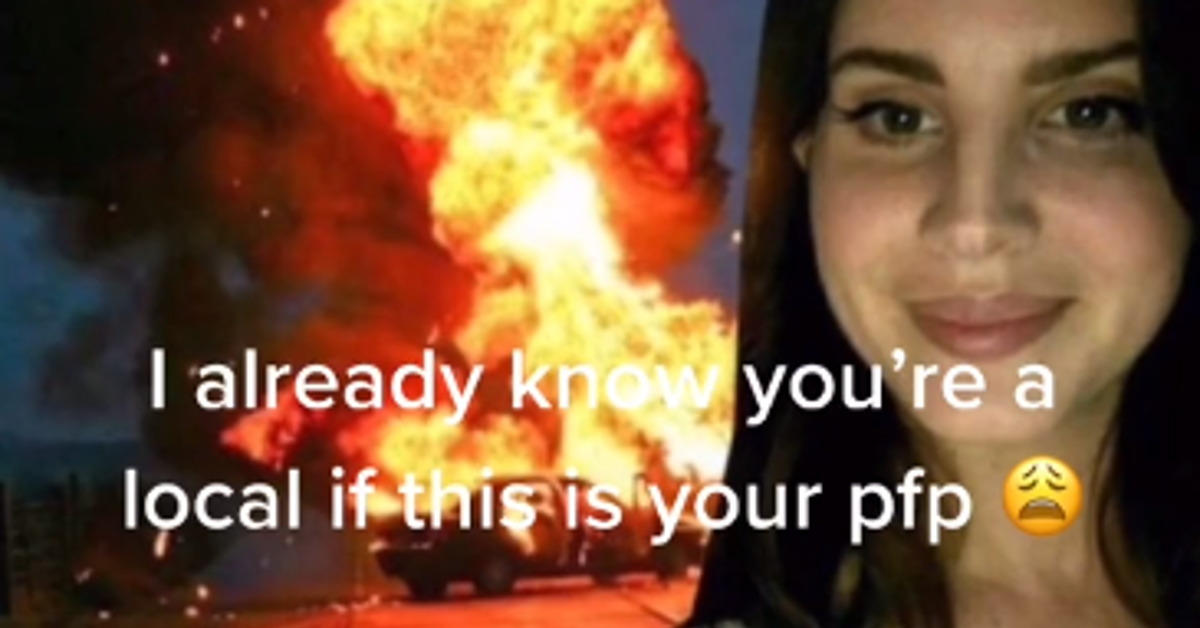 The peripatetic nature of celebrities' careers and the court of social media public opinion is an especially fascinatingly fickle phenomenon. It seemed like it was only a few years ago when people were dying over anything and everything Chris Pratt said and / or did. Now, he's "the worst Chris."
Lana Del Rey has received a similar level of ire from groups of folks on the internet for the past couple of years, and the Lana cult on TikTok is looking to reverse that.
Article continues below advertisement
What is TikTok's Lana cult? Basically it's a group of stans.
If you've been scrolling through TikTok in an effort to distract yourself from meaningful and less immediately fun endeavors in your life, then you have probably noticed an alarming number of profile photos featuring a smiling photograph of Lana Del Rey. Behind Lana's beaming grin is a car that's on fire as the result of an explosion.
So what's the point of this "cult" supporting Lana? While it might not be an overt display of advertising, it's kind of hard not to see the correlation between the emergence of this "cult" and the March 19, 2021 release of Lana's approaching album, Chemtrails Over the Country Club.
Social media, especially TikTok, has been proven to be a powerful tool in securing hundreds and thousands if not millions of streams of an artist's specific song — sometimes years after they've been released.
Article continues below advertisement
Doja Cat's "Streets" is a perfect example. The song was used as the backing track for the controversial "Silhouette Challenge" over a year after it debuted. Hot Pink as an album received a ton of love from fans and critics alike. "Say So" was one of the first songs off the album to receive tons of play on social media, especially on TikTok.
Article continues below advertisement
There are some other artists, it can be argued, who only ever launched into popularity because of social media gags, like the mannequin challenge. Rae Sremmurd's "Black Beatles" is an example of a relatively unknown musician starting a social media movement in order to get their song played.
Article continues below advertisement
How do you join Lana Del Rey's cult on TikTok?
It's pretty straightforward: All you need to do is change your profile picture to the photo of Lana Del Rey smiling in front of the blown-up vehicle and you're part of the cult.
Obviously, you need to show your support for the singer by uploading video posts professing your love for the singer.
Article continues below advertisement
And the trend's actually branching out to different social media platforms, or at least, commentary on the trend is.
Being part of Lana's "cult" doesn't really extend past changing your profile picture and posting clips professing support for Lana, who's been criticized for not representing more ethnically diverse women on the cover of her Chemtrails Over the Country Club album.
Article continues below advertisement
Article continues below advertisement
She also found herself in hot water for speaking out on a perceived double standard pertaining to her lyrics about sex and being passive in imperfect relationships, citing other popular musicians in doing so:
"Now that Doja Cat, Ariana, Camila, Cardi B, Kehlani, and Nicki Minaj and Beyoncé have had number ones with songs about being sexy, wearing no clothes, f--king, cheating, etc. — can I please go back to singing about being embodied, feeling beautiful by being in love even if the relationship is not perfect, or dancing for money — or whatever I want — without being crucified or saying that I'm glamorizing abuse?" she said.