Do The Colors You See in This Viral Shoe Pic Mean You're Right Or Left Brain Dominant?
This photo of a shoe is going viral on Twitter because people are saying it depends on the dominance of the sides of your brain.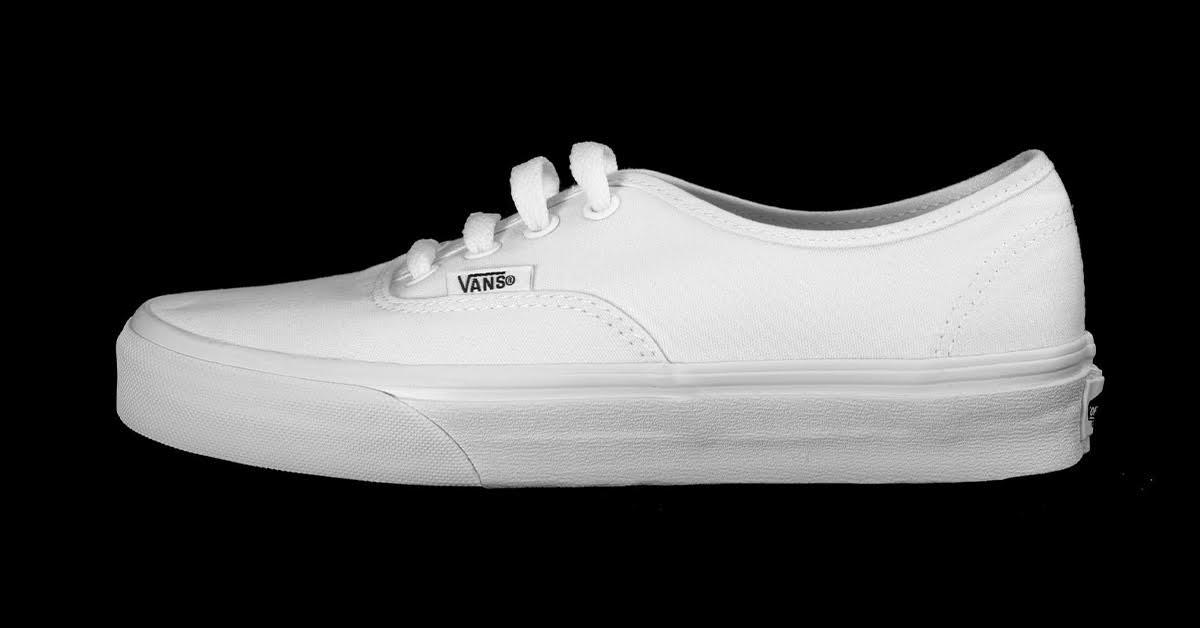 If you love brain teasers, then no doubt you delight in viral photos like that blue and black or white and gold dress. Even if you find those kinds of photos and audio files like that one of the voice saying "laurel" or "yanny" (team Laurel FTW) to be insanely annoying, at the very least you definitely have an opinion.
Article continues below advertisement
Enter, the shoe. 
Two years ago the internet was introduced to a mind-bending photo of a Vans shoe which either looks pink and white or gray and teal depending on how you see it. Unfortunately, this meme is now back with a vengeance thanks to Lizzo tweeting about it. However, people are now fighting about whether the color you see relies on whether you're right or left brain dominant, or if that even matters at all.
Article continues below advertisement
What is right and left brain dominance?
Supposedly, the right part of your brain deals with creative and emotional things while the left part of your brain deals with making rational decisions and analyzing events, problems and situations. According to the meme, the colors you see in the photo depend on whichever side of your brain you use more.
However, right and left brain dominance might not actually even be a real thing. Some scientists say there is no evidence to support that this phenomenon exists.
Imagine! Something on Twitter not being true.
Article continues below advertisement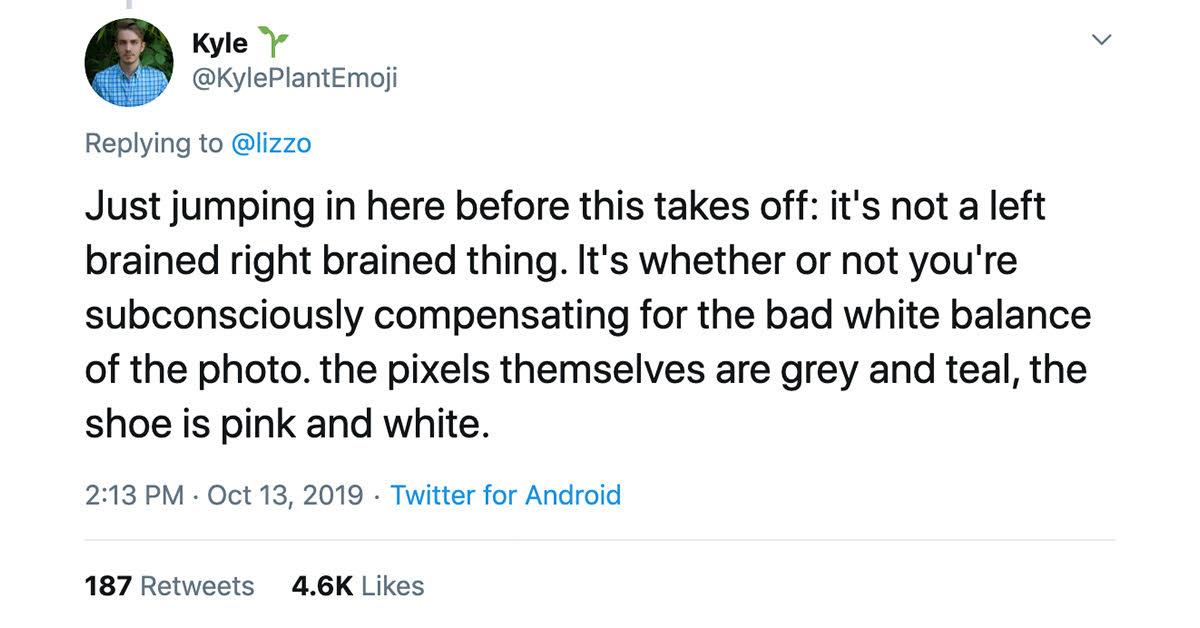 While many Twitter users are quick to say that they're seeing blue and gray because they're left-brain dominant (and vice versa), shoe pic truthers are out there, not blaming brains but rather blaming the photo's photographer (and also kind of brains).
Article continues below advertisement
Many responses were about the white balance of the photo being off.
"Just jumping in here before this takes off: it's not a left brained right brained thing. It's whether or not you're subconsciously compensating for the bad white balance of the photo. the pixels themselves are grey and teal, the shoe is pink and white," responded Twitter user KylePlantEmoji to Lizzo.
"My brain sees teal but I know for a fact they are pink vans and the white balance is wayyyyyyy offf." @ItsJustMandy14 tweeted back at a news story about the sneaker meme after Will Smith Instagrammed about it.
Article continues below advertisement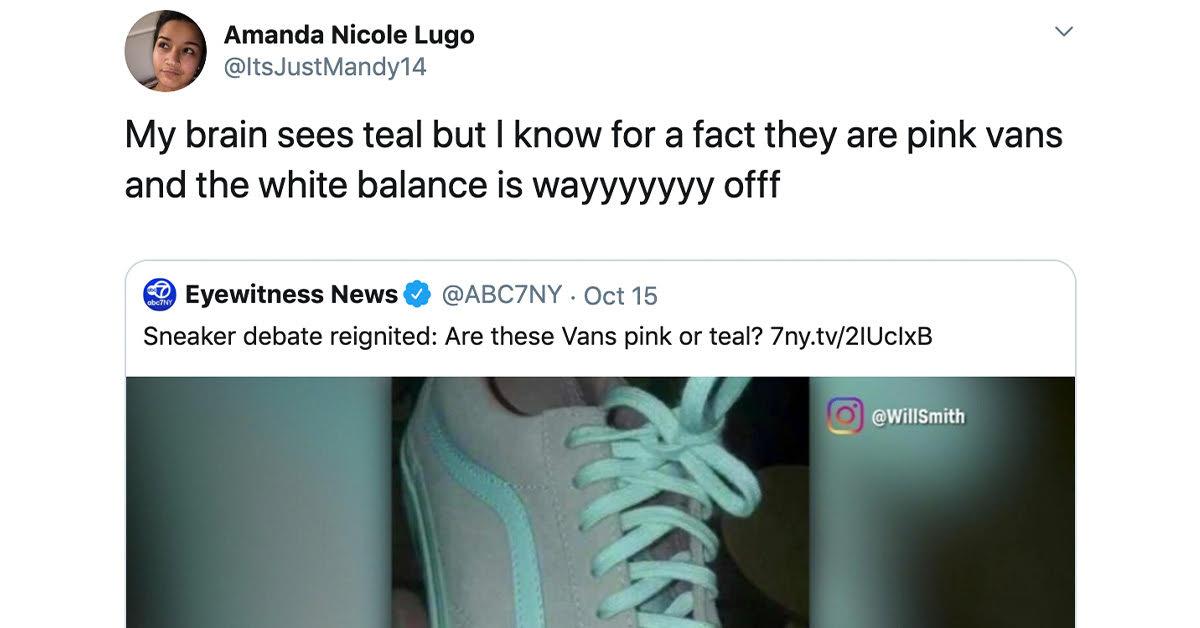 "I saw grey and teal first, but when I turned the brightness down on my phone I saw pink and white. Science!" tweeted mother_fickle to the performer.
Article continues below advertisement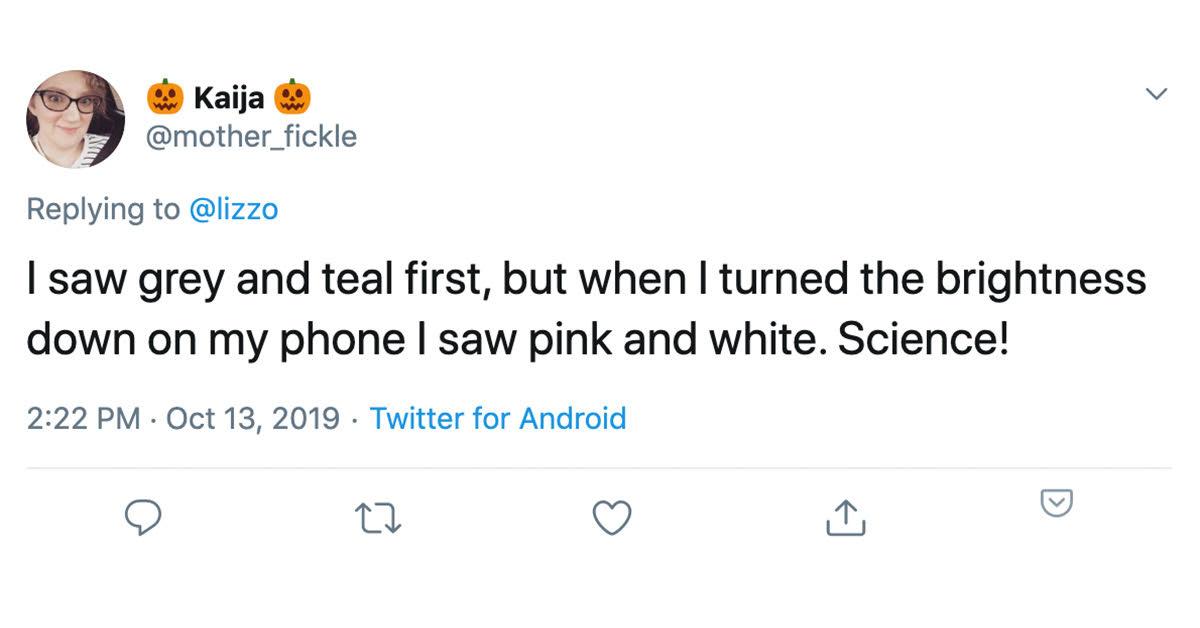 So what's the truth?
Team "shoe pic truther" is actually the most correct according to CNN's senior medical correspondent Elizabeth Cohen. Her explanation for the infamous viral color-changing dress photo can be applied to this Vans shoe photo as well. "It has to do with the tiny cones in the back of our eyeballs that perceive colors in a slightly different way," she explained all the way back In 2015.
So while the white balance is definitely off, the color you're seeing doesn't mean you're more right or left brained. It has to do with your ability to visually process an image.