LEGO Police Sets Pulled From Marketing at Request of the Head Company
According to an email memo that went to affiliate marketers, LEGO Group had allegedly asked for LEGO police sets and others to be paused on marketing.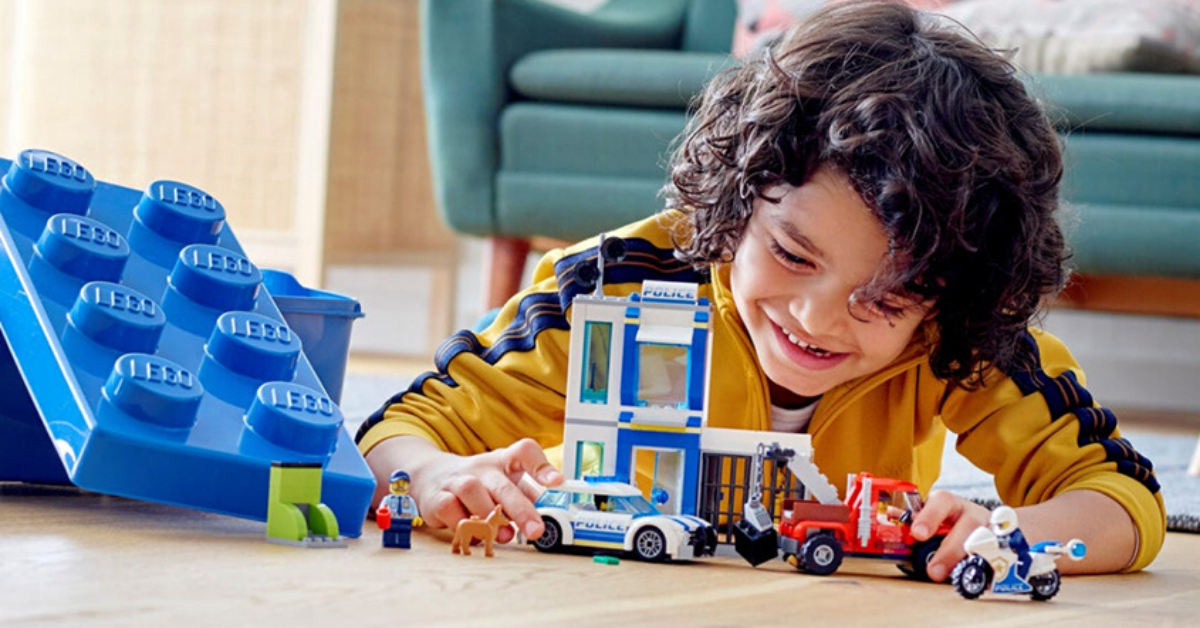 People have been calling out celebrities and companies for their face-saving response to the Black Lives Movement, just giving a PR-written message stating they stand by the movement, but not doing too much in terms of actual work. In light of Blackout Tuesday, which took social media over on June 2, LEGO Group reportedly requested its affiliate retailers stop marketing for a number of their playsets, including the LEGO Police Sets.
Article continues below advertisement
LEGO Police Sets pulled from marketing in wake of George Floyd protests.
According to Toy Book, a site that covers manufacturing and marketing happenings in children's toys, reported June 2 that the LEGO Group sent correspondence to their affiliate marketers listing 30 different playsets the company wishes to limit or stop marketing on – including the LEGO Police Sets.
Article continues below advertisement
Toy Book wrote, "The email requests removal of product listings and features for more than 30 LEGO building sets, Minifigures, and accessories that include representation of police officers, firefighters, criminals, emergency vehicles, and buildings."
The site went on to list LEGO City Police Station, Police Dog Unit, the Patrol Car, and the Police Highway Arrest set are all on their no-marketing list. The list also included Police Officer "Duke DeTain" and "Crook" Minifigures, items like police badges and handcuffs – and the LEGO Creator The White House version.
Article continues below advertisement
Why are LEGO police sets on a removal list?
As the memo from the LEGO Group went more public, people started questioning on Twitter what this really meant. Were they stopping the sales of these sets? Is this in response to something in particular?
Article continues below advertisement
"Hey @LEGO_Group can you elaborate?" @BrickLoftOrg tweeted. Adding, "Is it #BlackOutTuesday? We all firmly believe #BlackLivesMattter. For decades #LEGO police & fire rescue have been the very best example how to protect and rescue fellow minifigs and kids playing. What kind of message are you making here??"
Article continues below advertisement
"Just in case you wanted a gage on how bad things are getting, Lego just sent out a press release demanding that all sets featuring the police or property damage that are currently on store shelves be pulled indefinitely," another Twitter user shared.
Article continues below advertisement
On LEGO's official Twitter page, they sent a tweet out, not about the email that went out, but it was in support of the Black community against police brutality.
"We stand with the Black community against racism and inequality," the tweet read. Adding, "There is much to do. We will donate $4 million to organizations dedicated to supporting Black children and educating all children about racial equality."
Article continues below advertisement
According to Toy Book, LEGO clarified what the email asking for the LEGO police sets to be on a no-marketing list meant.
Article continues below advertisement
"We requested that our affiliate partners refrain from posting promotional LEGO content as part of our decision to respect #BlackOutTuesday and pause posting content on our social media channels in response to the tragic events in the US," they wrote, according to the site.
If you are looking for ways to donate your time or money to Black Lives Matter and other antiracist organizations, we have created a list of resources to get you started.