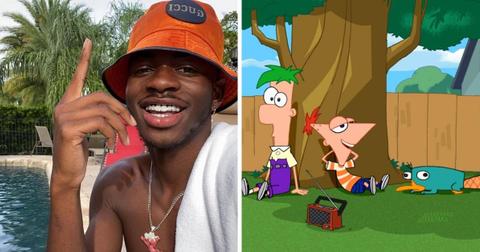 Hey, Remember When Lil Nas X Promised Us a 'Phineas and Ferb' DVD?
By Devan McGuinness

Updated
In 2019, Lil Nas X burst into the scene with a song that changed the country and rap genres forever and it went viral on TikTok. His song "Old Town Road" quickly became a pop culture phenomenon and he set a record for the longest-running number one hip hop song in history. Lil Nas X knew he had a good song on his hands and he was determined to make it as successful as possible, so made a promise that had something to do with the Disney title Phineas and Ferb.
Lil Nas X brought 'Old Town Road' to the masses in 2019.
Lil Nas X had no idea that he was going to create one of the most iconic songs of the past few years, but it's clear that he was hopeful the song would do well. When the song dropped in March 2019, it debuted on the Billboard Hot 100 list and quickly rose to the number one spot, where it sat for a record 19 weeks. It was a huge success, but we don't think he realized just how successful it was still going to become.
A few months after the release, in May of the same year, Lil Nas X took to Twitter, where he had millions of fans following along at that time, and made a promise, if they helped him out.
Lil Nas X promised his fans a 'Phineas and Ferb' DVD.
On May 24, 2019, Lil Nas X wrote a tweet promising a gift if his fans helped his song hit diamond status, which is awarded when an artist hits a 10,000,000 copies sold for a single or an album, according to Billboard.
when old town road goes diamond i'm sending all my followers a copy of phineas & ferb season 3 on blu ray

— nope (@LilNasX) May 24, 2019
This status was a goal for Lil Nas X who told his fans and followers that he would gift them a Disney DVD if they helped him reach diamond certification for "Old Town Road." He tweeted, "when old town road goes diamond i'm sending all my followers a copy of phineas & ferb season 3 on blu ray."
Phineas and Ferb is an animated Disney TV show that follows step brothers Phineas and Ferb as they "embark on various adventures during their summer vacation, while trying to keep their sister from interfering with their plans." The first episode aired in 2007 and the show ran for several seasons, ending in 2015 with a couple of feature-length movies added in the mix, including a new one centered around their sister Candice due out on Aug. 28.
What that has to do with Lil Nas X and his song, we're not sure. However, it didn't take long for his dream of his song becoming diamond to come true. Not only did it get its diamond certification, but it set another record.
By October 2019, "Old Town Road" became the fastest single in Recording Industry Association of America history to receive Diamond certification in the United States, according to Billboard.
When his song hit diamond status, people on Twitter reminded Lil Nas X about the promise he made earlier in the year. One person wrote, "we ain't forgetting one either," sharing a screenshot of the earlier tweet Lil Nas X made with the promise.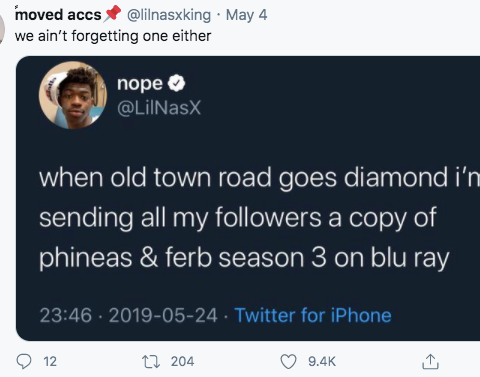 He replied to the tweet with a funny video that shows him attempting to find Phineas and Ferb on Amazon, when it showed the purchase was unavailable. "never think that i didn't try," he wrote along with the video where he also jokingly cried when he couldn't find the season for fans. Oh well, DVD or no DVD, that song is a gem.