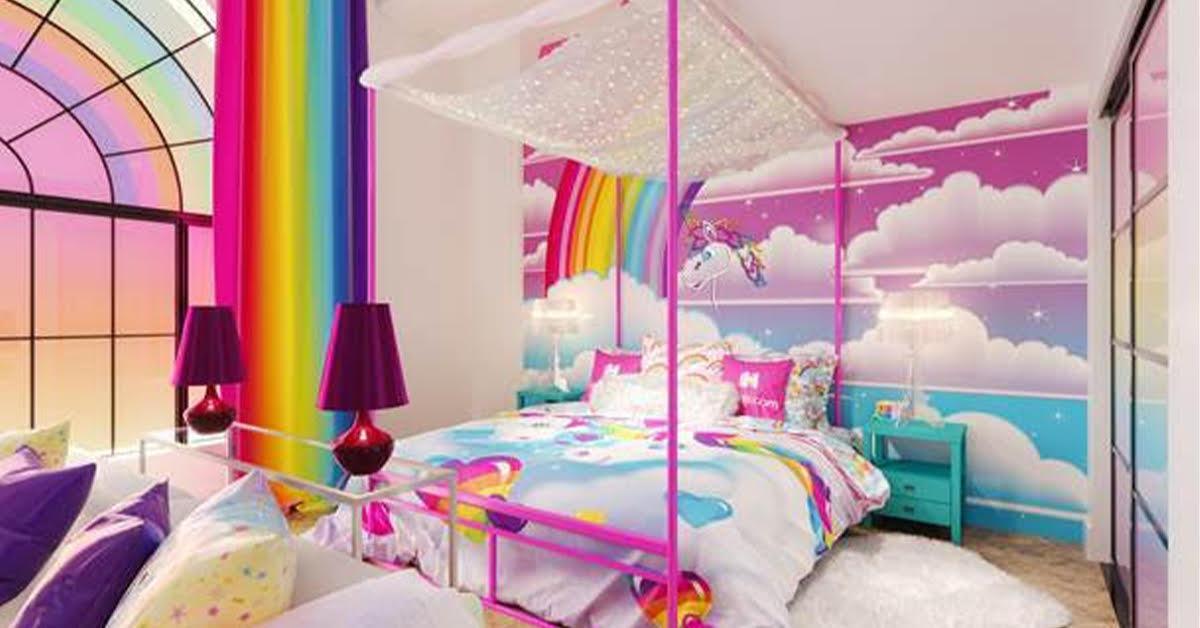 Live Out Your '90s Dreams By Staying in This Rainbow-licious Lisa Frank Suite
If you've ever had fantasies of living inside the artwork of your rainbow dolphin Lisa Frank folder, have we found the flat for you. Lisa Frank, Hotels.com and Los Angeles-based rental space Barsala have teamed up to create a totally bookable Lisa Frank design-inspired suite and it's a '90s dream.
Article continues below advertisement
Located in downtown LA, this rainbow colored dwelling is furnished with every iconic Lisa Frank image you can think of from dolphins to puppies to unicorns to polar bears and the brands did not skimp on the details in any of the suite's three rooms.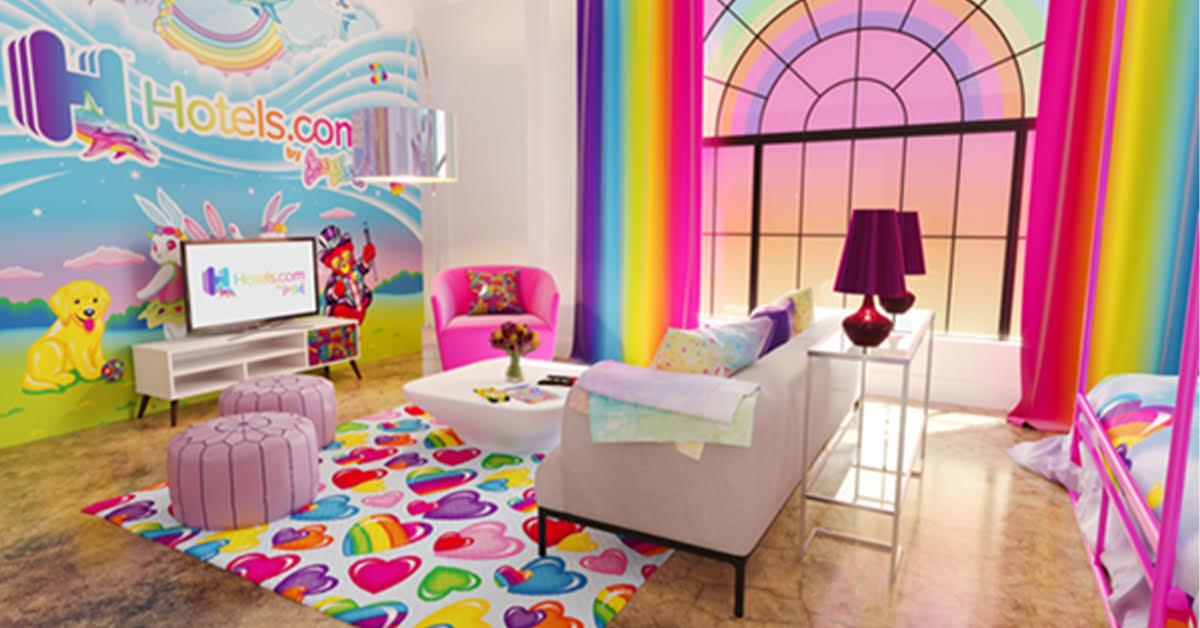 Article continues below advertisement
It's beyond colorful.
The first thing that you notice upon entering the space is long rainbow curtains framing an Instagram photoshoot-worthy rainbow window that cheerfully lights up the entire room. Seriously, it would be pretty hard to ever be sad in this suite what with all that multi-colored sunlight streaming in.
If you're not mesmerized by the iconic Lisa Frank rainbow hearts on the carpet, you probably won't be able to take your eyes off of the super cute mural on the wall behind the TV depicting a few of Lisa's famous animal characters like the magician bear and ballerina bunnies that were definitely on your pencil pouches, trapper keepers and big erasers.
Article continues below advertisement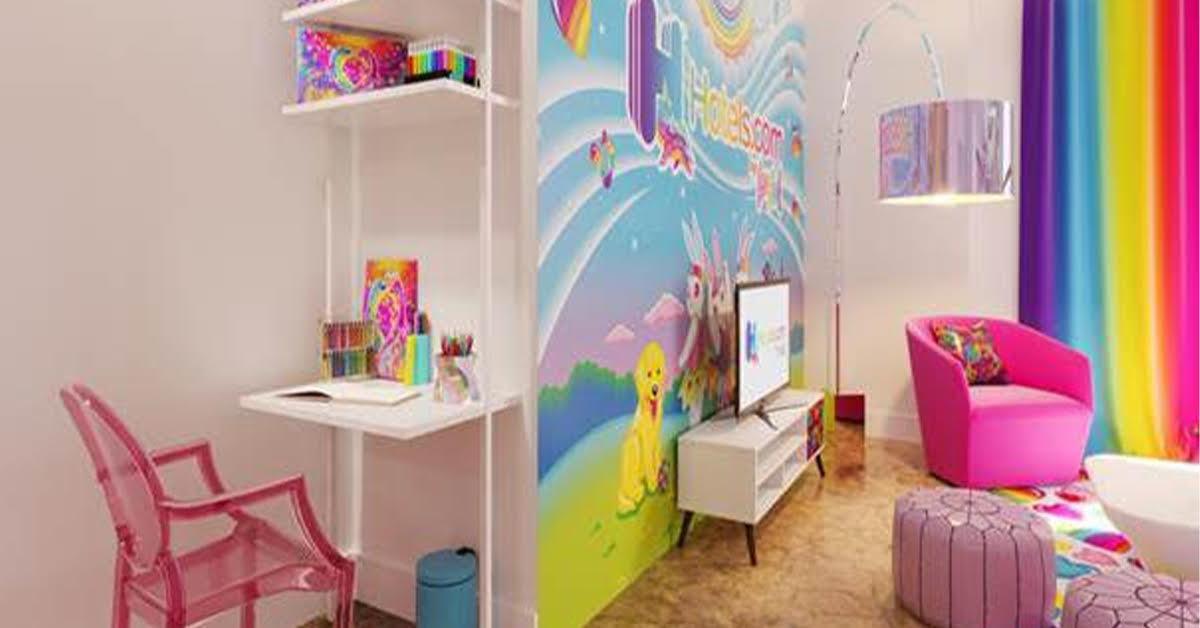 It's the ultimate Lisa Frank fantasy suite
The suite's canopy bed shimmers with twinkle lights and a neon unicorn sign. Tucked away in a corner is a desk area complete with every Lisa Frank stationary item you could ever want, including a guest book, where you can leave messages for other Frank fans about your favorite Lisa Frank memories.
Article continues below advertisement
There are thoughtful details... everywhere
The pièce de résistance is not the animal print kitchen cupboards filled with stuffed animals or the trays of '90s snacks (Push Pops, Gushers, and Planters' Cheez Balls) or the bowl of super nostalgic snap bracelets but rather, the bathroom. No hotel suite is complete without a luxury bathroom and this Lisa Frank one is over the top–in the best possible way.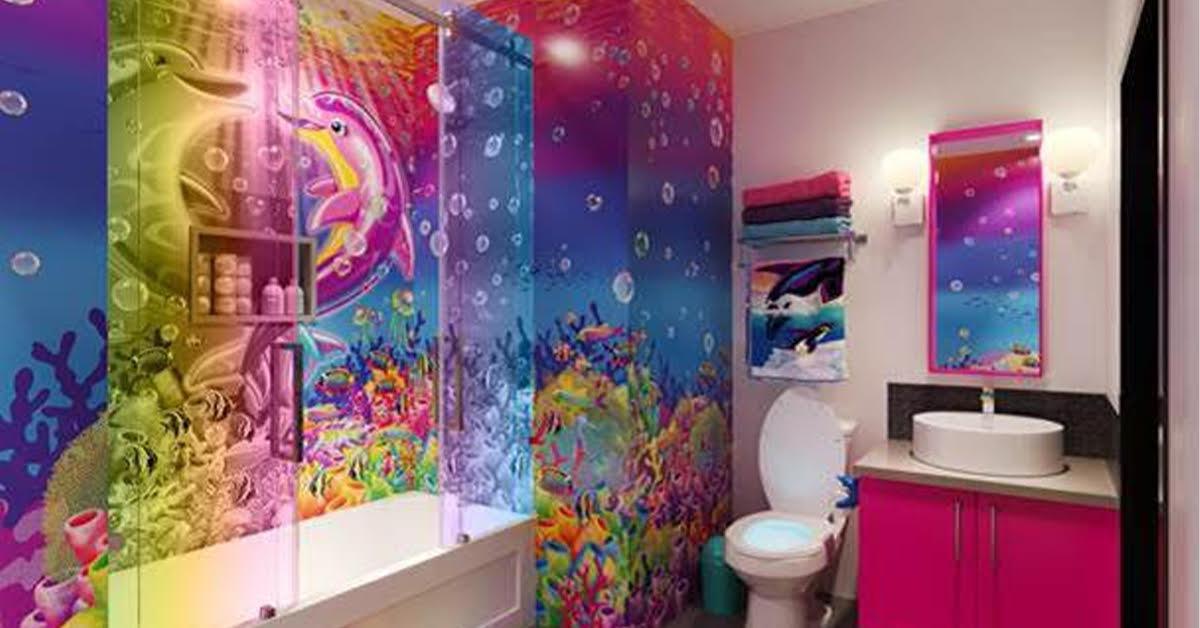 Article continues below advertisement
The flat's shower doors are made from seemingly rainbow glass that open to reveal a colorful dolphin and coral reef mural (because what other animal scene would you want in your shower?). There are Lisa Frank branded towels for you to dry off with, hot pink Lisa Frank branded robes to slip in to, and thoughtful little touches everywhere including a dolphin head toilet paper cover, a ton of fizzing bath bombs and your favorite '90s teen magazines.
So, how do you book the Lisa Frank suite?
Reservations for the Lisa Frank suite officially open Friday, Oct. 11 via Hotels.com, so mark your calendars. Bookings can be made through Oct. 27 at $199 per night. Rationalize the purchase this way — It's a small price to pay to absolutely make your middle school self's life.