Everything We Know About Netflix's Live-Action 'One Piece' Series
The live-action 'One Piece' series is officially coming to Netflix. The manga's writer and creator Eiichiro Oda to executive produce. Details inside.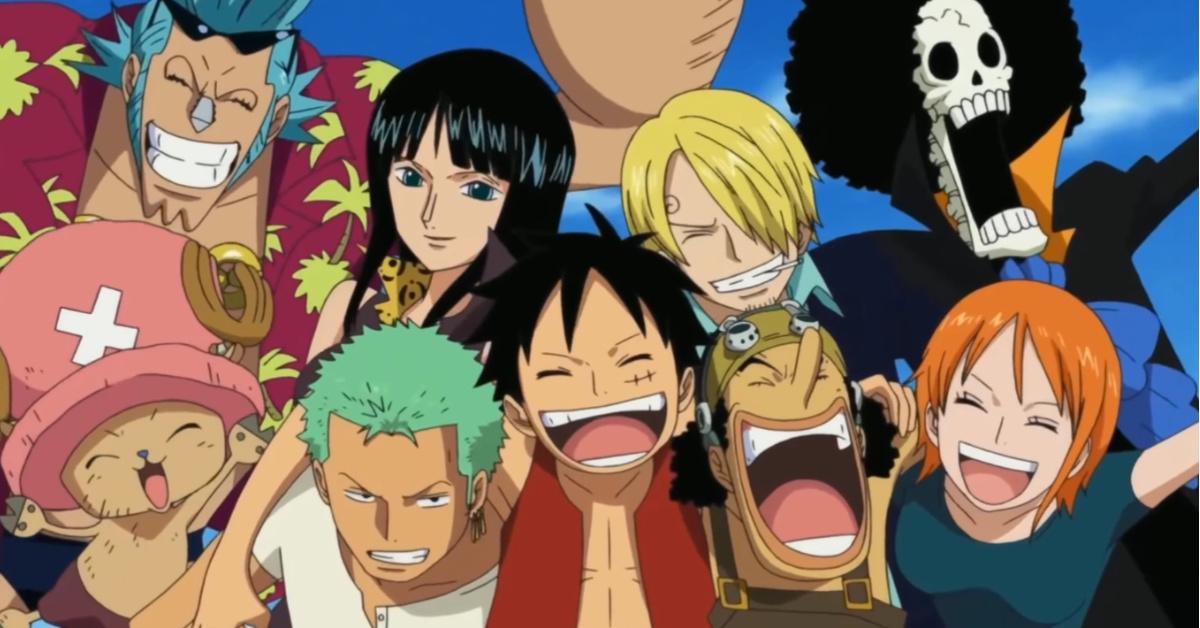 If you're a fan of manga, then you've undoubtedly heard about One Piece (and probably read at least one volume of it). And if you're not a fan of manga, well, you might be about to become one thanks to the new live-action One Piece series coming to Netflix. Here's everything we know about the new series so far.
Article continues below advertisement
What is 'One Piece'?
One Piece is one of the best-selling manga series of all time. It was created by Eiichiro Oda in 1997 and has been in production ever since — the 95th volume just came out in December 2019. Since then, it's become one of the largest franchises ever.
There's been a long-running anime show, movies, video games, magazines, plays, music, theme parks — you name it, and a One Piece version of it probably exists somewhere in the world. Most likely Japan.
Article continues below advertisement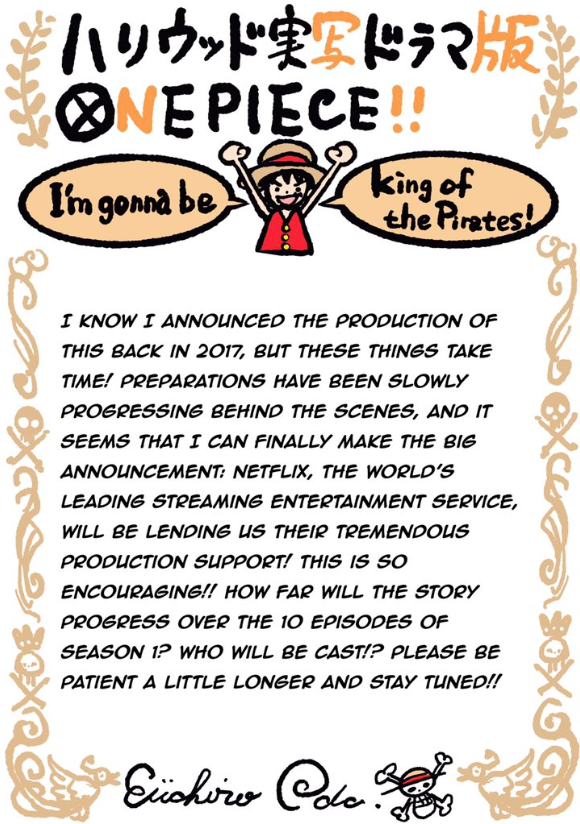 One Piece tells the story of a young man named Monkey D. Luffy (yes, really) who sets off on an adventure to claim the One Piece treasure and become King of the Pirates. Along with his motley crew (called the Straw Hat Pirates), Luffy navigates his ship (Going Merry) through the East Blue Sea, encountering pirates, bounty hunters, and all-around bad guys who want the treasure for themselves. It's anything but smooth sailing — as you can probably guess by the fact that the manga has 95 volumes.
Article continues below advertisement
And Netflix is now bringing a live-action 'One Piece' to its streaming service.
In a recent press release, Netflix announced that a live-action series will premiere on the streaming service. The series will feature 10 all-new episodes and will be co-produced by Netflix and Tomorrow Studios. Anime fans will recognize Tomorrow Studios — they're also involved with the upcoming Cowboy Bebop adaptation for Netflix. It's a good time to be an anime fan with a Netflix subscription.
The cast of Netflix's live-action 'One Piece' hasn't been announced yet.
As Netflix has only just announced the live-action One Piece show, we don't know about the cast yet, but judging by the stellar Cowboy Bebop cast, we're confident that the One Piece cast will also be great.
Article continues below advertisement
What we do know is that there are some very impressive names on the production side of things when it comes to the live-action One Piece. Steven Maeda (of Lost and X-Files fame) is the writer, showrunner, and executive producer. Other executive producers of the show include Marty Adelstein and Becky Clements from Tomorrow Studios, and Eiichiro Oda himself. Knowing that Eiichiro Oda will be at the helm of the adaptation of his best-selling series is enough to make us all breathe a sigh of relief.
Article continues below advertisement
When is the live-action 'One Piece' release date?
Unfortunately, it's still too early to tell when the live-action One Piece will be available to watch on Netflix. Although the adaptation was originally announced way back in 2017, this press release is the first official word from Netflix that the streaming service giant will be the series' home.