Man Who Caught Toddler Thrown From Burning Building: "I Just Did My Best"
Former high school wide receiver and Marine Phillip Blanks catches a toddler from a burning building in this video. The man's now being called a hero.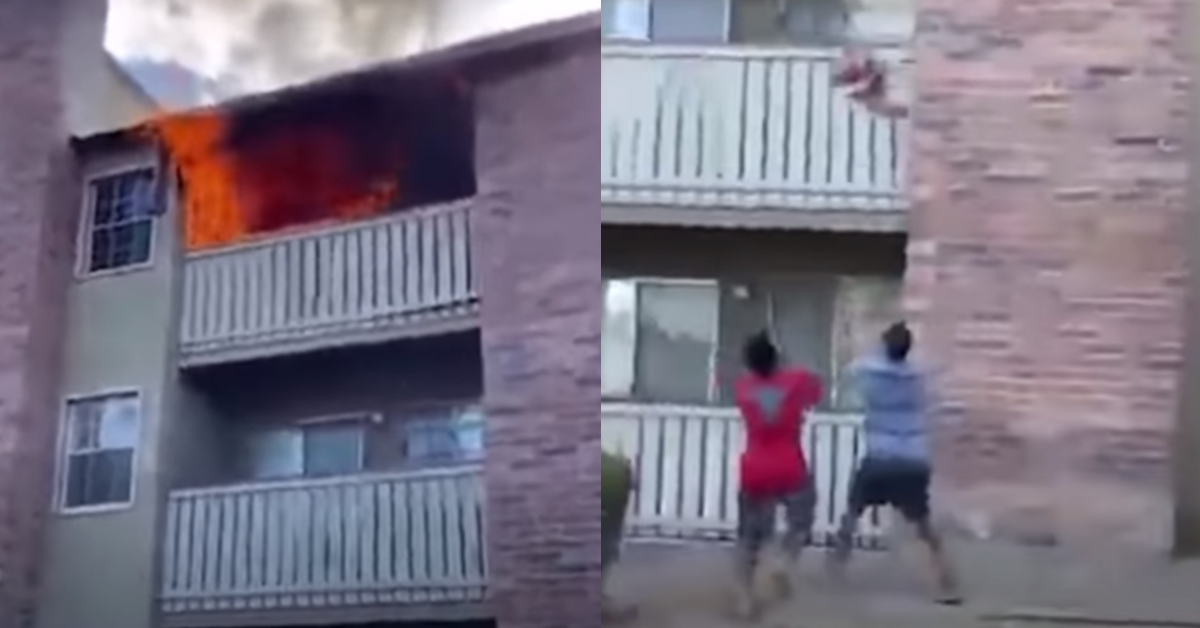 The video shows a raging fire pouring out of the third floor of a building. A desperate mother is trying to save her children. Someone urges her to throw the baby down to them. A man dashed toward the building from off-camera, in a flash, he catches the toddler before he crashes to the ground. An unbelievable save. He is now being hailed as a hero.
Warning: This video may be difficult for some viewers to watch.
Article continues below advertisement
The man who catches the toddler thrown from a burning building in this video is Phillip Blanks.
A former high school football wide receiver and Marine, 28-year-old Blanks now works as a bodyguard. In an interview with MLive.com, he seemingly downplays his act. "Ultimately, this is my job. It was all fast, it was a blur. It was tunnel vision as I was running. I didn't see anything but the baby," Blanks said.
The 3-year-old's fall is a tough one to watch. Blanks catches/breaks the fall of the young child at the last split second, aiding another person who was urging the mom to throw him. Blanks says it appeared that the other man was not going to be able to make the catch, which is why he ran toward the housing unit, something that occurred in the blink of an eye.
Article continues below advertisement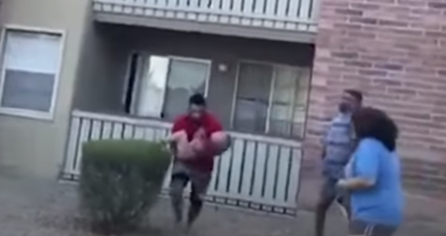 "He was twirling in the air like a propeller. I just did my best. His head landed perfectly on my elbow. His ankle got twisted up as I was diving. The guy who was there with me — it looked like he wasn't going to catch him. So that's why I stepped in. I just wanted to make a better catch," Blanks said.
Moments before the child was thrown, Blanks says that he went outside his home after hearing the commotion. He didn't have time to grab his shoes and made a run for it.
Article continues below advertisement
Blanks played football at Kalamazoo Central High School in Michigan prior to attending Saddleback College in Mission Viejo, Calif. In an interview with The Washington Post, he said that his marine training taught him to "always be on high alert, not be complacent and to have discipline." It's a skill that seems to have been ingrained in Blanks.
Article continues below advertisement
The toddler Blanks saved had an older sister, who was rescued by 42-year-old D'Artagnan Alexander who happened to be walking to the barber shop he works at. When he heard the screams, he rushed into the building and upstairs to find an 8-year-old girl lying on the floor.
"I have a 3-year-old and a 9-year-old, so when I heard there were kids in there, that really hit my heart," he told The Washington Post.
Alexander continued, "Everything happened so fast. I didn't have time to think, my body just kicked into action and I went in."
Tragically, the mother of the two children died in the fire— however, her last few acts ensured that her children would live on.
Blanks pointed to the woman who perished in the fire as "the real hero of the story."
Article continues below advertisement
"She made the ultimate sacrifice to save her children," he said.