Man Gets Locked in Airport Hallway for Almost 2 Hours in Viral TikTok
TikTok creator @ayden_1997 shared a video filmed entirely while he was stuck in a hallway in Calgary International Airport. Here's how he got out.
Going to the airport is always a waiting game. First you wait to go through security, and then you wait to board the plane. And sometimes, your flight is delayed, so you wait even longer. It's like airports are trying to keep you there as long as possible so you'll spend all your money on overpriced food and souvenirs.
Article continues below advertisement
But not all travelers even get the luxury of being able to eat and shop while stuck at the airport. Sometimes they're just stuck. In the airport. In a hallway. With no way of getting out. Yes, really!
Get a load of TikToker Ayden's latest airport experience below, which is basically my worst nightmare.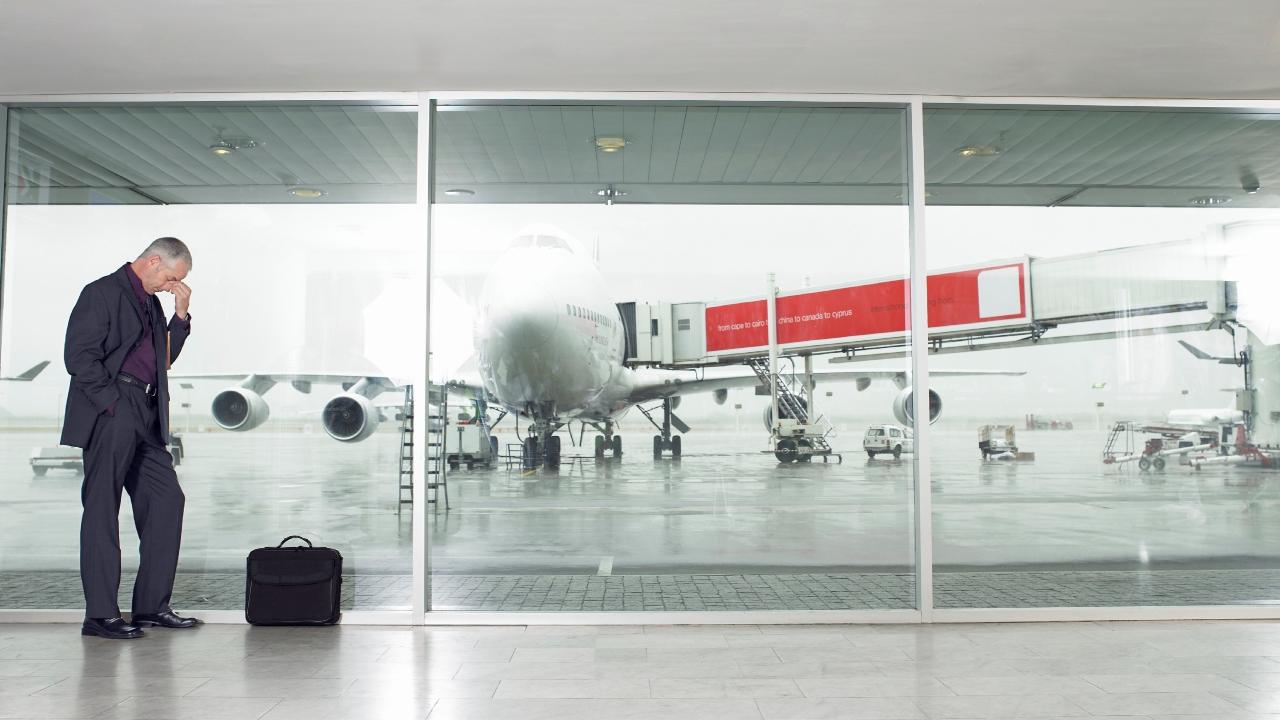 Article continues below advertisement
A man really got locked in airport hallway for nearly two hours and went viral on TikTok.
A TikTok creator named Ayden (@ayden_1997) recently took to the platform to share a video he filmed entirely while being stuck in an airport hallway.
He explained that he had missed his Westjet Airlines flight to Las Vegas from Calgary International Airport in Alberta, Canada. Still, just to be sure, he went to the gate to confirm it had left.
Article continues below advertisement
Ayden was then directed to a hallway by Westjet employees, who told him that that was the way out. However, the door at the end of the hallway was locked. As he learned a few seconds later, the door he came through was also locked.
Article continues below advertisement
"So yeah, I'm totally trapped. I've tried every avenue of escape. Umm..." says Ayden, with a sigh of despair.
He continues to check in and provide updates about his situation from the hallway.
Article continues below advertisement
One of these updates includes a woman seeing him through the transparent door he was locked behind, but then failing to help him. Ayden also phoned the airport and informed them of his entrapment. While people did come talk to him, they claimed they couldn't let him out.
Nearly two hours later, he was finally set free.
In the comment sections of his videos, viewers sent their best. Many also couldn't help but notice how calm Ayden was acting despite the fact that he was locked in a hallway with no way out.
Article continues below advertisement


Article continues below advertisement
Others inquired about how Westjet made it up to him after they let him out.
Article continues below advertisement
Ayden shared what happened when he spoke to the airline's customer service in a follow-up video.
"I explained to the lady what happened and as soon as I mentioned being stuck in a hallway, she said 'Oh, you're the hallway guy. I heard about you.'"
She then rebooked his flight, booked him a hotel, and provided him with some food vouchers.
But what really seemed to excite Ayden was the fact that Westjet messaged him on Instagram and gave him 50 Westjet bucks.
"I didn't make the video because I was mad or wanted anything. I just wanted to share a funny story that was happening to me at the moment," he said. "But it was really nice of them. I appreciated that."
Article continues below advertisement

Once again, viewers couldn't wrap their heads around how calm and kind he was. Many folks believed he should have received more than 50 airline dollars for his troubles.