This Man Refused to Share His Dinner With His Girlfriend After Buying Her a Separate Meal — Is He Wrong?
In a viral post, a man asks if he's wrong for not sharing his dinner with his girlfriend after she didn't like her food. Read on for the whole story,
Sharing food with your significant other has the power to strengthen your relationship. Unfortunately, some people, including this man in the wildly popular "AITA" subreddit, have a tough time believing this notion.
Article continues below advertisement
The original poster, who goes by the handle u/FuquaNumba1, said he refused to share his dinner with his girlfriend after he already bought her food. Read on for the full story. Plus, keep scrolling to hear what the internet has to say about the situation!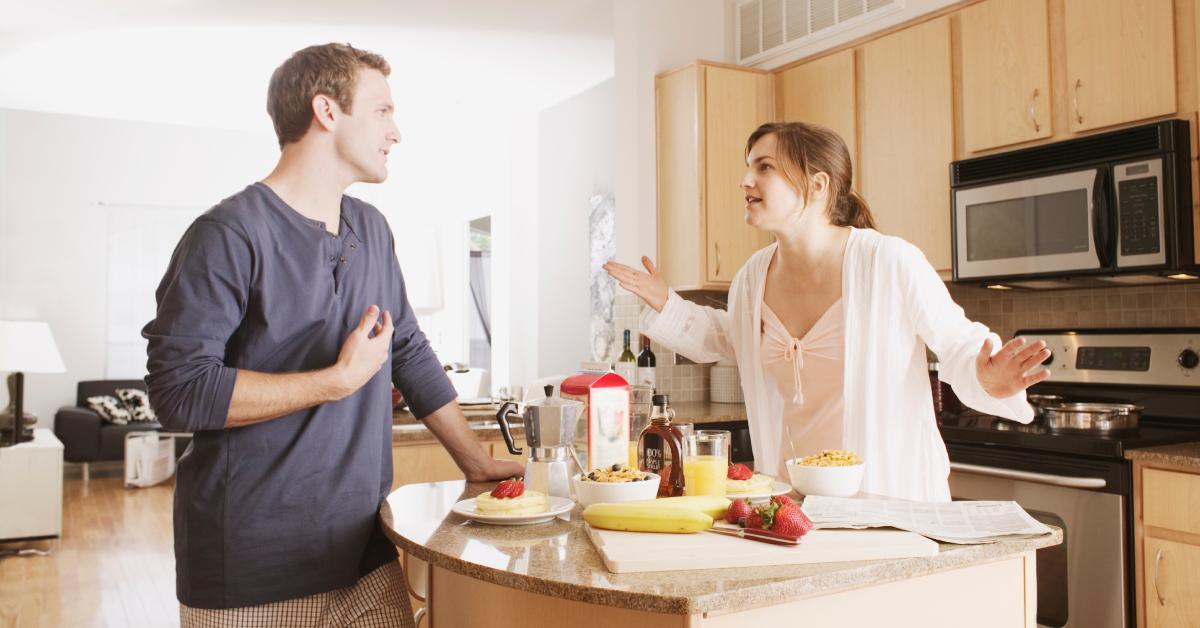 Article continues below advertisement
A man refused to share his dinner with his girlfriend — here's why.
The OP said he and his girlfriend live in New York City, and there's a "popular app where you buy leftover restaurant food." The restaurants advertise "surprise bags" at a reduced price, but here's the catch — the customer doesn't know what they're getting to eat until they pick the food up.
So, on his way home, the OP picked up a surprise bag from a barbecue place. He texted his girlfriend and asked if she wanted anything, but she declined and ordered a surprise bag from an Indian restaurant instead. The OP then picked up their food and headed home — where things went downhill fast.
Article continues below advertisement
"I was psyched about my bag," the OP wrote. "Since I paid $12, I knew the value had to be at least $36, but, honestly, the platter looked a lot more expensive. (Keep in mind that we live in the West Village, which is the most expensive neighborhood in the most expensive city in the U.S., so $36 for one meal is pretty typical.) There were burnt ends, ribs, pulled pork, baked beans, potato salad, bread, onions, and pickles."
Article continues below advertisement
Unfortunately, the OP's girlfriend received a pretty bad meal. Her surprise bag simply consisted of six different soups, half of which were cauliflower. She was disappointed and asked the OP if they could share his dinner. He quickly shot down the idea, telling her, "I offered to buy you some already, and you said no, so I'm going to devour it."
As expected, the OP's girlfriend got mad and called him an a------. The OP told her "if she didn't want soup, she should have ordered something specifically instead of using the surprise bag app."
Article continues below advertisement
He suggested she order something else via a food delivery app, but she didn't want to spend the money (the OP soon noted that he makes "a lot more money" than his girlfriend and pays their rent, and she wants to save as much as she can right now).
The OP offered to walk to the bodega down the street to get her something to eat (she can't do it herself because she has a broken leg), but she declined again. She told him she wanted a hot meal, and he told her she had the soup.
Article continues below advertisement
Redditors agreed that the OP is a massive AH.
The viral post racked in over 6,000 comments, with many fellow Redditors stating that though the OP isn't technically wrong, he's still the a------ in this situation.
"Based on the principle, you are technically in the right. You both gambled, [and] she happened to lose," one person explained. "However, you're in a (presumably) loving relationship with this woman. She politely declined and took her own route to eat. It's not like she expected you to go out of your way to go to a different place."
Article continues below advertisement
They added, "When she hit zilch on her bag and you hit gold, that's prime time to pool the meals and divide them up a bit to help her get some good food. She can't function at full capacity with a broken leg and didn't demand your food either."
Article continues below advertisement
A second Reddit user commented, "I honestly can't imagine telling my wife essentially, 'tough s---' in this scenario as you did with your GF. Were you technically correct? Perhaps, but you could have shared something with someone you allegedly care about."
"Technically NTA, but in a relationship, YTA. If you ever plan on getting married, you might want to reconsider when to be selfish and when not to be," another person said (and they couldn't have said it better!)