Guy Throws Medicine Ball at Woman Because She Was in "His Space" in Viral TikTok
A man was detained by authorities in a Phoenix gym after he threw a weighted ball in the direction of a woman to get her to move.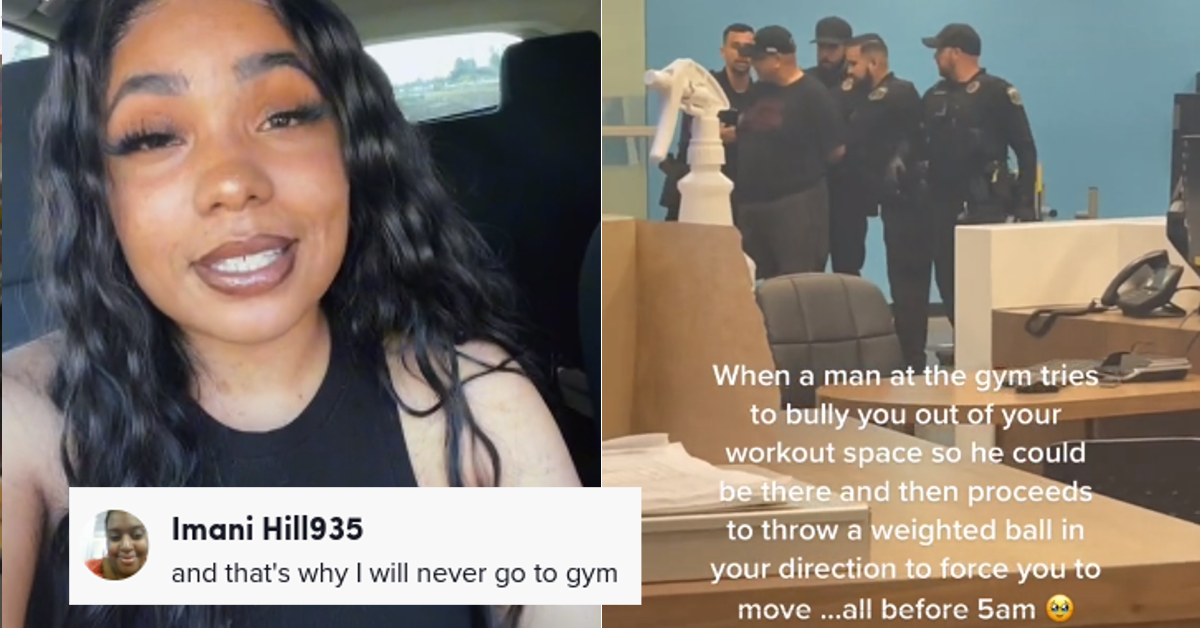 When bullies go their entire lives unchecked and unchallenged they can grow up to become capable of some pretty deranged things. And there are different kinds of bullies. You've got the types of folks you'll try and "nice bully" you by being obsequious and over-complimentary, a Joker-esque faux smile plastered over their face as they shower you with compliments while sliding in some selfish asks in an effort to get something from you.
Article continues below advertisement
When we were kids during recess, that kind of bullying took on a bit more of in-your-face form. Maybe someone will chase you down to give you a noogie or throw some dirt in your hair. If you were to do something like that as an adult, you'd probably be charged with assault and we'd like to think that if it happened in public that people would go out of their way to try and help you or curb that behavior from the bully in question.
TikToker Lexi Moore, who posts under the username @armaniliex says that on April 27, 2022 while she was working out at an Eos gym location in Phoenix, Ariz. she was accosted by a man who allegedly threw a weighted ball in her direction to try and get her out of a specific area she was exercising in.
Article continues below advertisement
She put a text overlay on the video that read: "When a man at the gym tries to bully you out of your workout space so he could be there and then proceeds to throw a weighted ball in your direction to force you to move ...all before 5am."
Article continues below advertisement
Lexi shows the man being detained by police officers in the original TikTok video and spoke about the incident more in an additional TikTok. MSN reports that Phoenix Police stated the officers in the video are not from their department, nor do they have "any information regarding these videos."
Article continues below advertisement

What's more is that prior to the man throwing the weighted ball in Lexi's direction he had moved her exercise gear from out of his path while walking and when he was asked to leave the gym from an employee, he simply ignored the request.
Article continues below advertisement

Lexi informed her followers that a manager from the Eos location told her that the individual in question was not only banned from that particular franchise but all other Eos gyms in the future.
Article continues below advertisement

And if you're reading this and get a tickle out of "it's a small world" scenarios, there was a TikToker in the comments section of one of Lexi's videos who posts under the handle @drproteinman who states that he goes to the very same gym and is very well aware of the issues that this man has caused on previous occasions before.
Article continues below advertisement

USA Today has reported that there are multiple women, even fitness influencers who spend a considerable amount of time in their local gyms, who have experienced harassment from other patrons in the past. Interactions range from long-term glares/stares to attempts at making conversation, to blatant threats.
Article continues below advertisement

Even though Lexi stated that the manager of the gym had reached out to her to let her know that she's welcome back in their business, some folks had expressed concerns for the woman's safety. Others speculated that the man who threw the weighted ball at her might come back for "revenge" considering that he had already exhibited erratic/violent behavior.
Article continues below advertisement

Have you ever had any borderline violent interactions while working out? Does it make you uncomfortable to exercise at communal gyms? Or do you foot the bill for more expensive gym experiences in the hopes of exercising with smaller groups/crowds in an attempt to try and curb these scenarios?